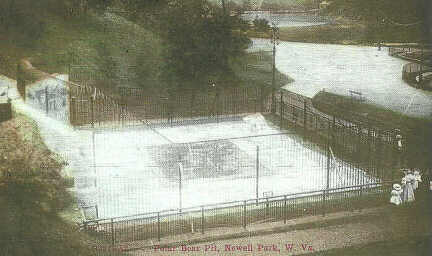 The bear pit was constructed along the hillside and housed two polar bears. It was made up of a stone facade with concrete swimming pool. Originally there were metal bars all around the front and on the top of the wall. To the right is a vintage postcard featuring the bear pit.

This was the scene of the infamous bear fight which is well researched and chronicled in the eight-page article, "Rise and Fall of the Newell Park Zoo" by Bob Barnett which appears in the Summer 2010 issue of West Virginia's Goldenseal magazine. (Link.)

The book, The History of Newell and Vicinity by Ruth Henthorne, et al., 1982, states, "The bear fight attracted a large crowd. The streetcars from East Liverpool were packed with people coming to see the bear fight." Apparently there were no means available to break up the fight so everyone just stood by and watched. The bear fight is also referenced in Images of America, Hancock County by George B. Hines III and Lou Martin, 2006. Two photos are shown on page 78 with people lined along the iron fence watching the fight. One caption notes, "Big bear wailing over dead body of his victim. A remarkable illustration of remorse."

The four images below show the bear pit shortly after the clean up of the park began in 2007. The pit has since been turned into an amphitheater which can be seen here. Summer concerts are held in the park each year with the amphitheatre being center stage.