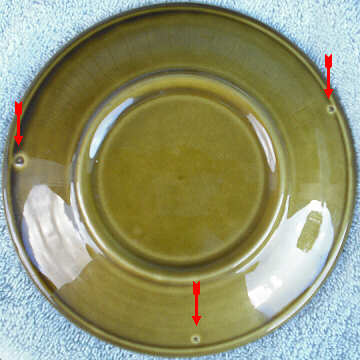 Most of the vintage plates, platters, saucers and other pieces of tableware made in the area will have three pin marks on the reverse. The plate shown was made by the Homer Laughlin China Co. in Newell in the 1970s. The three arrows point to the pin marks left behind after being fired in a sagger - a fireproof container which held the plates in stacks and protected them during the firing process.

These marks are not considered damage, but part of the normal production process. Larger hollowware items such as creamers, sugar bases, teapot bases, casserole basses, etc. generally will not have sagger pin marks. They were almost always made with wiped, unglazed bottoms resulting in a ring of exposed clay. Such pieces are commonly said to have a "dry foot."

Some potteries made their own saggers, others purchased them from supply and refractory companies. Today, the Fiesta® Tableware Company doesn't use sagger pins and every piece, flat or hollow, has a wiped, dry foot.