Newell students were transferred from Chester school in 1906 to a one-room building at 2nd and Washington Sts. as the town began to grow. Later classes were divided, upper grades to a new two-story brick building at 6th and Harrison Sts. built in 1906 by John Swindells and Fred Owen and which later housed the Tim Robinson newsstand.

In about 1907, classes were transferred to the second floor of the Aaron building, where the 115 pupils were under the supervision of Manley Combs, principal, and Joseph Hoy and Miss Martha Shutter.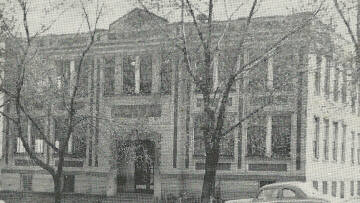 In 1912, the Fourth St. School (shown) was constructed to house elementary and secondary classes[1] and in 1927 the present Wells High School building was completed for the secondary classes.[2] The Jefferson School for lower grades was built in 1950 and first used in 1951.[3] A portable building was erected beside the Fourth St. School to accommodate classes prior to the construction of the high shcool. It was later moved to the Washington School District. Some of the early teachers were Ray Yonley, principal of 1910 who instilled discipline among some of the unruly older boys, and Miss Rachel Baxter who taught from about 1908 until the 1930s.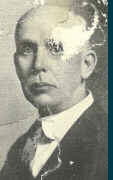 A. D. Osborne (left) was district superintendent from 1916 until the county unit system was formed in 1933, and he taught at the high school until his death in 1935. Prior to Mr. Osborne were a Mr. Stackhouse, Sam McBride, and a Mr. Sayer. R. L. Hoke served in a one year leave of absence of Osborne. In 1921, [Osborne] went to Kent Normal School for further education.

Miss Eunice Allison, later wife of A. L. Rabenstein, county superintendent, was principal at the 4th St. School which included both high school and grade schools. She was followed by George Kidder and Norman F. Evarts who were principals at the combined school until the high school was built. Then Evarts [4] (right) headed the high school and Ernest John became elementary principal. C. F. Underwood became high school principal in 1936, followed by John Ritter in 1938, who was succeeded by Red Miller in 1941. Harold Gregory has been principal since 1943.[5]
The first child born in the town was a daughter of Mr. and Mrs. Doganier. Her birth date was Nov. 11 1906, and she now is Mrs. Delores Semian of 2nd St.
The community's merchants in 1907 included the Micheal Doganier General Store on 2nd and Washington St., the W. F. Moore Grocery at Grant and 2nd Sts., Henry Greek's 6th St. newsstand and three restaurants - Feager's, the Home Restaurant and the Potters Restaurant. The post office was at the Rush Grocery Store in the Rauh Building. Mrs. Sarah K. Rush was appointed postmistress June 1, 1906, and the first post office was at her home at 6th and Grant Sts. In the spring of 1907, it was moved to larger quarters at her store. Mrs. Rush, now 90 [6] was a sister to Fred B. Lawrence, a superintendent of the North American firm, and held the post office position until 1917 when Dr. Harry A. Turk, a longtime physician in the community was appointed. Frank Pittenger succeeded Dr. Turk around 1921 and was followed by Austin Brown in 1927. The present postmaster, Claude Mills, was named in 1936.[7]
---
1 The Fourth Street School was built at a cost of $25,000.00.
2 High School students started going to Oak Glen in the 1963-1964 school year. Wells was used as a Jr. High until 1992 when Oak Glen Middle School was built.
3 Jefferson closed in 2004.
4 Norman Faye Evarts (Feb. 21, 1900 - Jun. 25, 1934) attended The Citadel in Charleston, SC and taught Science and Mathematics at Wells High. He is buried at Mill Creek Hill Cemetery in Hookstown, PA.
5 Harold Gregory remained principal until his death in 1960. E. Russell Slack then became principal until the opening of Oak Glen in the fall of 1963.
6 Sarah Rush died on Feb. 10, 1963 at the age of 96.
7 Postmasters that followed include; Alice M. Pittinger, Austin Brown, Cluade Mills, Arnie Durham, William White, Paul J. LaNeve, David Wright, Carter Solt, Jen Conroy Smith, and Anny Eddy.