One hundred years ago, in Newell, West Virginia, there once was a beautiful park called Laurel Hollow Park. Unfortunately, it only lasted about six or seven years and would eventually be taken over by wild growth. When I was a kid, it was called simply, "the hollow" and I never had any idea how wonderful it once was.

George Washington Clarke was Homer Laughlin's leading salesman in the early 1900s who spent much of his own money on developing Laurel Park. Clarke died on March 3, 1913 in Los Angeles, California. He was buried in Denver, Colorado.

After Clarke died, nobody stepped up to maintain the park and it fell into ruins. A small article ran in The Evening Review on June 5, 1914 and gives some details into the abandonment of the zoo:

What will doubtless come as a blow to the civic pride and public spirit of many Newell residents, is the announcement made today by the management of the Newell Park company that the animal zoo which has been a feature of the resort here since the town was built, will be abandoned.

"There will be no animals in the park this year, according to the decision just made by the management." It was said. "In the past year or two the animals have been annoyed and abused in various ways, and because some people will never treat them otherwise, such persons will hereafter be deprived of the opportunity."

It has been the custom of some people to stone and poke sticks at the monkeys and other animals that have been housed in Laurel Park during the summer months, and it will be recalled that a valuable seal died here under mysterious circumstances. Even the duck pond will now be without inhabitants, according to the park management's decision.

In vintage postcards and literature, the park has been called Newell Park, Laurel Park, Laurel Hollow Park, and Newell Zoo. Today it is called Laurel Hollow Park, however the different names will be used interchangeably on this site. It once contained a lake, outdoor theatre, walking paths, gardens, and a large fountain. The zoo portion had a bear pit for polar bears, monkeys, trained raccoons, seals, and deer.

Recently, the Newell Community Improvement Coalition has been working on cleaning up the park and restoring as much as possible. Laurelhollowpark.net is devoted primarily to Laurel Hollow Park, but it has grown to also feature Newell, WV itself and the surrounding area.


George Washington Clarke


Use your mobile phone to scan
this QR code for a map to the park.
---

A portion of Laurel Park, May 2011
About the site: LaurelHollowPark.net
---

This website is made up of over 485 web pages and 5900 images. It is divided up into five parts with each part accessible from the main page.

1) The first part is devoted to Laurel Hollow Park -- past and present along with external news links.

2) The second part centers around the history of the town of Newell, West Virginia, the home of Laurel Hollow Park.

3) Other parts of Hancock County - Waterford Park and the cities of Chester, New Cumberland, and Weirton are featured in the third part. Other pages on East Liverpool, Ohio are also found in this section on the surrounding area.

4) The fourth part consists of other American made pottery and dinnerware. Most of the pages here were brought over from the now disabled website OhioRiverPottery.com.

5) The fifth and final portion is made up of related external links.

CONTRIBUTORS:
Special thanks to the following for providing information and images for the site...
Mary (Nease) Brandal
Seth Cheuvront-Wilson
Lisa Cox
Tom DeBee
Jack Dunkle
Bob Durbin
Diane Eckard
Rev. Ethel Dunaway of the Methodist Church in Newell
Bev Enochs of the Newell Community Improvement Coalition
Candy Fagerlin
Debbie Gamble
Shannon (Reed) Giambroni
Mike Gonzalez
Susan (Tucker) Gonzalez
Elizabeth Hupp
Joanne Jasper
Kenneth Louk
John May
Rex and Renee Milner
Pastor Barb Perkins of the Nazarene Church in Newell
Leslie Parsons
Lynn Presnell
Richard Racheter
Kim Raimond
David Schaefer
David Shilling
Donna (Robinson) Smith
Karen (Simmons) Staley
Joyce (Clark) Stoffel
Carl & Fran Stone
Judith Stout
Colleen Waggle of the Tri-State Genealogical & Historical Society
Rose Mary Williams
Jody Williamson
Brenda Wood
Cassie (Wells) Woods
Joe Zacharias
About the webmaster...
---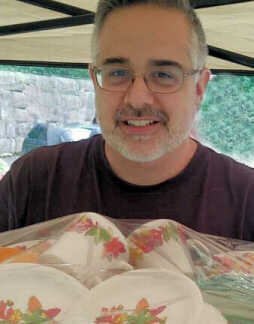 I grew up in Newell, West Virginia, graduated from Oak Glen High School in 1989 and completed my degree from West Virginia University in 2020. My maternal grandfather, Chester Tucker (1910 - 1965) and his family moved from Elizabeth, WV to the upper Ohio River Valley in search of employment at the various potteries. He ended up working in three different firms in his lifetime: The Fiesta Tableware Company (formerly the Homer Laughlin China Co.) in Newell, the Taylor, Smith & Taylor Company in Chester, WV and the Sebring Pottery of Sebring, Ohio. Having grown up in Newell, I was able to meet and learn about pottery life from former workers. Most had worked a the potteries for forty years or more and took great pride in their work.

Since the mid-1990s, I have been researching, preserving, and publishing works related to my hometown with emphasis on the pottery industry of the surrounding area. I have had four collector books published from 2000 through 2008 centering on wares made by Homer Laughlin and Taylor, Smith & Taylor. I have also served as a contributor to four other publications. From 2001 - present I have written over forty articles on pottery with focus on pieces made from the 1920s to the 1970s.

As of this writing (09/05/2021) I have completed ten research trips to the FTC factory in Newell as well as multiple visits to the Museum of Ceramics in East Liverpool, Ohio. In the Spring and Summer of 2021, I assisted in sorting and identifying pieces from the recently closed Hall China plant in East Liverpool. During this time I also revamped the FTC factory outlet museum in Newell by displaying many never before seen pieces from the company's collection as well as rare pieces from Hall China. In 2021 alone, I photographed over 10,000 pieces of pottery to use in new webpages and future articles.

In March 2012, I acquired the research materials of pottery authors Jo Cunningham and Ann Kerr. Collector and author Joanne Jasper gave me her research papers in 2015. Today my library contains over 300 three-ring binders full of vintage advertisements, notes, photographs, trade journals, postcards, and more. Roughly 25% is the Cunningham/Kerr collection, 10% from Japer, and the remaining 65% represents my own research of the potteries, schools, racetrack, and other parts of the upper Ohio River Valley. The collection contains over 40,000 documents, photographs, and assorted ephemera. The purpose of accumulating the materials is to preserve the history and make it available though the website, LaurelHollowPark.net. When the time comes the materials will be split up between the Museum of Ceramics and the West Virginia Department of Arts, Culture, and History in Charleston, WV.

Mark Gonzalez
Jasper, AL
email: markgon@live.com.
---
REFERENCES:

Barnett, Bob. Growing Up in the Last Small Town. Ashland, KY: Jesse Stewart Foundation, 2010
Cashdollar, Roy C.A History of Chester: The Gateway to the West. Boyd Press.
Cole, Wayne A. Ghost Rails III Electrics, Darlington, PA: Colebooks, 2007
Gonzalez, Mark. An Overview of Homer Laughlin Dinnerware. Gas City, IN: L-W Books, 2002
______________. Taylor, Smith & Taylor Dinnerware. Atglen, Pa: Schiffer Publishing Ltd, 2004
Henthorne, Ruth, Ann Cawthon, Ronald Smith, Lola Baker, Richard Brenneman, Albert Logston, and Leah Rae Smith.
The History Of Newell and Vicinity. Newell, WV: Newell Bi-Centennial Book Commission. 1977
Hines, George B., and Lou Martin. Images of America: Hancock County. Charleston, SC: Arcadia Publishing, 2006.
Welch, Jack. History of Hancock County. Wheeling, WV: Wheeling News & Printing & Lito Co., 1963.
Pottery Festival Souvenir Program, East Liverpool, OH, 1st 1968, 2nd 1969, 3rd 1970, 1971, 1972 7th 1974, 8th 1975, 9th 1976,
10th 1977, 11th 1978, 12th 1979, 13th 1980, 14th 1981, 17th 1984, 19th 1986, 21st 1988, 22nd 1989, 23rd 1990, 24th 1991, 29th 1996.
Plate Turners Handbook, Pottery Festival, East Liverpool, OH, 30th 1997, 31st 1998, 32nd 1999, 34th 2001.