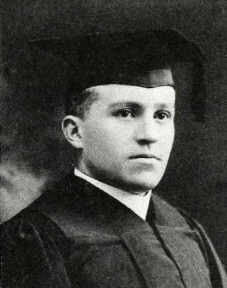 William Edwin Wells, Jr. (1890 - 1934) was born in East Liverpool, Ohio to William Edwin Wells and Elizabeth Mahan. He was the middle child between brothers Joseph M. and Arthur A.

Wells graduated from East Liverpool High School in 1909 and Bethany College, Bethany, West Virginia in 1913. To the right is Wells' college graduation picture.

According to his biographical sketch in the 1931 West Virginia Blue Book, Wells was elected to the West Virginia State Senate in 1929 and served from 1929 to 1931. His work in the Newell-East Liverpool area included general superintendent at Homer Laughlin, vice president Lawrence Cooperage Company, Newell, and president East Liverpool Country Club from 1927-1929. He was a director of the East Liverpool Chamber of Commerce and Potters' Bank and Trust. Wells also served as president of the United States Potters' Association.

Wells was a member of the East Liverpool Rotary and the Sigma Nu Fraternity. He and his family attended the Presbyterian Church in Newell.

He was married to Grace Golding Wells (1890 - 1973). They had three children: twins William Edwin Wells, III (1917 - 1945) and Elizabeth Wells Young (1917 - 2007), and Winifred Wells Pickin (1920 - 2014).

Lt. W. E. Wells, III was drafted into service on June 1, 1941. He was one of the first in the East Liverpool area to be drafted for World War II. Lt. Wells and Sgt. Jack Roush were killed during their 10th bombing mission April 8, 1945 at Krusemark, Germany. Lt. Wells was a pilot and Sgt. Roush, an East Liverpool native, was a tail-gunner.

Elizabeth Wells Young's first husband was Everson Hall. Everson was the youngest son of Robert T. Hall, founder of Hall China. They were married from 1940 until his death in 1964.