There is no pattern, decal, or treatment called, Virginia Rose. The name Virginia Rose refers to a specific SHAPE of dinnerware. This shape has two very common decal treatments: VR-128 a.k.a. "Fluffy Rose" and JJ-59, "Moss Rose." Dealers and novices tend to think these two decal treatments are Virginia Rose, but they are just two of many decorations on the same shape.

The confusion arises because of the backstamp. It is the same as the general HLC marking used for a number of years, except the shape name, Virginia Rose, is included along with the standard date code. Since VR-128 and JJ-59 are by far the most common treatments on this shape, people tend to take it for granted that "Virginia Rose" is the backstamp refers to the decals.



| | |
| --- | --- |
| Pattern VR-128 on a 9" plate, often called "Fluffy Rose" by collectors. | Pattern JJ-59 on an 10" plate, often called "Moss Rose" by collectors. |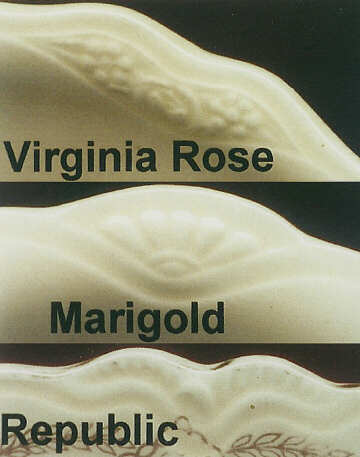 The shape is a round scalloped rimmed form with periodic embossing. Marigold and Republic can be defined in those general terms and are often confused with Virginia Rose. To make matters worse, all three shapes were decorated with decals which are either identical or very similar. Shown is a comparison of the three embossed lines.

Virginia Rose started out with one piece listed in Rhead's journals simply as a "modeled edge plate." Work began on the new shape on July 12, 1932. It would take two months and at least four revisions of the modeled edge plate before a final design was approved. Before a name was selected for the new line, Rhead often referred to it as "Rose Medallion" - an appropriate name for the small rose embossing. At first, work progressed slowly on the Rose Medallion shape since the art department was creating shapes for Orleans, and Rhead was working on patterns for Jade and other already existing lines. During this time, several plates, bowls, and a saucer were modeled, but it was on November 6, 1932 when Rhead notes, "Commenced modeling new shape." A week later on the 14th he uses the Virginia Rose name for the first time. It has been well documented that this name was given in honor of Virginia Rose Wells, granddaughter of W. E. Wells.

On November 22, 1932, one of the first Virginia Rose shapes, the 9" plate was released into production. Others soon followed and by the end of December the following items were being made: casserole, teacup, saucer, oatmeal, gravy, fast stand, pickle, 10" plate, 11" plate, 13" platter, sugar, creamer, and fruit cup. Only the teacup, sugar, and creamer underwent revisions since the originals were, in Rhead's words, "thought to be too small."

On January 3, 1933, Rhead expressed enthusiasm for the new line in his journals writing: Virginia Rose line selling favorably, promise of good business. The line was expanded in the same month with the 9" baker, 10" and 9" nappies, 6" plate, large cake plate, cream soup and liner, syrup, deep plate, 8" plate, and the 15" platter. More pieces would follow in the months ahead such as a batter jug in March, and the 8" baker, 9" platter, and 6" fruit bowl in April. The last piece added to Virginia Rose was the coupe soup on August 3, 1934 - almost two years after its original conception.

While no new pieces were added after fall of 1934, it did "pick up" some generic pieces as well as some from existing lines. The cable egg cup and Jade butter dish are often found in Virginia Rose sets as is the Baltimore jug and Swing salt and pepper shakers. Once in a while a piece of Marigold shows up in a Virginia Rose line, but this is often a mistake. These two shapes were made side by side and are very similar with regard to size and style. It is not unheard of to find a Virginia Rose cup on a Marigold saucer or a stack of eight desert plates with seven being Marigold and one Virginia Rose.
| | |
| --- | --- |
| Trade journal advertisement from January 1933. | Joe Wells Jr. and Virginia Rose Wells |
Rhead's entry from January 3, 1933 about Virginia Rose promising "good business" was rather prophetic. The line was produced for thirty-seven years from late 1932 until 1968. Since Virginia Rose was produced for such a long period of time, it was used as a basis for more decal treatments than any other HLC shape. Besides the treatments specifically made for the line, many decals which originated with preexisting shapes such as Wells and Yellowstone often made their way on to Virginia Rose. The decals created for Rhythm, Cavalier, and Debutante in the 1950s also were applied to Virginia Rose. The result of four decades of various decal styles is a very diverse dinnerware line. So much so, an entire book was devoted to the many treatments in 1997: Homer Laughlin's Virginia Rose, (Collector's Guide to) by Richard G. Racheter.