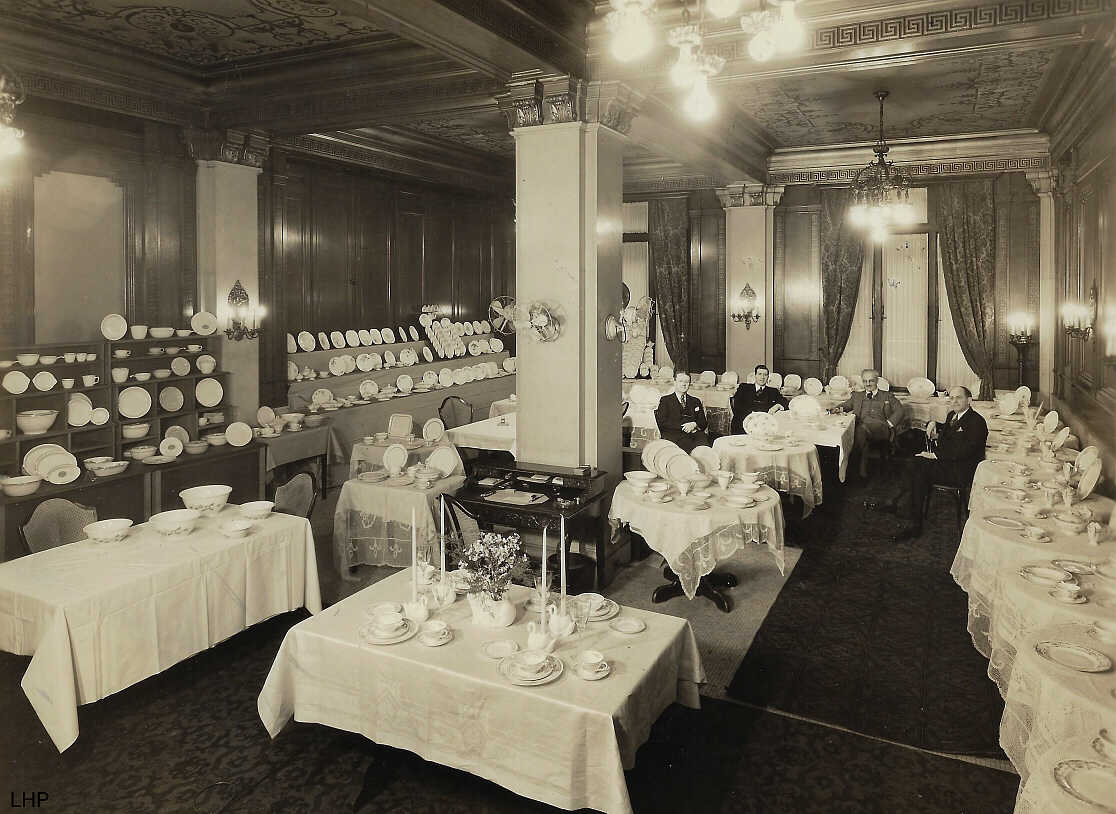 This was the company's showing in Pittsburgh at the January 1, 1934 pottery trade show wich featured Craftsman (Georgian Ivory), embossed OvenServe, Wells, Century, and the Appletree bowls. Art Director Frederick Rhead is seated in the back, second from the right.
---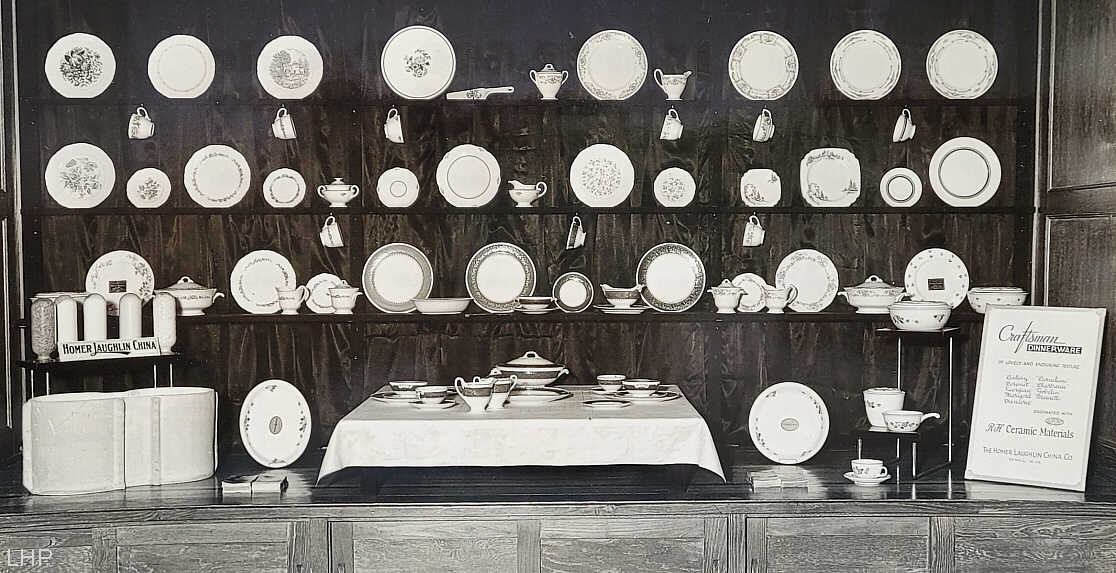 The DuPont Exhibit in Atlantic City, August 1935. The card at the right reads: Craftsman Dinnerware of Lovely and Enduring Texture. It lists the shapes in the display: Century, Coronet, Georgian (Ivory), Marigold, and OvenServe. It also mentions some of the Georgian patterns: Carnelian, Chartreuse, Gobelin, and Mauvette, all decorated with DuPont R&H Ceramic Materials.
---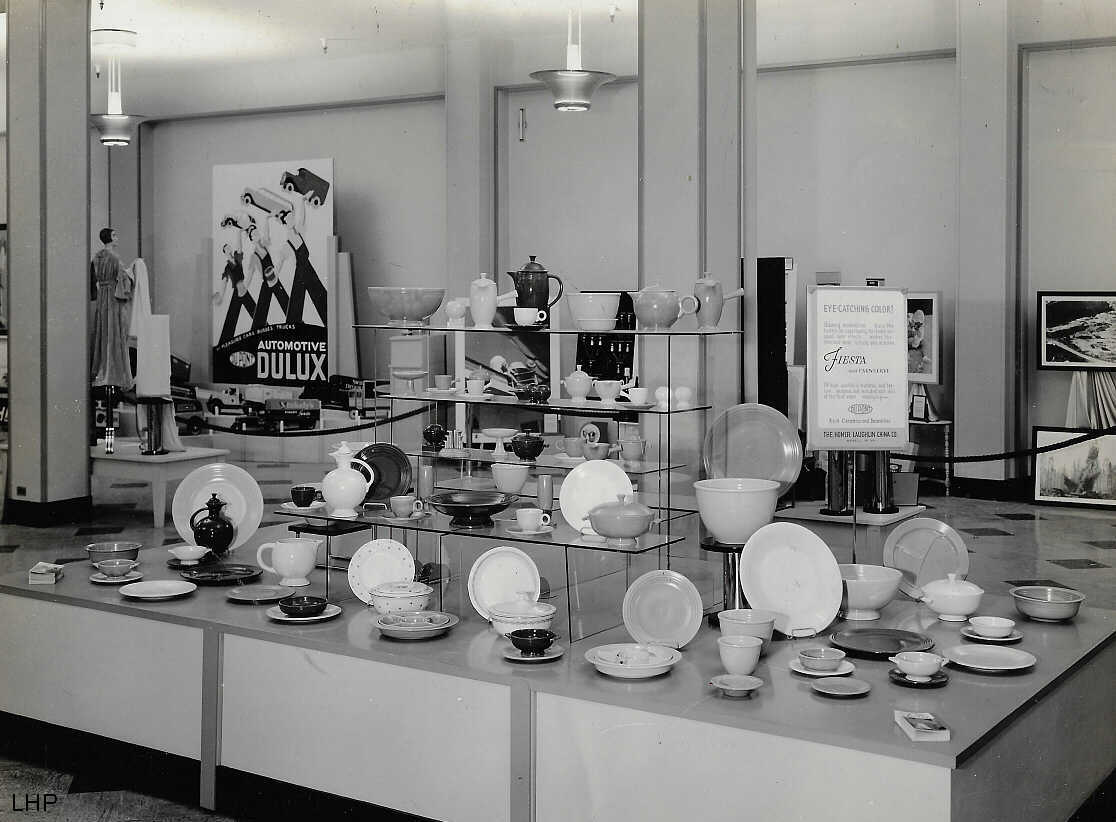 Fiesta with a few pieces of OvenServe on display at the DuPont Exhibit in Atlantic City, May 1936. The card on the right reads: Eye Catching Color! Gaining momentum... Give the hostess and opportunity to create original color effects... make the informal meal a truly gay occasion: fiesta and OvenServe. Of high quality in material and texture... designed and executed with skill of the first order... employing the DuPont, R&H Ceramics and Decorations.
---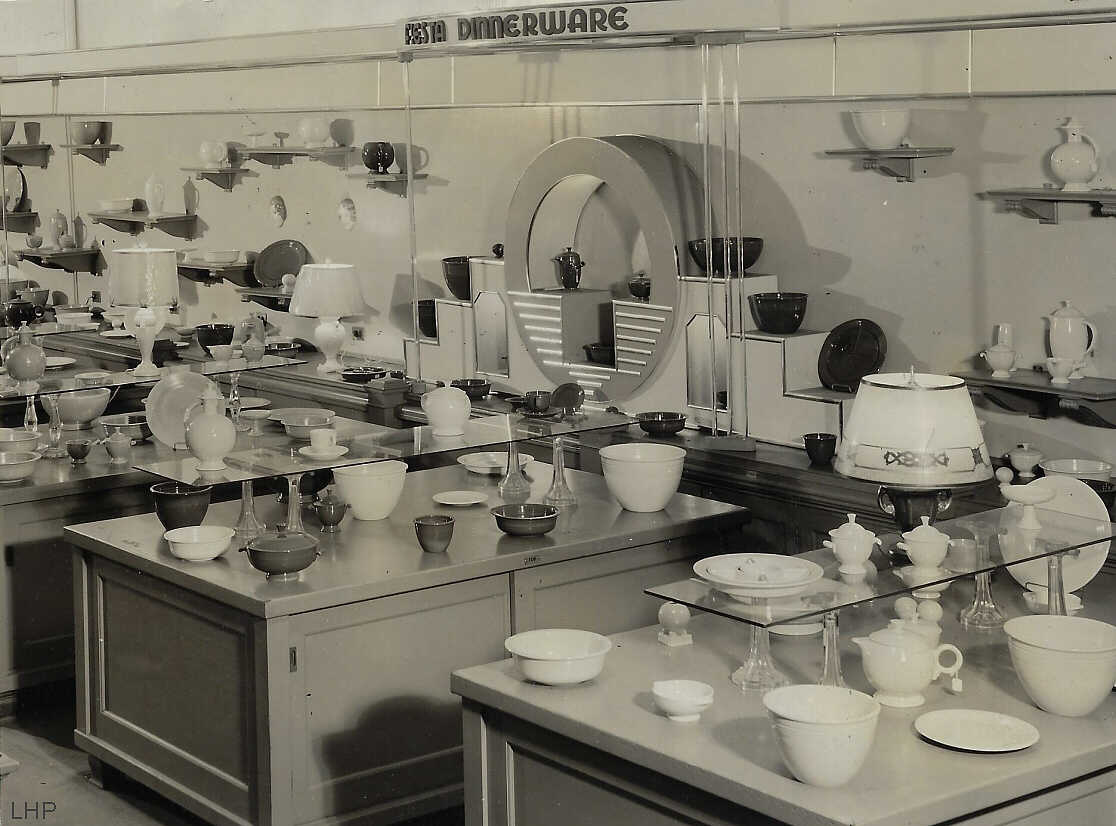 Fiesta dinnerware ready for purchase at Joseph Horne's department store in Pittsburgh. This was probably taken in 1936 shortly after Fiesta's introduction.
---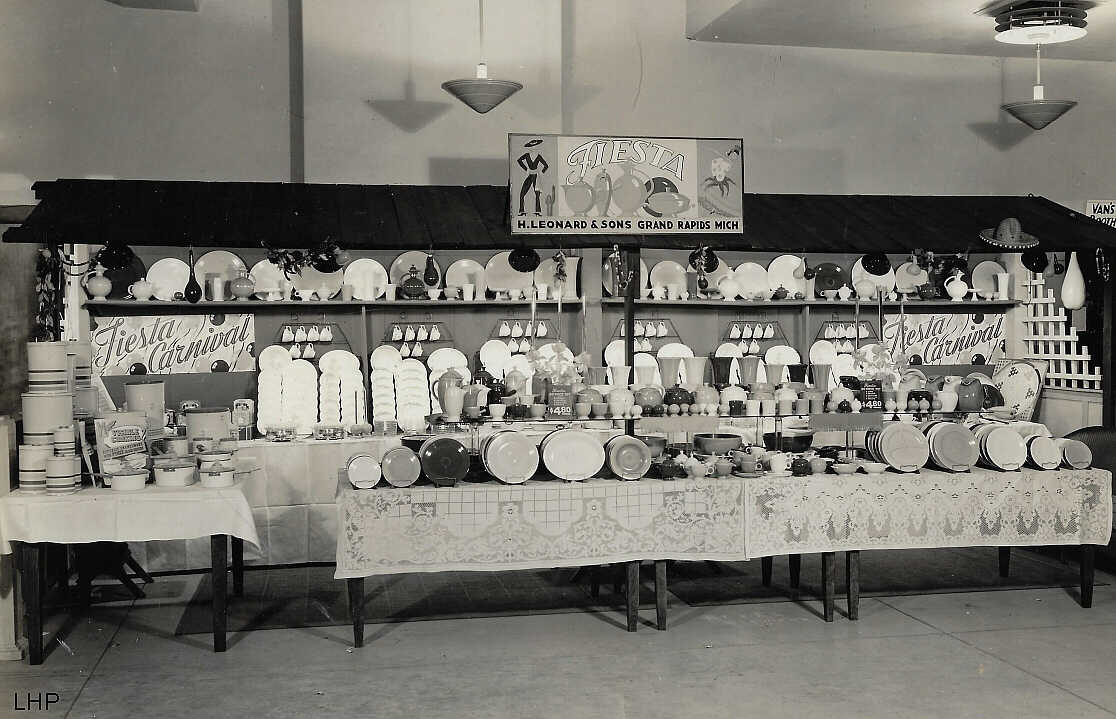 Fiesta display by H. Leonard & Sons, a firm specializing in china, glass, and house furnishing goods. They were located at 38-44 Fulton Street in Grand Rapids, Michigan. The photo is undated, but based on the assortment which includes later additions such as the ring handled creamer, medium teapot, and disc pitcher, it was probably taken sometime around 1938.
---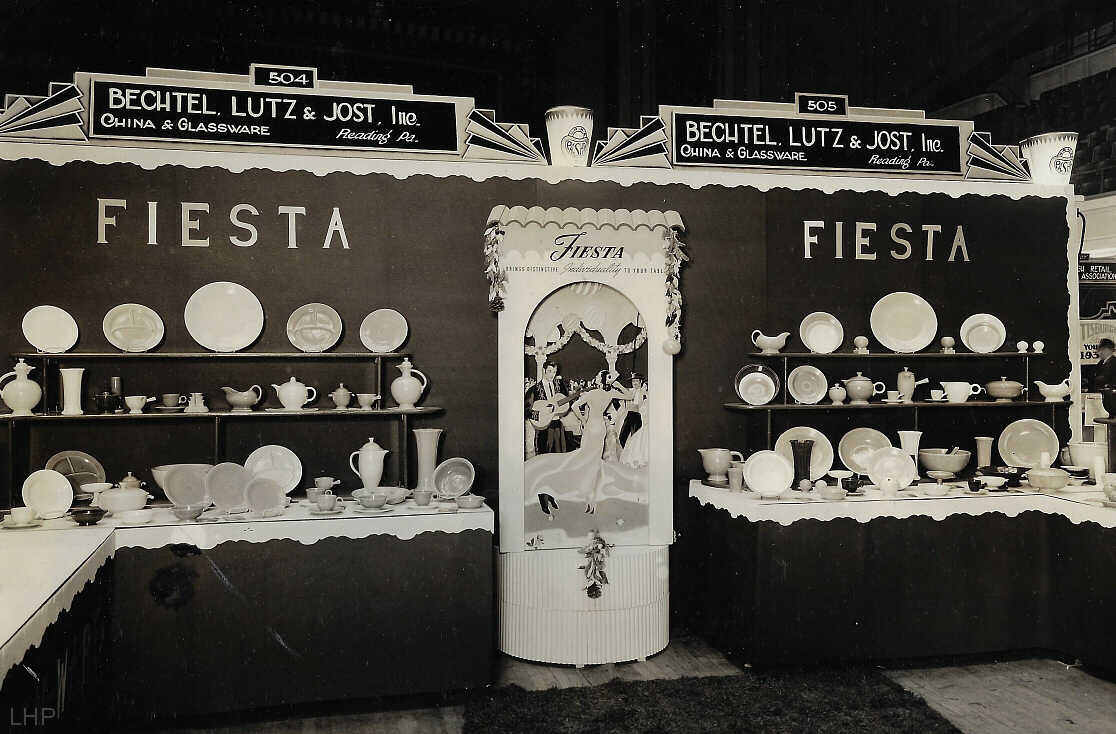 Bechetl, Lutz & Jost, Inc. were distributors of china and glassware. Not only did they sell Fiesta, but many other Homer Laughlin lines. This photo was taken at the hardware show at the Municipal Auditorium in Philadelphia which ran from February 1st to the 4th in 1938.
---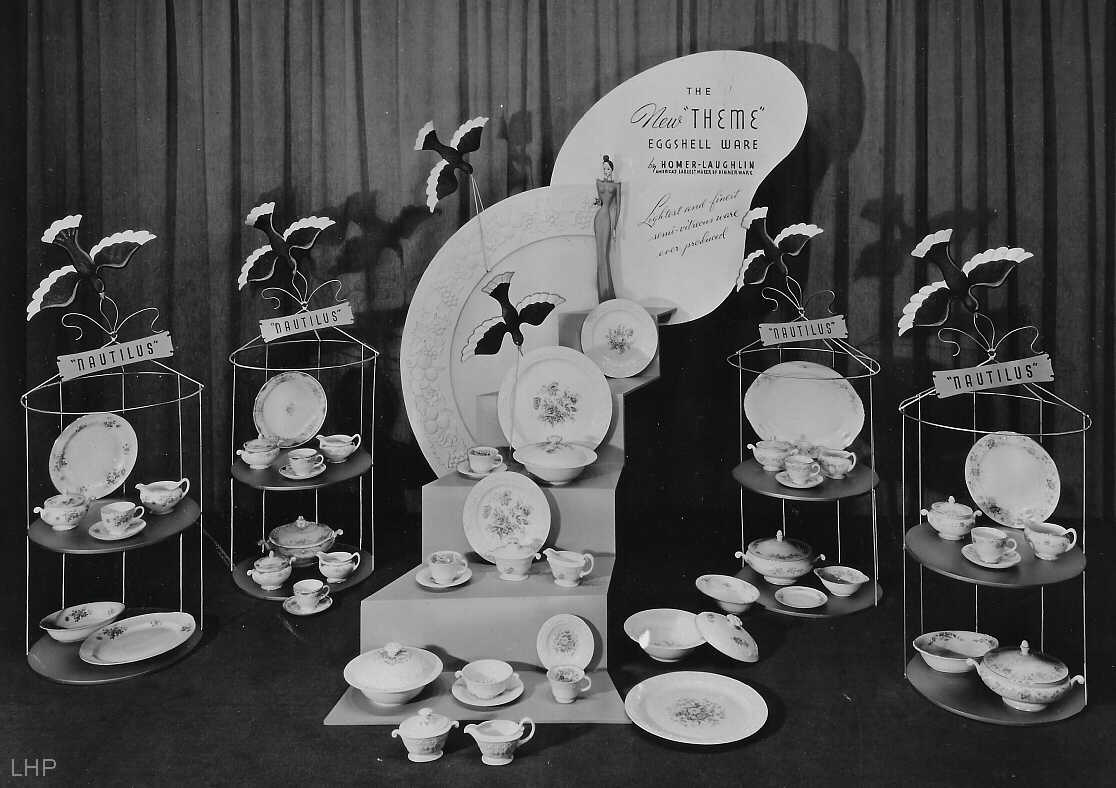 Theme Eggshell is advertised in this photograph as being new at the time. That would date this to 1939. To either side of the center display are various decal patterns on the already existing Eggshell Nautilus shape.
---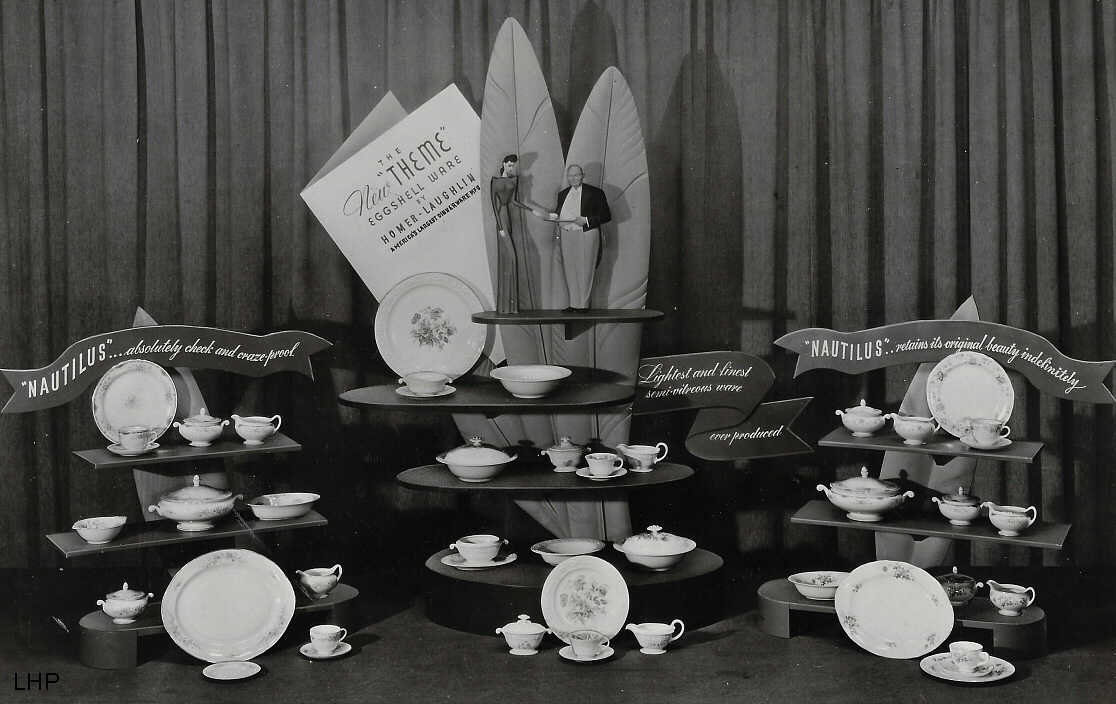 Eggshell Nautilus and Theme Eggshell. Here is another display promoting Theme Eggshell as a new line which dates this to 1939.
---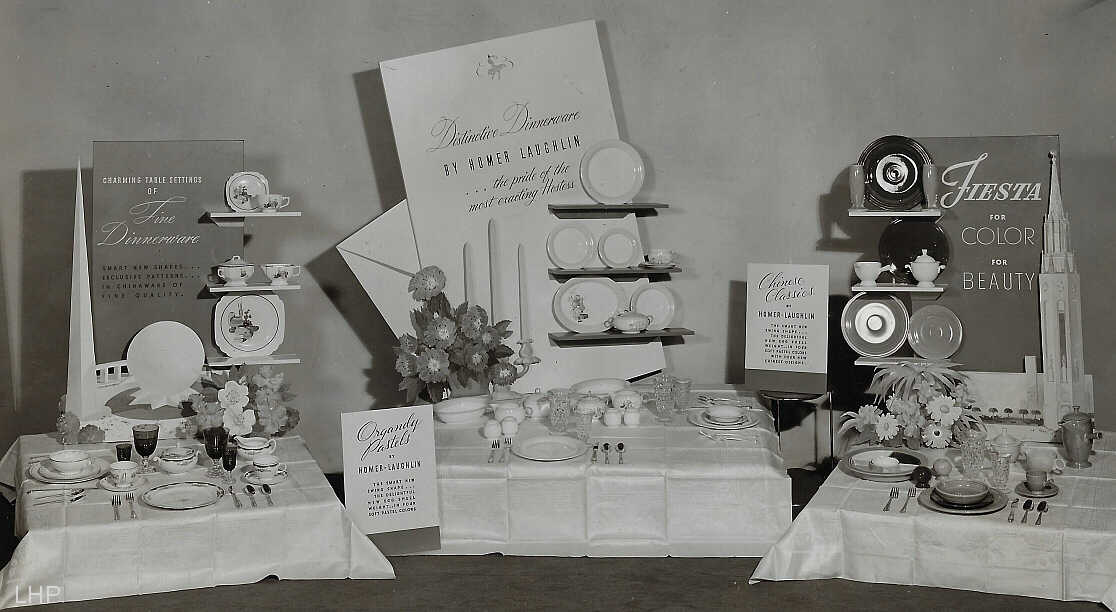 This photo was probably taken around 1939 since it features the New York World's Fair Trylon and Perisphere. Also shown is Fiesta, Swing Eggshell, Mexican on Century, and Eggshell Nautilus.
---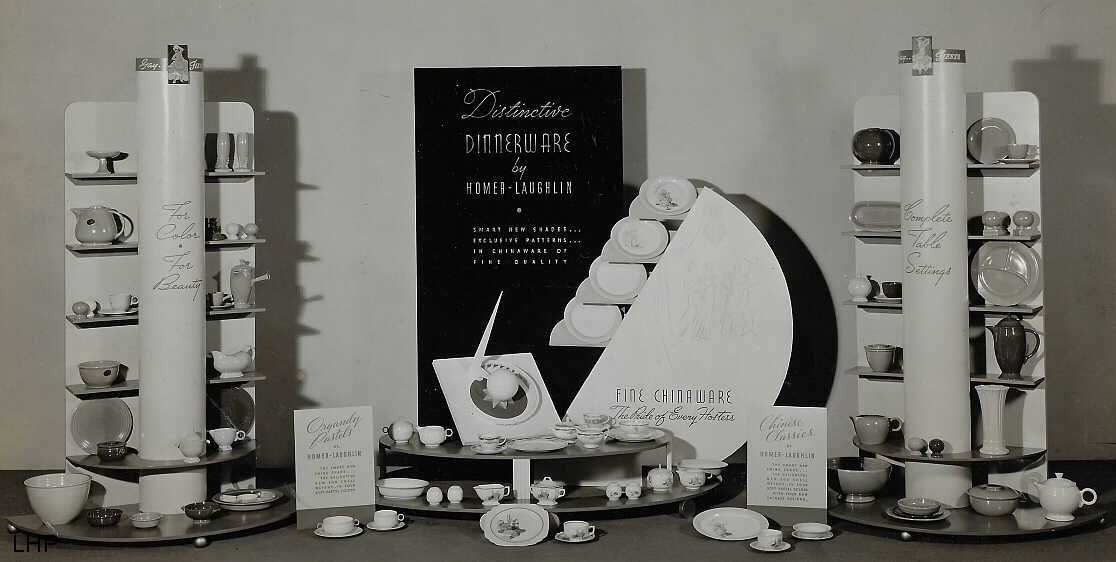 As with the previous photo, this was probably taken around 1939, again because of the Trylon and Perisphere. The lines featured include Fiesta, Fiesta Kitchen Kraft, Swing Eggshell, Mexicana on Century, and Eggshell Nautilus.
---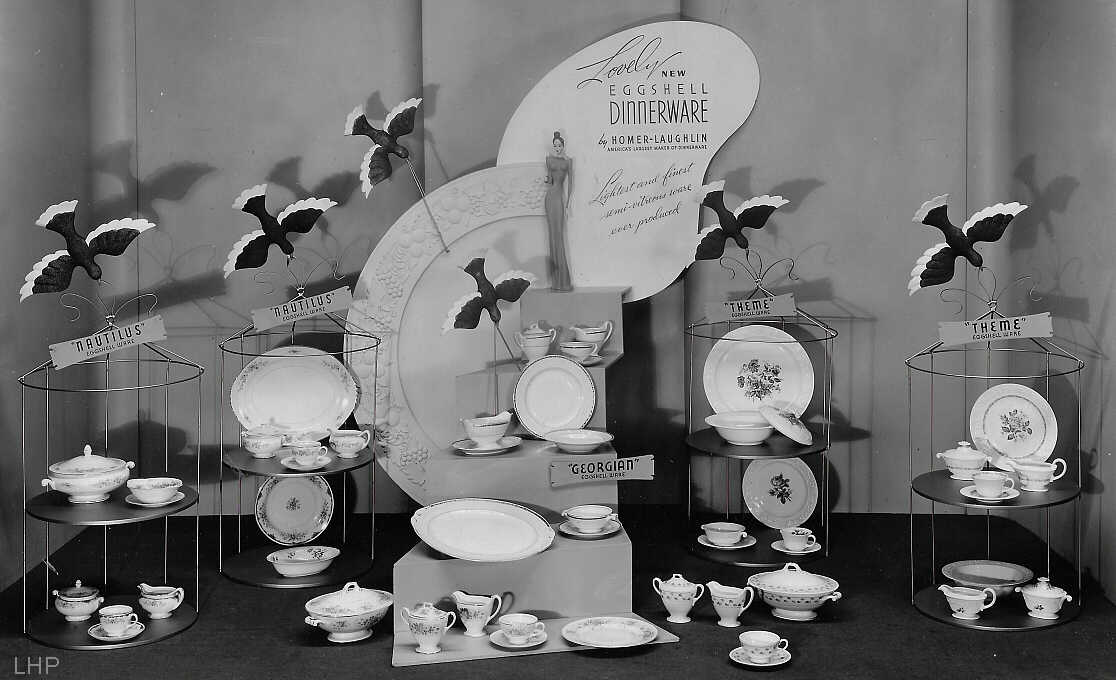 This display features Georgian Eggshell which was first made in the spring of 1940. Also shown are Eggshell Nautilus and Theme Eggshell with various decal treatments.
---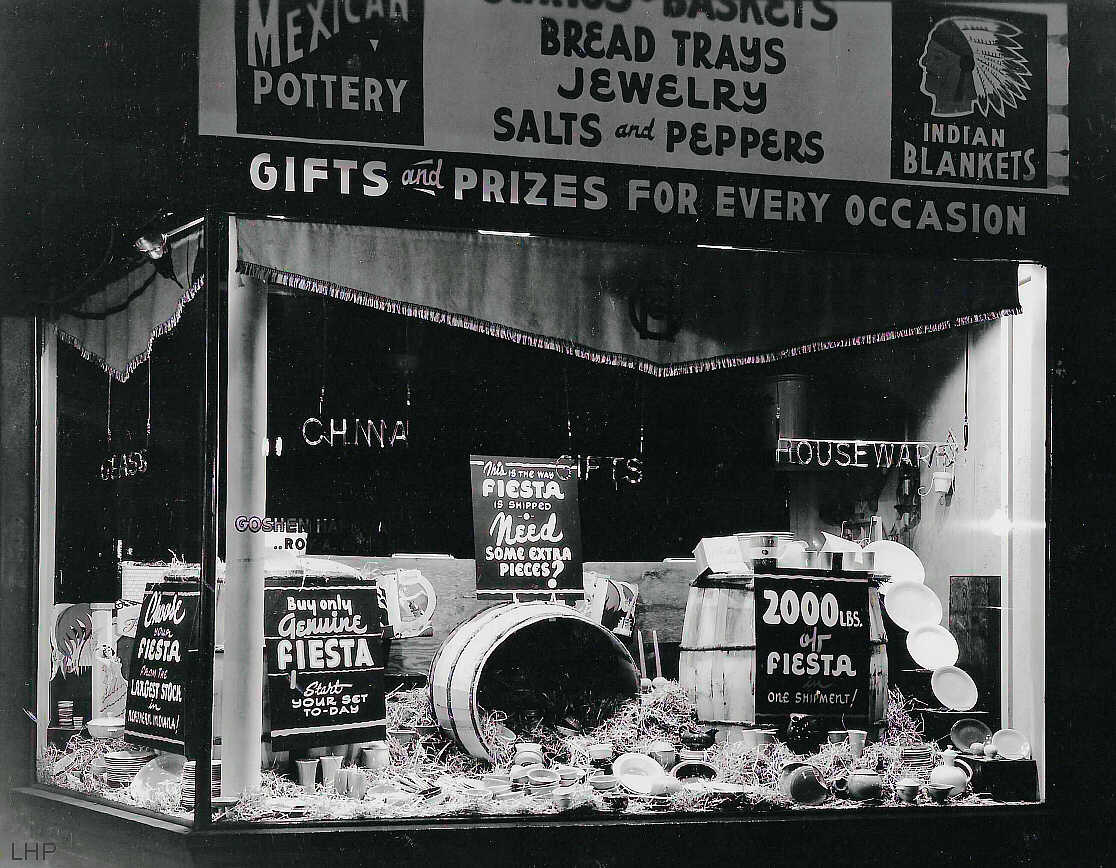 Fiesta window display at Roy A. Mayse's Goshen Hardware store in Goshen, Indiana. There are two $1 promotional sets on top of the barrel to the right: a Fiesta Kitchen Kraft refrigerator stack set with its box, and a Fiesta juice set. In the background are cardboard displays which today are sought out by collectors. Photo circa 1940.