Victor by Homer Laughlin
LaurelHollowPark.net, an informative website created and
maintained by Mark Gonzalez. Copyright © 2009-.
---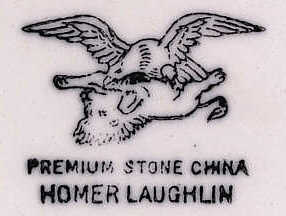 The Victor shape was first produced by the Homer Laughlin China Company in the early 1880s. The ironstone line was usually marked with the eagle over lion backstamp shown which promotes ware as, "Premium Stone China."

Victor is a rare example of a shape with both table ware and toilet ware. The assortment becomes even more eclectic with leaf dishes, compotes and soap holders.

There are two types of finials; the open, fluted style (which matches the handles) and the closed, ornate version.

The following two pages appeared in an 1883 holiday issue of the trade publication, Crockery and Glass Journal. The text at the bottom of the second page reads:
Dealers in earthenware are shown upon this and the opposite page a few of the principal pieces of my Victor shape, which I am now manufacturing and keeping a full line in stock. If the design pleases you it will be to your advantage to place your orders for supply of 1884 in my hands, as I will guarantee the SERVICEABILITY, COLOR, and FINISH of my stone china equal at least to that of the very best makes in any country. I am also prepared to supply my customers with Decorated Toilet, Tea, and Dinner Ware, printed and hand painted in new and desirable designs, at prices which will complete liberally with any other first-class make.
Personal inspection and correspondence solicited. Full and handsome illustrated catalogs, with discounts, forwarded to the trade upon application. - Homer Laughlin. East Liverpool, Ohio.
| | |
| --- | --- |
| | |
---
An advertisement ran in the January 5, 1882 issue of the Crockery and Glass Journal showing the Victor shape Combinet. Though it doesn't mention the shape, the drawing shows the same piece used in the 1883 advert. The text reads:
The most useful improvement in earthenware toilet articles introduced during the present century. It sells at sight.

The Toilet Combinet. Is a Slop Jar, from which the contents are not emptied until carried away. Is a High Chamber, more convenient and easy to use than the ordinary low one. Is a Chamber Pail, which does not rust out, look shabby, or retian offensive odors. It costs much less and is easier cared for than the three articles it displaces.

Patented by Laughlin & Ellis, September 20, 1881.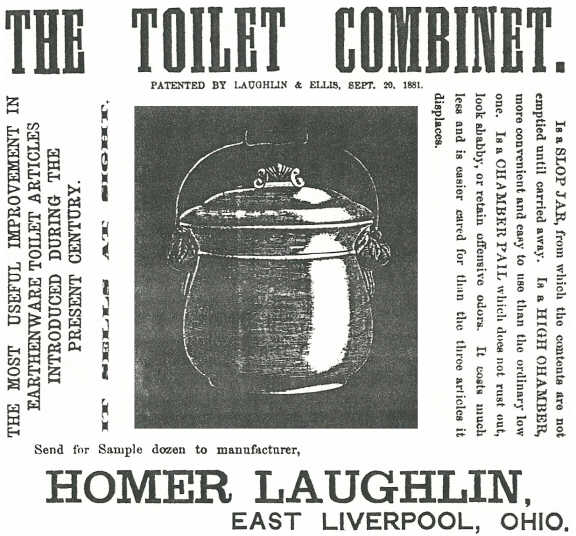 ---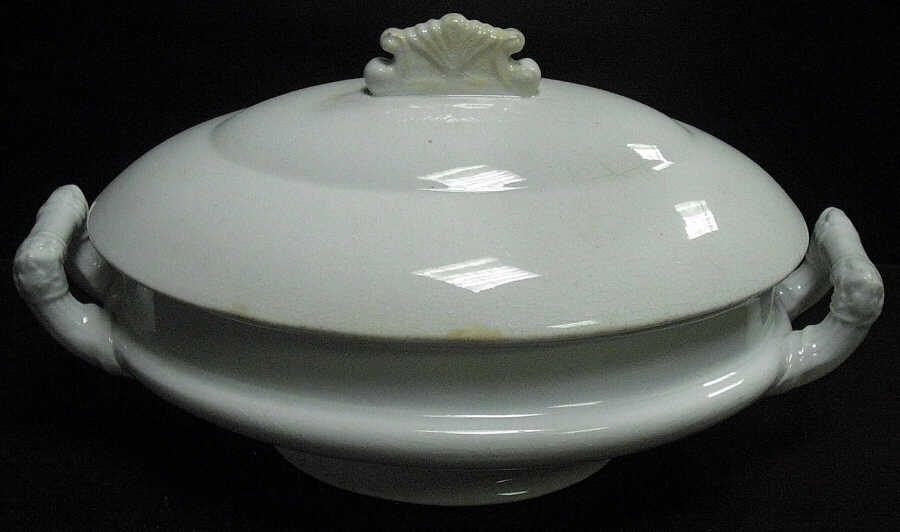 Victor covered dish (with closed finial)
| | |
| --- | --- |
| Victor combinet with moss rose | Victor jug, 9" tall |
| Victor jugs, BPOE lodge and moss rose | Victor celery holder, pink body and gold tracings |
---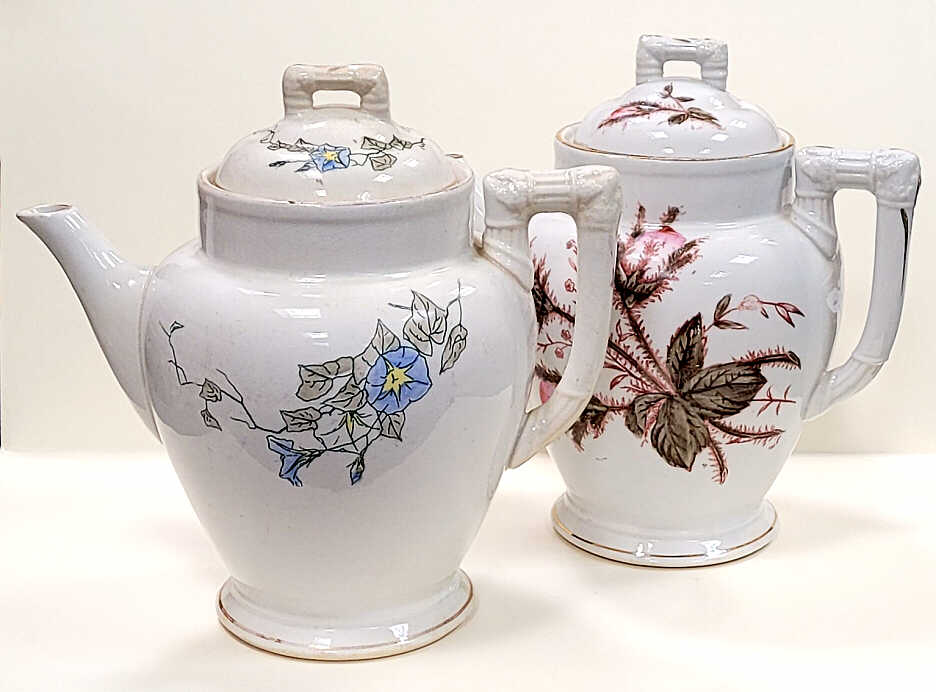 Victor teapots with morning glory and moss rose prints
---
| | |
| --- | --- |
| Double-handled sauceboat | Regular sauceboat |
| Soap dishes with both styles of finials | Brush vases, moss rose and blank |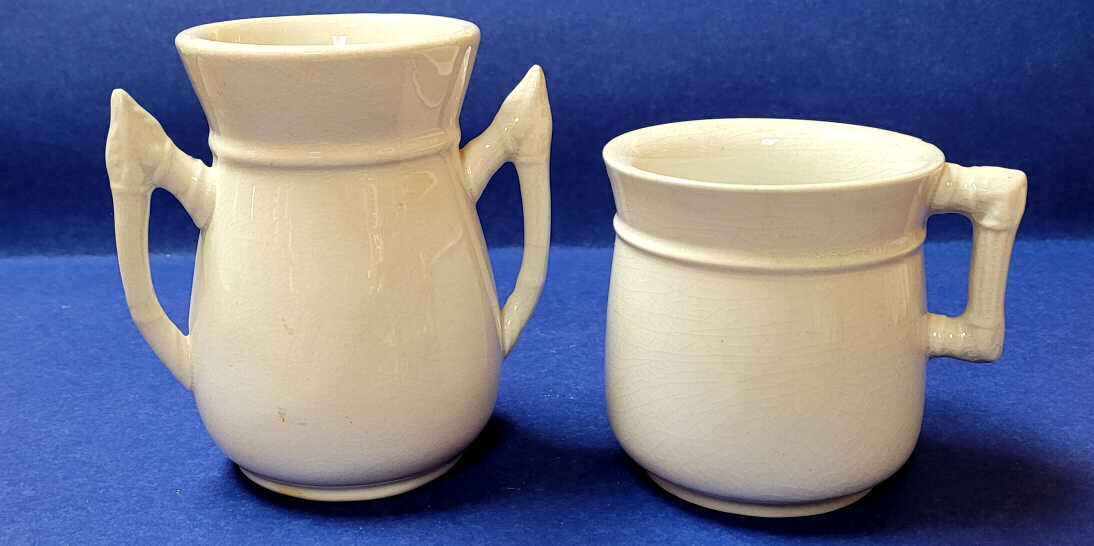 Victor toilet ware brush vase and shaving mug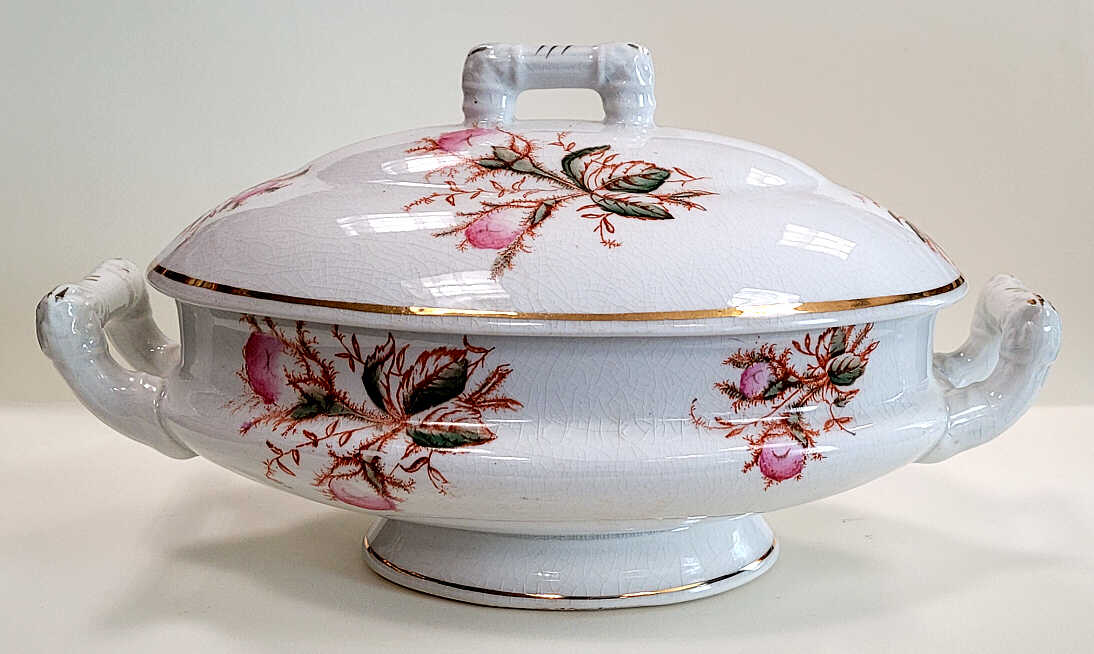 Victor covered dish with moss rose pattern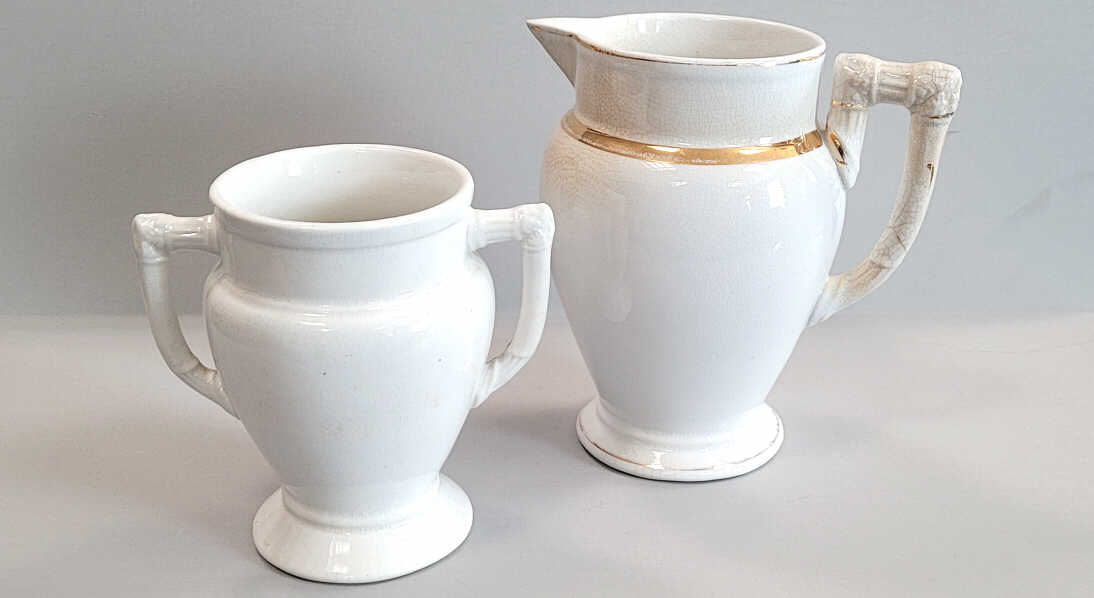 Victor spooner and small pitcher with gold trim
---
| | |
| --- | --- |
| Victor 9" jug with cabin scene under the spout | Cabin scene detail |
| Toilet ware large ewer with cabin scene under the spout | Cabin scene detail |