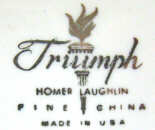 In the mid-1950s, the dinnerware market was flooded with Japanese imports. These lines were made in a true china (porcelain) body. Most American potteries produced semi-porcelain bodies. There are several difference between these two types of wares, but the most obvious is that china is translucent - light can pass through the piece. The new shapes being imported held a certain appeal. There were often offered in catalogs as "Fine China." The treatments were graceful and the shapes elegant in comparison to the more modern patterns of the time.

In order to compete, many potteries started to experiment with porcelain bodies. In the late 1950s, Homer Laughlin would created at least two "fine China" shapes: Triumph and American China. The Triumph shapes were first modeled in December of 1958. The line was released into production in the new year in late January 1959. There were several interesting shapes modeled for this line such as a divided baker, footed cake stand, and a dinner bell. However, based on vintage ads, none of these pieces were made available.

Triumph flatware is typical of the late 1950s: plain, round, and rimless. The hollowware has a conical form with a stretched look. When pieces are marked, the treatment name is often included.

See also American China.