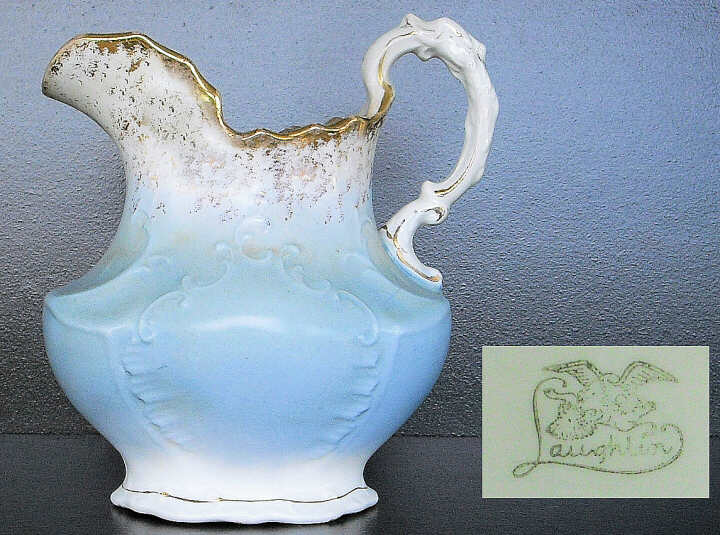 I was lucky to find this marked mouth ewer (a.k.a. small hot water pitcher) on ebay. It is currently an unidentified Homer Laughlin shape. Author Jo Cunningham showed an undecorated version of this jug in the section on Toilet Sets on page 129 of her book, Homer Laughlin "A Giant among Dishes" 1973-1939.
There are at least two toilet ware shape names that have been established as HLC, but examples have yet to be found. They are Dolly Madison and Savoy. Right now those are the best candidates for this unidentified shape, however it could be discovered Dolly Madison and Savoy are completely different shapes.
---
The HLC pitcher is virtually identical to the Torquay shape set made at the Chesapeake Pottery in Baltimore, Maryland. Torquay's general shape, scalloped edges, and embossing designs match HLC's perfectly. The only major difference is the little "creature" at the top of the handles. It points down in Torquay examples and up in HLC's. The Haynes & Son advertisement below shows the full assortment. The story behind this shape gets even more complicated with the discussion of infringement by the Wick China Company of Kittanning, PA. The ad ran in the Decemeber 6, 1900 issue of the Crockery and Glass Journal.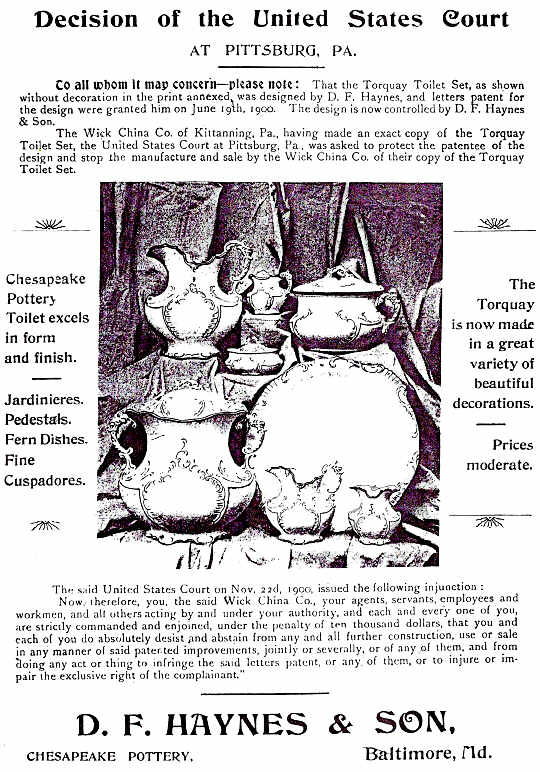 To all whom it may concern - please note: That the Torquay Toilet Set, as shown without decoration in the print annexed, was designed by D. F. Haynes and letter patent for the design were granted him on June 19th, 1900. The design is now controlled by D. F. Haynes & Son.
The Wick China Co. of Kittanning, Pa., having made an exact copy of the Torquay Toilet Set, the United States Court at Pittsburg, Pa., was asked to protect the patentee of the design and stop the manufacture and sale by the Wick China Co. of their copy of the Torquay Toilet Set.
The said United States Court on November 22nd, 1900, issued the following injunction: "Now, therefore, you, the said Wick China Co., your agents, servants, employees and workmen, and all others acting by and under your authority, and each and every one of you, are strictly commanded and enjoined, under the penalty of ten thousand dollars, that you and each of you do absolutely desist and abstain from any and all further construction, use or sale in any manner of said patented improvements, jointly or severally, or of any of them, and from doing any act or thin to infringe the said letters patent, or any of them, or to injure or impair the exclusive right of the complaintant."