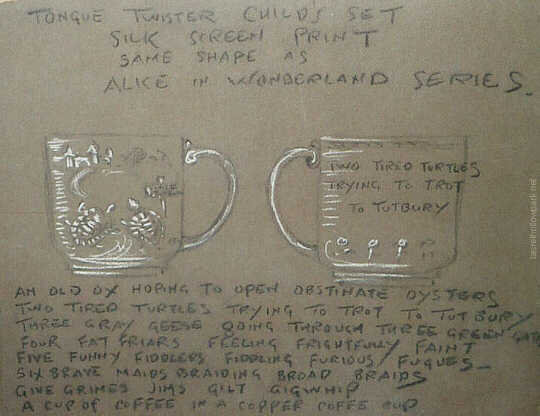 The Tongue Twister Tableware series comes from 1941 and was not put into production The shapes were originally created for an Alice in Wonderland series and were modeled in January and February of 1941. The drawings for the Tongue Twister underglaze prints were made from February until April.

Most, if not all, of Charles William's drawings for this series are featured in Jo Cunningham's book, Homer Laughlin China 1940s & 1950s, © 2000, pages 150 to 156. To the right is Tongue Twister concept art drawn by Frederick Rhead.

The plates probably were picked up from an existing line, most likely Brittany. The shapes made especially for Alice in Wonderland and Tongue Twister include:
bowl
soup with one lug
jug (small milk pitcher)
tray (with several revisions)
compartment plate
pitcher, 4"
tumbler
handled mug
The first group of pictures are copyright of Strawser Auction Group and have been posted here with permission.

The second group is of examples and drawings from the collection of The Fiesta® Tableware Company.

Tongue Twister Tableware grouping


Tongue Twister plate


Special turtle marking for the Tongue Twister series


Tongue Twister tray with indention for the cup. Also called a "mug and bowl unit."


Humpty Dumpty mug


Humpty Dumpty mug, reverse


Four Fat Friars mug


Four Fat Friars, reverse

Three Gray Geese Going
Through Three Green Gates


She Sells Sea Shells
By The Sea Shore


Two Tired Turtles Trying
to Trot To Tutbury
---
Tongue Twister examples and artwork from the collection of The Fiesta® Tableware Company.