The original concept for Theme was taken directly from the very popular line of Jasperware made by Josiah Wedgwood & Sons of England. The new line was to have slip decoration which involves placing relief designs made from colored slip (or clay) onto the surface of dinnerware. In this case, the slip was made in the different colored clays. Modeled fruit borders was made in the colored clays, applied to an Eggshell Nautilus plate, then given a clear glaze.

Plates and cups with slip decoration were made in early October 1938 and were listed in the log as having, "Wedgwood embossed work." For the rest of the month and into December, more pieces of the new shape were made including nappies, various styles of teacups, plates, patters, and saucers. The raised sprigs would also undergo several changes resulting in varying widths. By the end of November, Rhead was referring to the new line as "Theme."

Prototype Theme Eggshell examples from the collection of the Fiesta® Tableware Company (formerly HLCCo.)
| | | |
| --- | --- | --- |
| Plate with blue slip embossing. | Plate with pink slip embossing. | Plate with red slip embossing. |
| | |
| --- | --- |
| Casserole with blue slip embossing. | Casserole lid detail. |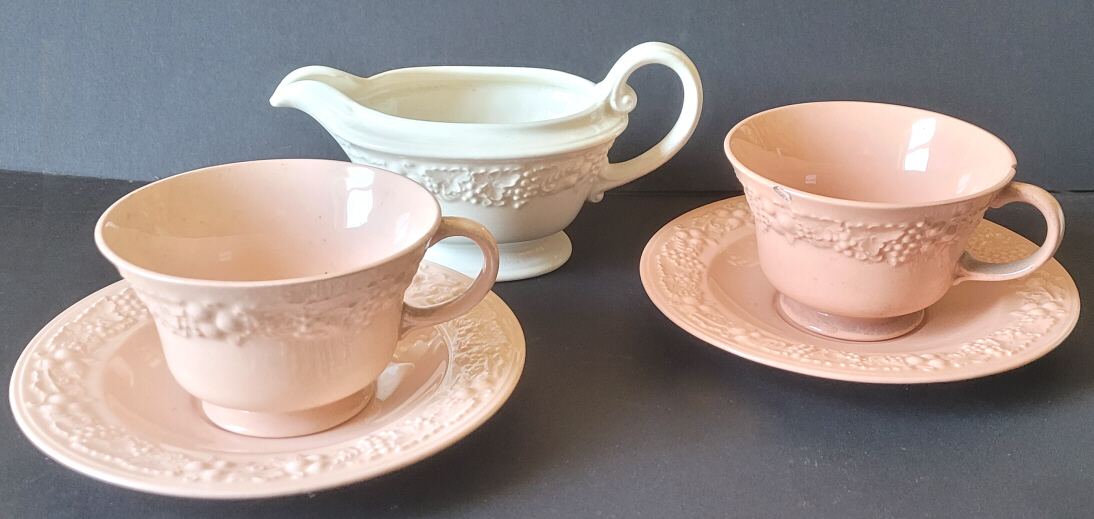 Theme cups and saucers in pink body with clear glaze and a regular creamer.
From the end of December to the end of January 1939, work was suspended on Theme while shapes were being created for Serenade. On January 29, 1939, with the majority of Serenade modeled, Rhead makes several notes on Theme. He states that the line is "going out minus the blue slip treatment." From then on, shapes are modeled with the raised floral ring as part of the mold. All previous models and samples were shelved and development resumed the first week of March 1939. The size and style of embossing that collectors know today was chosen at this time and work would continue on creating new shapes based on the wider relief into the first week of June 1939.
There was a point when it wasn't certain if it was to be of a regular body or in the light eggshell weight which was new at the time. On March 24, 1939, Rhead notes in his journals: G. Pittenger in. Asked if "Theme is to be in "Eggshell." Price lists are made out for Eggshell. Told him to see J.M. Wells who will be back today. Samples are in talc body and have been made light. Do not know definitely if the product is to be "Eggshell." All vintage Theme was made in the eggshell weight.


A few late additions were made to the Theme shape. The teapot was created in the Fall of 1940 and would undergo a change in the shape of its spout in June 1942. The last standard piece add the square plate which was released into production on May 7, 1941. Several backstamps were created for Theme, but only two were used. The first was a stylized Theme logo with quarter circle -- an example is on the far right. It was quickly replaced by the common wreath-Theme marking.
Theme Eggshell was discontinued in the 1950s. Almost every decoration encountered will be floral decals, though there are some platinum and gold band decorations as well as several rare examples of solid colored glazes.
It was very common for outside decorators to use Theme dinner plates for church plates and other commemorative pieces.