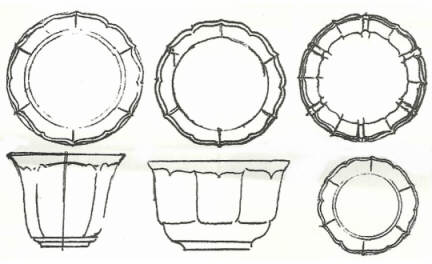 Tango flatware started out in several different forms. In July of 1936, two of the designs were considered and called, "Swedish." For the next few months, work on Tango was put on hold while attention was given on developing Harlequin and other shapes. In late September 1936, work resumed on Tango with the modeling of two sizes of teacups. Finally, in October, the flatware was put into place with a modification of the Swedish designs from July 1936 and the name "Tango" was adopted.

After a final design of the flatware was decided upon, the other pieces were soon added. All of the standard items are listed in the mold notes with two unexpected entries. The first is a Tango cream soup cup modeled in January 1937. The is the only piece that was created that you won't find on the open market since there is no notation of it being released into production. The second concerns the teacup handle. The body of the teacup was settled on in October of 1936, but the curled teacup handle wasn't modeled until February 1937. A second handle was created two months later - this time without the curled upper portion. Both styles of handles are found in today's collector market.


Frederick Rhead noted on October 1st, "J.M. Wells states that the Tango shape has not gone over like the Harlequin shape. Assumed that a plain modern shape is better than a traditional modeled shape for colored glazes..."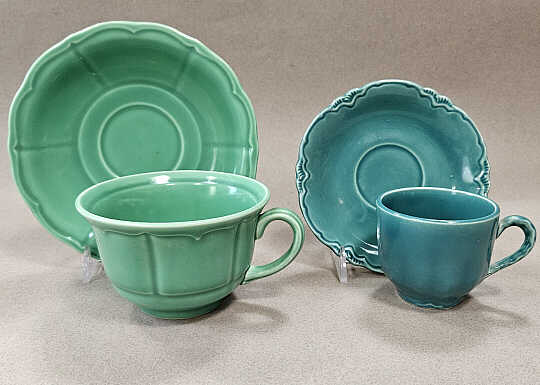 At one point some pieces of Tango were considered for Quaker Oats promotions. During this time the name Tango wasn't in use. Rhead states in his journals on September 21, 1936: J.M. Wells though that Swedish type short set for colored glazes the right thing for Q.O. There are also entries discussing making decaled Tango pieces for Quaker Oats, but no evidence has been found that any pieces of Tango were ultimately used for the promotion - solid color or decaled. However, a set of shapes called, "Italian" were developed and similar to Tango. These were used by Quaker Oats in late 1930s promotions as "Tea Rose." The decaled Tango cup shown is on display at Homer Laughlin and may have been one of the pieces considered for Quaker Oats.

Colors found with Tango are: maroon, spruce green, Harlequin blue, Harlequin yellow, and red. Tango was not marked and was availabile for a short time.

Since the Century shape was created with no salt and pepper shakers, the Tango version were borrowed to be used with the Century based "Riviera" line. If you find shakers in light green or ivory, then they belong to Riviera. In spruce green or maroon, then they are Tango. Finally, if they are in red, blue or Harlequin yellow, then they can be either Riviera or Tango since both lines share these colors.

Tango casseroles, sugars, and creamers are rather hard to find. The most difficult pieces to collect are the demitasse cups and saucers which were picked up from the Republic shape. They can be found in red, blue, green, and yellow. To date, none have been found in maroon.

There are collectors who insist a double egg cup was made for Tango even though there is no evidence in Homer Laughlin's modeling log or in Frederick Rhead's journals that such a piece was made. The double egg cups in question were made by W. S. George from their Rainbow line which is similar to HLC's Tango. For an example, see the image at the bottom of this page.