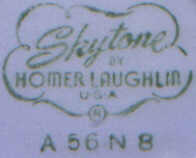 Skytone is essentially the Jubilee shape made in a blue body with contrasting white handles and finials. Before the line could be produced, three changes had to be made to pieces with handles that were part of the body and not applied. The handles for the teapot, coffeepot, and creamer would have to be made separate from the body to achieve the desired blue-white effect. Special molds were made in the summer of 1949. For other items with handles such as the casserole base and all the lids, the handles were already made separately so no further modifications were necessary. With the addition of the lug soup from Debutante, Skytone was ready to go into production.

Skytone was offered by various retailers and was a good seller all though the 1950s. Pieces can be found plain or with decals. Almost all of the Skytone decals are highly stylized floral treatments that resemble one another. Though produced for over ten years, there aren't very many different Skytone decals when compared to the vast number used by other decalware.

Once in a while a Kraft Blue piece can be found mixed in a Skytone set. Kraft Blue, another blue body line, was made into the 1950s and the two share some decals and in a few rare instances they even share backstamps, though such items would be considered error pieces.

Because it was such a good seller, Skytone is easy to find today. Collectors can afford to discriminate against pieces with scratched decals and worn platinum trim. Flatware and larger hollowware commonly have the Skytone backstamp. More often than not, there is also a date code.

Suntone is the same as Skytone but with a brown or dark terra cotta clay used for the bodies. The handles and finials are the same white bodied versions as used in Skytone. Where Skytone was sold either plain or with decals, Suntone was made plain only. Suntone is marked in much the same way as Skytone, however there is not a date code. Suntone also has a miniature cup and saucer that was not offered in the Skytone line. These were samples used to promote the line in the 1950s.

The fast stand and double egg cups come in several different versions. When first released, the small portion of the egg cup was to be white and the larger part to be blue, or brown in the case of Suntone. However, there are versions that are all blue or brown, depending on the line. Something similar also happened to the fast stand resulting in three versions. The bowls were to be blue and the attached under plate white, but sometime around 1955 both components were made in blue. There some examples found where the plate is blue and the bowl is white, though these are not as common as the other two versions.

For more, see the section on Jubilee & Debutante.