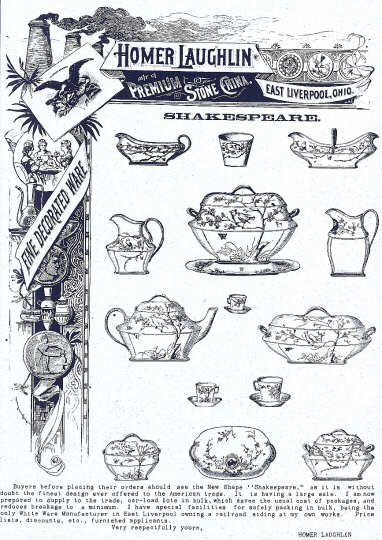 The Shakespeare shape was produced by the Homer Laughlin China Company, circa 1886. The shape was named after Shakespeare Laughlin, Homer's brother, who died in 1881.

The flatware is a plain, round shape whereas the hollowware is bulbous and somewhat oversized. The shape is easily identified by the ornate handles.

The picture of the covered sugar shown below features the Premium Stone China marking with the famous eagle over lion logo.

The advertisement to the right reads at the bottom:
Buyers before placing their orders should see the New Shape "Shakespeare" as it is without doubt the finest design ever offered to the American trade. It is having a large sale. I am now prepared to supply to the trade, car-load lots in bulk, which save the usual cost of packages, and reduces breakage to a minimum. I have special facilities for safely packing in bulk, being the only White Ware Manufacturer in East Liverpool owning a railroad siding at my own works. Price lists, discounts, etc., furnished applicants.

Very respectfully yours,
Homer Laughlin
This shape was discontinued before the Newell plants were built in the early 1900s. As a result, all Shakespeare pieces were made at the East End plants in East Liverpool, Ohio.