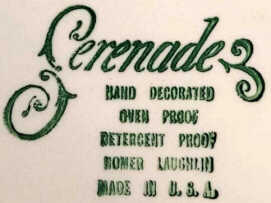 Serenade dinnerware was made in the early 1960s. Pieces were brought together from already existing lines to create the assortment (see bottom of the page for a full listing). All of the flatware comes from Rhythm, the sugar and creamer are semi-porcelain versions of Triumph, and the teacup comes from Charm House.

The marking and the troubadour (seen in the advertisements below) were recycled from the Serenade pastel line of dinnerware made from 1939- 1941. Other than the marking and the troubadour, Serenade dinnerware of the 1960s has nothing in common with the older pastel line.

Most of the Serenade patterns were decorated with stencil and sprays resulting in variations in shading and color placement from one piece to the next.

There weren't very many patterns developed for Serenade. The Aster pattern appeared in the 1964 Plaid Stamps catalog as "Blue Aster".