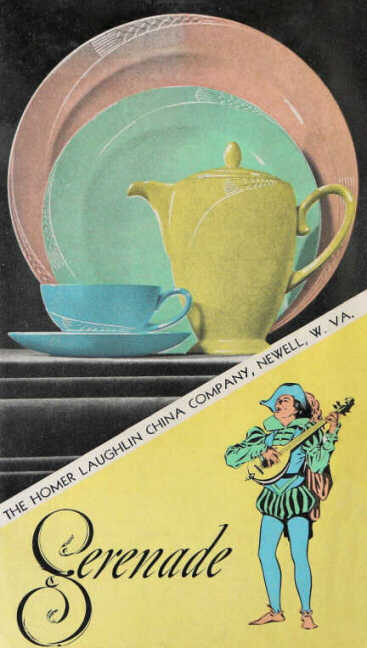 The development of Serenade can be summed up in one word: rushed. On December 8, 1938, Frederick Rhead notes in his journals: "[Joe Wells] order new spiral shape modeled for January." The first pieces of Theme Eggshell were being designed and modeled t the time, but both Rhead and modeler Al Kraft immediately worked on a 10-inch "Spiral' plate. On the 10th, Rhead sketched two "Spiral" casseroles and notes that J. M. Wells picked one with a "convex top cover." by the 14th four pastel glazes were chosen.

During the last week of December, the shape had been approved and was named, "Serenade." It was decided to make a new backstamp and to model more pieces. From the beginning of January to the first week of February 1939, all the standard Serenade pieces were created. There were only minor alterations such as modification to the teapot cover and to the tea saucer. The first teacup handles were also replaced since the handle was, as Rhead notes, "too heavy."

While the Serenade shapes were developed with ease, the same cannot be said for the glazes. There was no trouble noted with green and yellow, but blue and pink presented some problems. Rhead mentions that some of those working on Serenade's development didn't like the blue being used. There are several notes that Serenade blue was, "too gray."

On January 18, 1939, after several trials , Rhead writes the pink glaze was not right. He also mentions several blue samples, but considering the gray cast of blue Serenade found today, they must have been rejected. By mid-February, there were still problems with pink. On the 13th, Rhead records a possible solution:
Suggested to A.V. [Albert Victor Bleininger who worked mainly on glaze and glaze development at HLC until 1945] that we make a light salmon terra cotta to replace the present Serenade pink which is not yet right. A. V. states that he is trying # 7 kilns where there are no chrome fumes.
Rhead never again writes of the salmon terra cotta. A pink glaze was finally accepted late February and samples of Serenade and other shapes such as Virginia Rose, Nautilus, and Century 6" plates were being made in the four Serenade glazes.

By April 1939, Serenade with its shapes, glazes, backstamps and promotional material was complete. Rhead notes some dissatisfaction with this line on May 10, 1939:
Serenade being shipped. Fair results in color. Would have like to have had more to try with regard to glazes. Texture and colors not good enough.
The line was offered for the first time in trade publications on July 1939.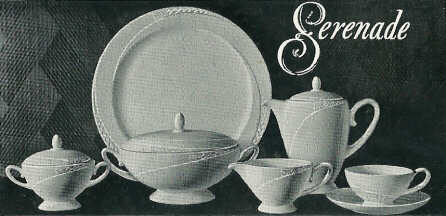 Serenade promotional card
Why was HLC in a hurry to make Serenade? The answer lies with Taylor, Smith & Taylor's Lu-Ray Pastels which has been released a year earlier. Its pastel glazes were a sharp contrast form the bold Fiesta-like colors and became an instant best seller. Several pottery companies made similar lines soon after Lu-Ray became popular such as Deanna by Knowles and Elmhurst Pastels by W. S. George. They were offered at the same time as HLC's Serenade, and while Deanna had some success, Elmhurst Pastels and Serenade were poor sellers. Despite being produced into the early 1940s, Serenade never gained the wide spread popularity of Lu-Ray.
Serenade was HLC's first pastel colored line. The matte textured pastel glazes were used with another HLC shape, Nautilus, and a special Serenade Kitchen Kraft casserole was made as a promotion for Royal Metal and M. Seller's. In 1948, HLC would make another attempt with pastel glazes in the form of Jubilee. "Shenandoah Pastels" was made by Paden City Pottery of Paden City, West Virginia. Some antiques dealers make the mistake as labeling it as a Homer Laughlin product.