Vintage HLC Scale Catalogs and Treatments
LaurelHollowPark.net, an informative website created and
maintained by Mark Gonzalez. Copyright © 2009-.
---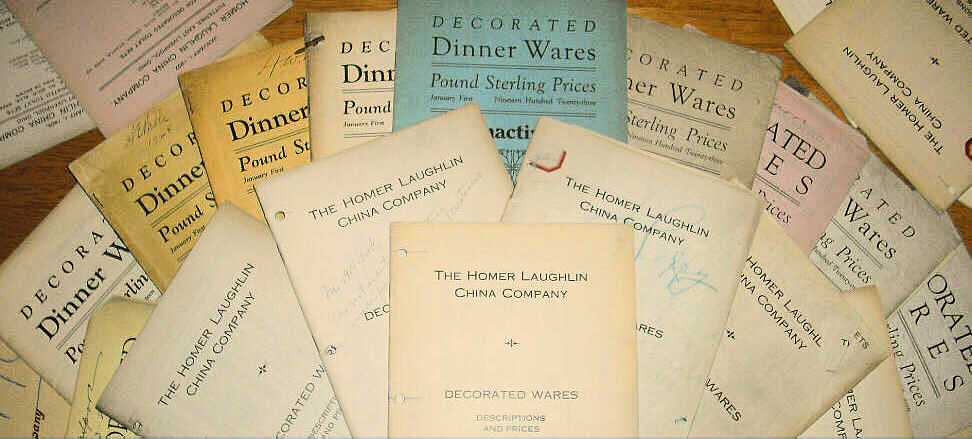 Pictured above are Pound Sterling catalogs from the Homer Laughlin China Company. This particular set ranges from 1901 through 1929 and includes price scales for decorated ware based on shapes, grades, and assortments. They are particularly useful in dating when a specific shape and/or decoration was made available. They can also be used for decal and treatment identification.
The following mouth ewers come from toilet sets. Both have treatment numbers written in gold beside their backstamps. The ewer with treatment 2164 is HLC's Wyoming shape, and the one with 2216 is Duchess. A quick look in the pound sterling books gives a good description of the decals used as Flag Iris and Pink Daisy. For more on toilet ware treatments, see the table at the bottom of this page.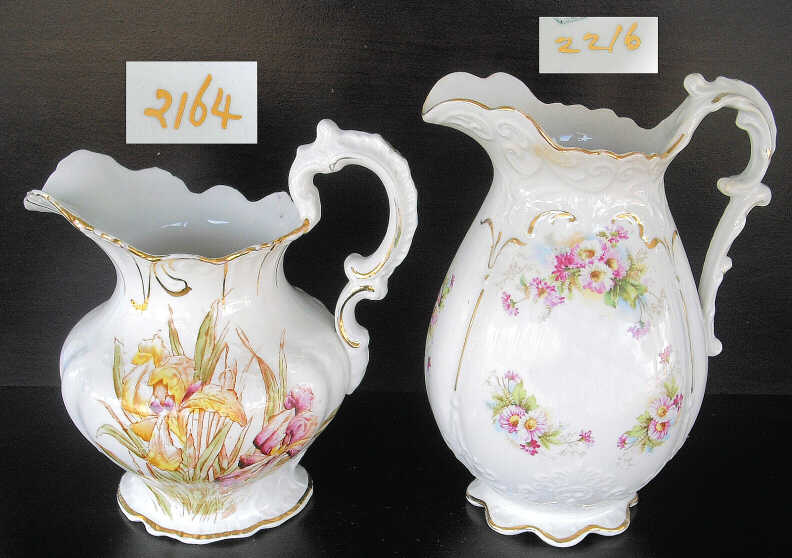 Treatments are listed in the catalog with a pattern number first, the pricing scale to be used, the shape, and then a description of the treatment. Here is an example of a few treatments used on the Seneca shape in 1909:

The information in the table below comes from the scale catalogs. Along the left hand column are the dates of the catalogs. Those in parentheses are years in which I don't have the catalogs. Along the top are various dinnerware shapes available from 1901-1929. Boxes shaded green indicate when that particular shape appeared in a given catalog.
It should not to be inferred from the table that American Beauty, Golden Gate, and Colonial were introduced in 1901. They originated in the late 1800s and were established shapes before this set of catalogs was published.
The number of treatments for each shape from 1901 to 1911 has been added to the table. American Beauty, Colonial, and Seneca peaked in 1903. Golden Gate starts to trail off in 1904 and is no longer listed by the 1906 catalog.
Click on the year below to view the entire contents of that particular price scale catalog.
Listings after the 1929 catalogs are catalogs and lists from various years from the 1930s into the 1970s. These can also be helpful in identification of wares made during those times. There may be a little more work in cross referencing a pattern. For example, in Modern Farmer, MF-9 references back to the Virginia Rose treatment, VR-387 whereas MF-20 goes back to the Nautilus pattern, N-225.
Most treatment numbers can be found on the undersides of oval bakers (and sometimes round vegetable bowls), and the undersides of casserole lids. This photo shows a Skytone round serving bowl with the treatment number SR-120 stamped in gold. Looking up the number in the Skytone list reveals the pattern as "Marcia" made for Sears in the 1950s.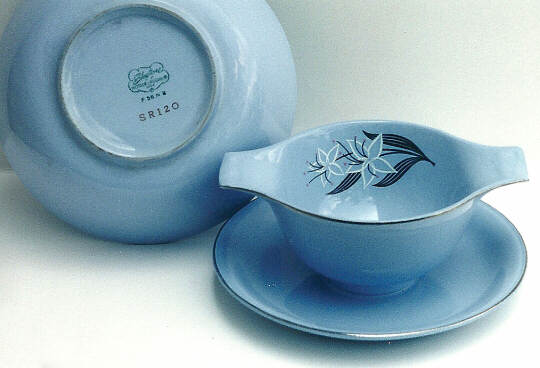 The materials on this page have been gathered over the years by myself, Jo Cunningham, Joanne Jasper, and Darlene Nossaman. It is by no means complete. However, it is a good starting point should you wish to know more about vintage and collectible HLC wares.
American
Beauty

Golden
Gate

Colonial

Seneca

King
Charles

The
Angelus

Hudson

Niagara

Genesee

Empress

Republic

Kwaker

Yellowstone

Newell

1901

124

49

205

1902

124

49

224

89

1903

236

47

285

120

46

1904

141

3

174

54

64

1905

151

3

187

64

73

97

1906

121

147

64

58

132

1907

66

91

44

45

174

1908

40

58

17

174

64

1909

37

55

15

166

101

1910

141

123

70

1911

70

152

33

112

1912

1913

1914

1915

1916

(1917)

(1918)

1919

(1920)

1921

(1922)

1923

(1924)

(1925)

1926

1927

1928

1929

American
Beauty

Golden
Gate

Colonial

Seneca

King
Charles

The
Angelus

Hudson

Niagara

Genesee

Empress

Republic

Kwaker

Yellowstone

Newell

1930

This 1930 catalog is a partial photocopy which centers around Yellowstone, Kwaker, and various treatments for HLC customers. Prefixes such as "BB" stands for Butler Brothers while "JJ" stands for J. J, Newberry. Of particular interest are the 15 treatments listed for the elusive Oak cup and saucer set. An advertising copy of the Oak set is included in the link.

1932

The 1932 catalog highlights white body and yellow glaze wares and centers around Empress, Kwaker, Republic, Newell, Trellis, and Old Roman. It has no listings for Yellowstone or Wells.

1934

The 1934 catalog highlights white body specials used mainly on Kwaker, Empress, and Republic. There are also special patterns listed for the Yellowstone, Wells, Virginia Rose, Century, Jade, OvenServe, and several other shapes.

1937

The 1937 catalog lists treatments for Nautilus (ivory and eggshell), Coronet, Georgian, Virginia Rose, Marigold, Century, Yellowstone, Empress, Kwaker, Wells, Orleans, Brittany, OvenServe, and Appletree.

1938

A special two-page listing of available patterns on the Swing Eggshell shape, dated January 1, 1938

1941

The 1941 catalog lists treatments for Nautilus, Modern Farmer, Coronet, Georgian, Virginia Rose, Marigold, Century, Yellowstone, Empress, Kwaker, Wells, Orleans, Brittany, Kitchen Kraft, and Eggshell lines.

1947

A special cost of manufacturing listing for Brittany, Century, Fiesta, Georgian Eggshell, Harlequin, Liberty, Nautilus Eggshell, Republic, Swing Eggshell, Theme Eggshell, Kitchen Kraft, and Specialty pieces. Dated July 1, 1947.

GEO

Georgian treatments. The first page has treatments on the regular, ivory Georgian body from the mid-1930s (G-1 to G-114). The remaining lists have pattern numbers used on the Georgian Eggshell shape, starting with G-3302. (These are not to be confused with the Genesee treatments from 1911 to 1916 which also used a "G" prefix.)

VIR

Virginia Rose treatments from the 1950s.

BRIT

Brittany treatments, starting with B-1309.

MOD

Modern Farmer treatment listings featuring twenty-five patterns. Dated June 1, 1941.

NAUT

Nautilus (Ivory) treatments from the 1950s, starting with N-211 and ending with N-445

NEGG

Nautilus Eggshell treatments. (The regular ivory and eggshell Nautilus treatment numbers should not be confused with Niagara treatments from circa 1910. All three shapes used an "N" prefix.)

THM

Theme Eggshell treatments from the 1950s with twenty listings.

LIB

Liberty treatment listings from the 1950s. List starts with L-600 and ends at L-651.

RHY

Rhythm treatments from the 1950s with RY-102 through RY-370.

DEB

Debutante treatments from the early 1950s with eight listings.

SKY

Skytone treatments from the early 1950s.

CHM

Charm House treatments from the early 1950s with eight listings.

APP

Applique treatments which use Brittany flatware and either Charm House or Brittany hollowware.

CAV

Cavalier treatments from CV-69 to CV-112.

UGS

Underglaze treatments, 1950s-1960s. The first batch refers to Dura-Print lines using Rhythm flatware and Charm House hollowware. Other underglaze treatments are also listed in this section using Obit and Vogue hollowware.

TRI

Trimph treatments from a list dated December 12, 1965.

ERK

A general listing of treatments still available on the older Empress, Republic, Kwaker, and Ivora (Rose and Poppy for Colgate) shapes. Also included are the Tom & Jerry sets and children's sets in vellum glazes. Early 1950s.

MSC1

Miscellaneous treatments listing various shapes and customers from the 1950s

MSC2

Small list of treatments dated December 6, 1978. This list includes both Fiesta Amberstone and Casusalstone.

HRTH

Treatment list for the Hearthside shape, dated 1978.
One of the problems with the toilet ware treatments in the pricing catalogs is that they are grouped by scale numbers rather than appearing in numerical order. Also, it can be difficult to find a treatment number from one year to the next as patterns were added and discontinued. The table below lists all the toilet ware treatments that appear in the catalogs listed on this web site. They are in numerical order with the year they first appear in a pricing catalog as well as the specific scale grouping in which it can be found. For example, if you wanted to look up pattern 2211, the corresponding year of 1903 is listed as a link. You would need to click on the year and then scroll down to the Scale 9 listing.

In 1911, the number of treatments available was cut back. Only three new patterns were offered in 1912 and just one in 1913 (pattern 2411). By 1914, the list of toilet ware treatments began to stagnate with no new offerings. By the late teens, the number of available treatments started to get less and less. Surprisingly, eight patterns were created for Duchess and Mingo in 1923 - treatments 2412-2419. Pattern 2419 would be the last toilet ware decoraton created. No toilet ware was listed after the 1929 scale catalog.