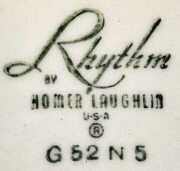 Designed by Don Schreckengost, Rhythm was a coupe shape line of dinnerware first made in the early 1950s. It was decorated with decal treatments and also offered in solid colors.

In 1948, HLC started work on a new shape for Woolworth's. Several different designs were considered for ringed hollowware, but it was evident from the start the flatware should be coupe shaped. On November 12, 1948, a 10" plate was listed as being a couple example for Woolworth's. A second version was modeled on January 17, 1949 this time with a "ringed center." Two other items were made that year: a lined cup on April 17 and a cup without rings on July 1st. No other pieces were modeled the entire year while the Art Department worked on developing he Charm House shape.

When Charm House was essentially complete, attention was given to the "Woolworth's" line. The 10", 9", 8", 7", 6" plates, a remodeled teacup, fruit cup, sugar and cover, creamer, 9" nappy - which doubled as a casserole base, casserole cover, and coupe soup were all modeled from March 3 to June 22, 1950 and without rings. Work on the new line was suspended from June 24 to July 17 while the necessary changes were being made to the Jubilee shapes for Skytone.

Two new pieces were added at the end of the summer of 1950: the sauceboat on August 22, and a teapot on September 14th. These pieces were still being referred to as "Woolworth" shapes or as simply "WW Coupe." The modeling log listing for the sauceboat indicated it was released into production on September 25, 1950. This is the only release date listed for the WW coupe line which was then named, "Rhythm."

Several shapes were remodeled over the years and there were only a few new ones added. The water jug was created on July 3, 1951, and the 15" platter on February 13, 1952. The snack plate, found only in solid colors, is not explicitly listed in the log. There are, however, multiple listings for various "TV Plates" and one of these may be the standard Rhythm snack plate.

Rhythm had a few pick up pieces from already existing lines. The shakers came from Swing and the soup/cereal bowl from Charm House. The bowl can be identified by its distinctive mushroom shape and was commonly marked with the Rhythm backstamp. In turn, the Rhythm sauceboat was picked up with Charm House hollowware to be used in the Dura-Print lines. Solid color Rhythm can be found with rim soups as well as demitasse cups and saucers from Brittany.

Rhythm was not only sold through Woolworth's, but also by virtually every other retailer of the 1950s. Coupe shapes were very popular and every pottery was making them. It was made in solid colors and with a wide range of decals - both stylized and realistic. With only a few exceptions, most pieces are marked with the same Rhythm backstamp with a date code.

There are several highly collected treatments on Rhythm. The "American Provincial" line consists of a set of decals which vary from one piece to the next. For example, dinner plates will have a farmer and his white, water jugs will have a bird, and the sauceboat will have a simple flower. The solid colors, chartreuse, gray, maroon, dark green, and Harlequin yellow, were very popular in the 1950s. Since many companies made shapes similar to Rhythm and in almost identical colors, it's easy to confuse on maker with another. In almost every case, Rhythm will be marked as such.

The only significant shape variation involves the creamer. It originally was the same height as the sugar base, but was replaced soon after the line's introduction by a taller version.

Based on backstamps and vintage ads, it's reasonable to say Rhythm was not made beyond 1965. While the hollowware may have been discontinued around that time, coupe shaped flatware was used with several other shapes from the 1960s and into the 1980s.