Provincial by Homer Laughlin
LaurelHollowPark.net, an informative website created and
maintained by Mark Gonzalez. Copyright © 2009-.
---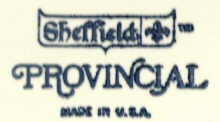 The Provincial shapes were created from May to August 1968. They include the covered sugar, creamer, coffeepot, shakers, teacup, sauceboat, casserole, and a 36s bowl. A teapot was added in November the same year. The hollowware was put with coupe shape flatware to make up the Provincial line.

The most common pattern on Provincial is "Sheffield Provincial" - one of several lines of dinnerware made by Homer Laughlin in the late 1960s to early 1970s for the distributor J&H International. Flatware was decorated with an underglaze treatment. The creamer, sauceboat, and teacup were glazed in solid blue. The bases of the other hollowware were glazed in solid blue with contrasting white lids , except for the butter dish which had a blue lid and white base.

Provincial is very similar to HLC's Bristol from 1970. While they share the same flatware, Provincial's hollowware is not as curved at the bottom as Bristol's.

For more on the Bristol shape, see this page.
---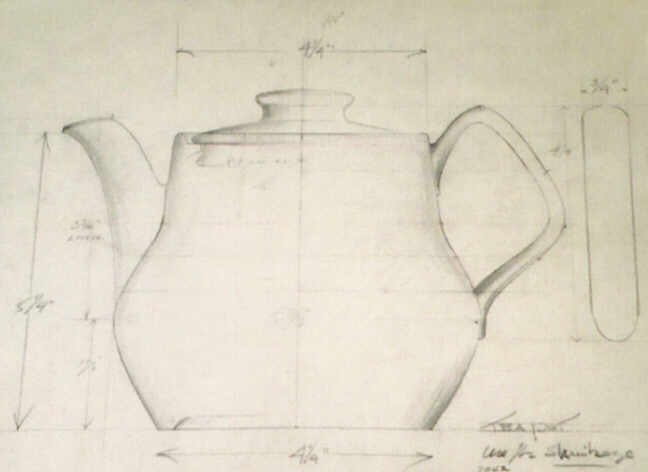 Original drawing for the Provinical teapot.
Courtesy The Homer Laughlin China Co.
| | |
| --- | --- |
| Sheffiled Provinical 10" plate, pattern C-337 | Sheffiled Provinical cup and saucer |
| | |
| --- | --- |
| Provincial blue creamer and gold shakers | Orbit butter picked up for Sheffiled Provincial |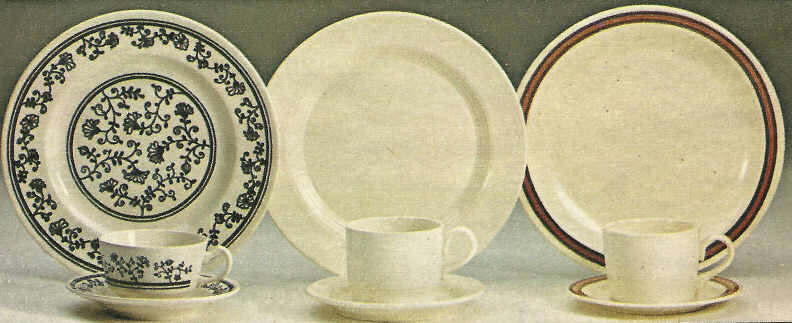 "Old Sturbridge" or simply, "Sturbridge" is an underglaze blue decoration on a white body produced in the early 1980s. Unlike Sheffield Provincial, all the items in the line received the pattern and no piece was glazed in a solid color. Sturbridge is one of Homer Laughlin's most mixed lines of dinnerware. All the flatware comes from Cavalier. The teacup, sugar, creamer, and gravy are from Brittany. Shakers were picked up from Jubilee, the butter dish from Orbit, and a mug from Fiesta Amberstone/Ironstone. The teapot, coffeepot, and casserole are Provincial. And finally, a special snack plate was made using a dinner plate with an indention for a teacup. Technically, this is the Diplomat shape with three Provincial pick-up pieces.

The advertisement above comes from a 1982 catalog and features three HLC lines. From left to right: Old Sturbridge, Harlequin White, and Camel.
| | |
| --- | --- |
| Provincial shape coffeepot, creamer, and a Troy shape mug. | Provincial group with Orbit shakers in yellow. Courtesy: Mark LeCain |
---
Assortment of Items:

For the Sheffield Provinical line:
Items marked with (*) are glazed in solid blue
Items marked with (**) have bases in blue, lids in white
The butter dish (***) has a blue lid, white bottom
All other items are in white with the underglaze decoration

Chop plate
13" platter
11" platter
Gravy liner
10" plate
6" plate
Soup
Cereal
36s Bowl*
Teacup*
Saucer

Sauceboat*
Casserole**
Teapot**
Coffeepot**
Sugar**
Creamer*
Shakers*
Butter*** (Orbit)
Ashtray (Regency)
Handled tray
Vegetable bowl