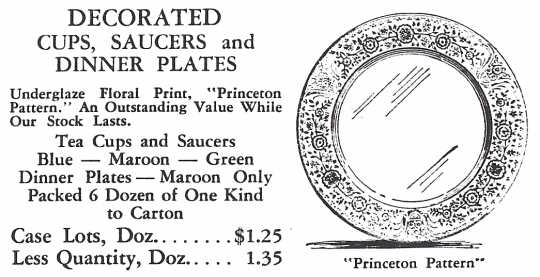 The Princeton shape originally started out as an exclusive for Woolworth's stores. In March 1936, three pieces were modeled; the 9" plate, a teacup, and a saucer. According to designer Frederick Rhead's notes, the new shape was to be a round rim shape with a three-paneled design to allow for silk screen prints. In between each panel was an embossed floral design. There was also a slight scallop etched just inside the rim.

By April the shape was officially named Princeton and more pieces were made. These include a remodeled 9" plate, fruit cup, 10" plate, 7" plate, 6" plate, nappy, and a platter. No other items were created for the line.

The only pieces that have appeared in advertisements and in the collector market are the 9" plate and the cup with saucer. In the upper right hand corner is one such advert with patterns in maroon, blue, and green. Collectors have been able to find all three, however, Princeton must have had a very short production run since it is somewhat rare. Expect pieces to be marked with the general Homer Laughlin backstamp and date code.