The Peasant Ware line consists of Kraft Blue shapes in a tan body with hand-painted treatments and sealed with a clear glaze. One of the first time Frederick Rhead mentions the line in his journals is with regards to the body. Several different colored bodies were considered until a tan colored clay was decided upon on at the end of November 1939. After samples of Peasant Ware were reviewed, a special backstamps were made in January 1940. There were numerous hand-painted designs tested at this time including a rooster, house, ship, various figures, and trims with varying widths.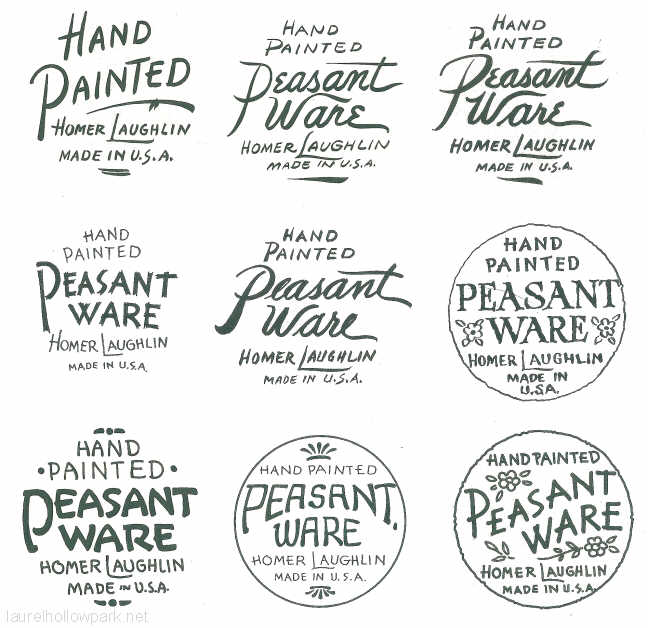 Drawings of proposed Peasant Ware backstamps.
Courtesy The Homer Laughlin China Company.
Rhead mentions the line again on March 23, 1940: ...spoke about Hand painted Peasant line for Woolworth's. Trying it without [trim]. House to be more solid. Also chimney to be perpendicular. Color to be stronger... It was determined in April 1940 the assortment would be a 9" plate, cup, saucer, 6" bowl, teapot, creamer, and sugar. However, on May 23, 1940, Rhead notes the line making use of all the Kraft Blue shapes except the 10" plate, baker, novelty creamer, and cream soup. The final designs were also listed at this time as: House, Flower Pot, Windmill, and Ship.
See also section on Kraft Blue & Kraft Pink.