Newell by Homer Laughlin
LaurelHollowPark.net, an informative website created and
maintained by Mark Gonzalez. Copyright © 2009-.
---
Named after the town in West Virginia where five of the Homer Laughlin plants are located, Newell was the first line of dinnerware Frederick Rhead designed. It was offered to the public in 1928 and would last into the mid-1930s. Shapes with the edges decorated with ornamental reeding were becoming popular with other potteries in the late 1920s and Newell was HLC's first such line. Two more would soon follow based on Newell: Trellis and Old Roman. Both lines used many of the flat pieces from Newell with the addition of embossed patterns along the rim. Newell is much easier to find than these spin-off lines. It should be mentioned that the Newell and Liberty shapes have very little in common. Liberty was another "rope border" shape first offered by HLC in 1942. Each has distinct shapes and the treatments used come from different eras. Still, some tend to confuse the two lines.

Newell isn't that difficult to find so it must have been a very good seller in its day. Flatware such as plates and platters are especially easy to collect. The cake plate and pickle may be a little more difficult to locate. Sugars, creamers, and sauceboats are much easier to find than larger hollowware such as the casserole, jugs, and teapot. Cream soups with liners, egg cups, demitasse creamer and demitasse sugar can be challenging as well.

Newell is almost always found in either white, green, or a light yellow glaze with decals or colorful trim, but once in a while undecorated blanks show up. The majority of decals used on Newell are highly stylized, vibrant floral treatments and were used on many other shapes. Most pieces are marked with a general HLC backstamp.
---

Sauceboat and liner with N-2023


Cream soup and liner with N-2023


Newell casserole, pattern N-2528


Casserole interior, N-2528


Newell covered sugars. In the center is pattern DB-1 (same as N-2528) and the poppy pattern to the right is N-3028


Sugar and creamer with N-3143 (platinum version is N-3943)


Newell creamers

Demitasse sugars and creamers. The demi sugars, creamers, and double eggcups were also used with the Trellis shape.


Newell and Trellis double egg cups


Newell casserole, N-2423


Newell casserole, specialty pattern


Newell teapot with pattern N-3528 and the "tall" jug, made for only a few months before being restyled.
Designer Frederick Rhead did not like the tall jug and noted in his journals that it reminded him of a "mouth ewer" from a toilet set.


Three of the five sizes of standard jugs found in Newell. This is the style that replaced the earlier tall jug.


Newell 15" platter with poppy and luster trim


Newell 9 ¼" and 7 ¼" bakers


Newell gravy fast stand


N-5202 Gravy


Newell 36s oyster bowl and a fruit cup


Newell demitasse cups and saucers


Newell cake plate


Rosewood decal on Newell
---
Homer Laughlin's Newell shape dinnerware advertisements from 1929: Hawthorn and Poppy patterns.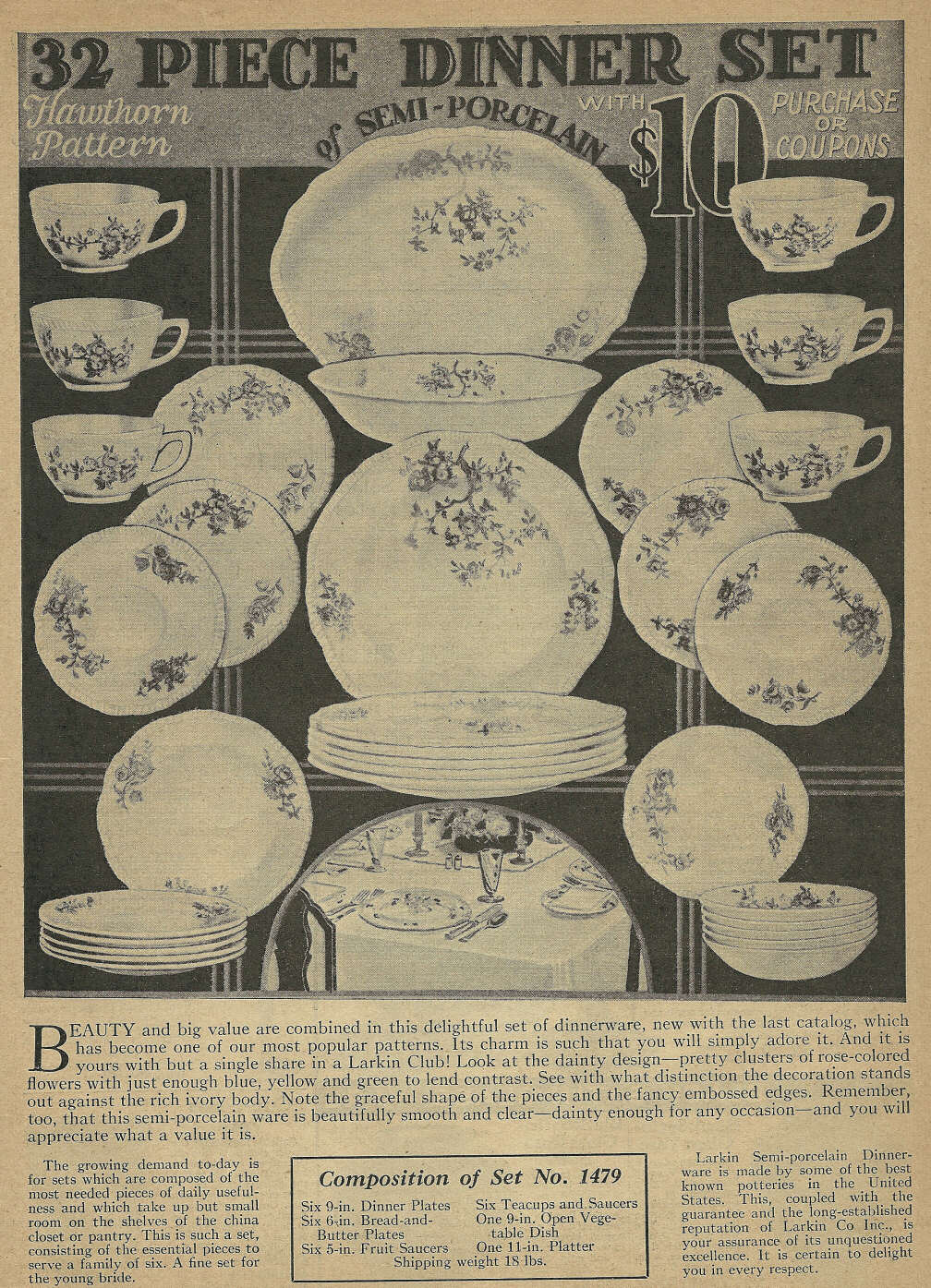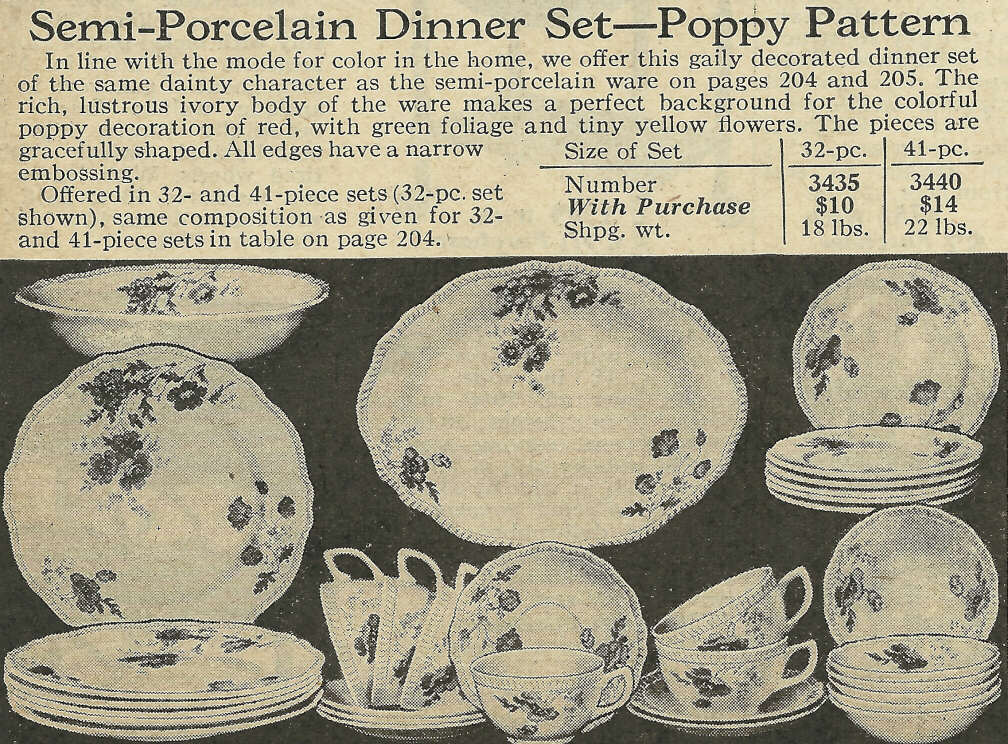 ---
A selection of Newell shop samples from the collection of the FiestaŽ Tableware Company (formerly HLCCo.)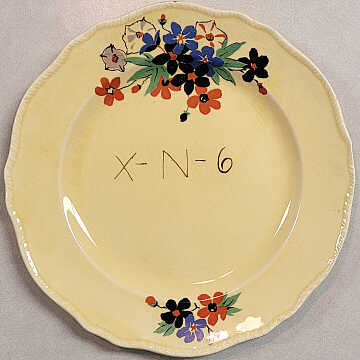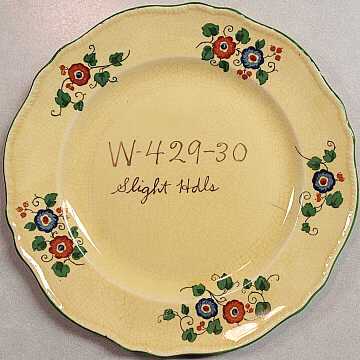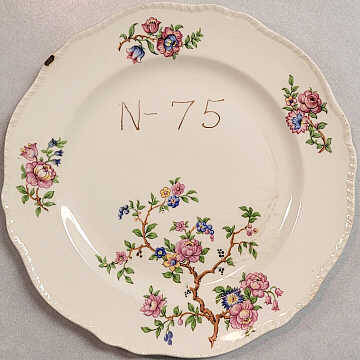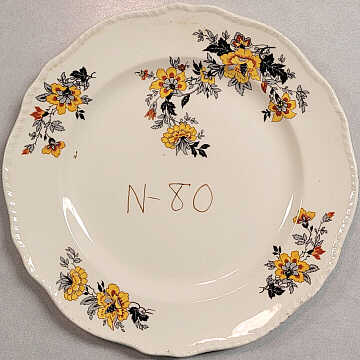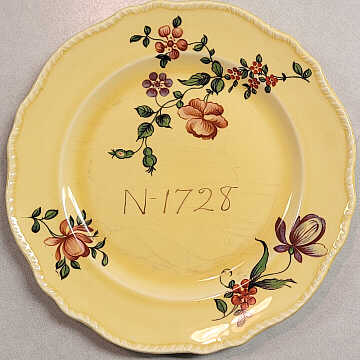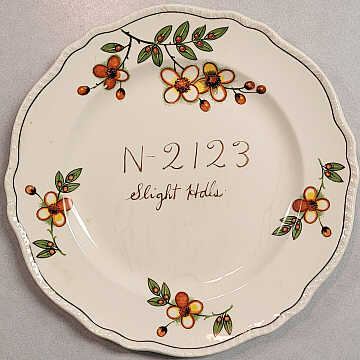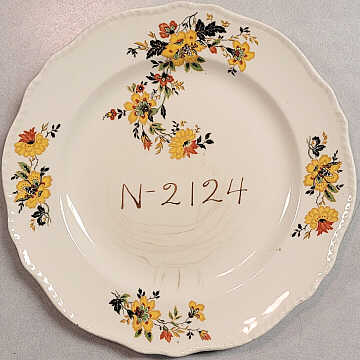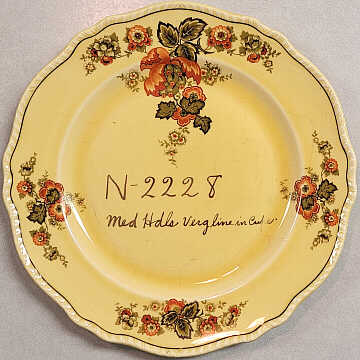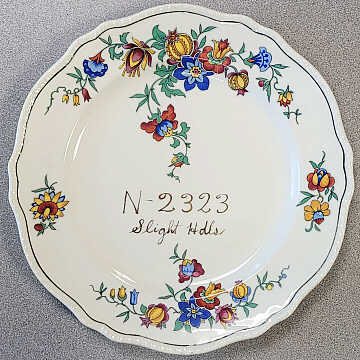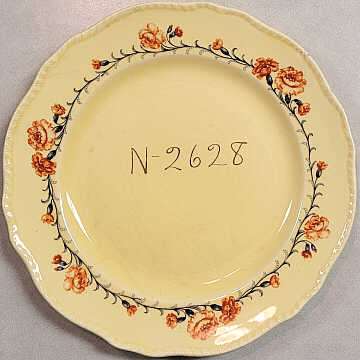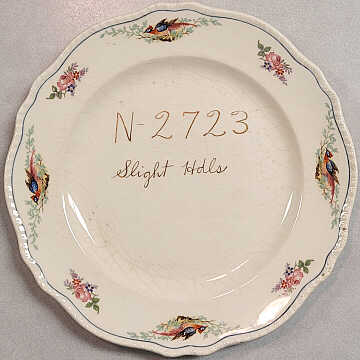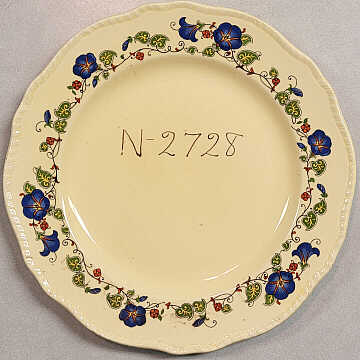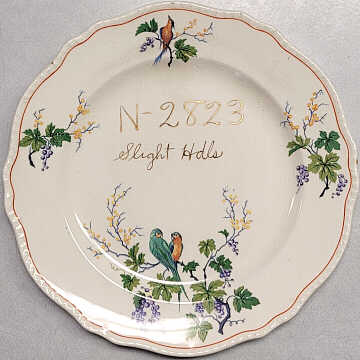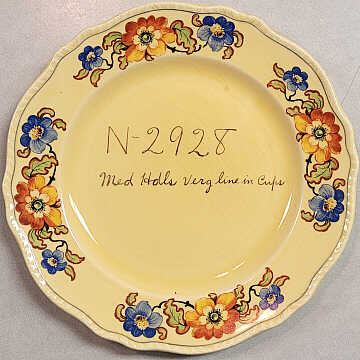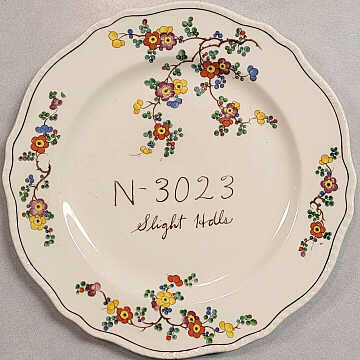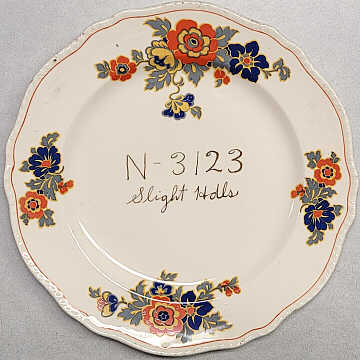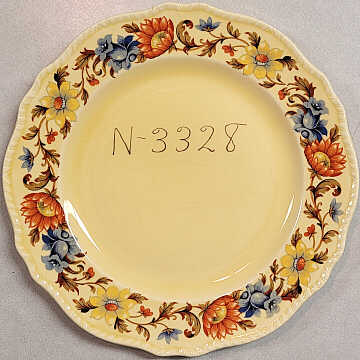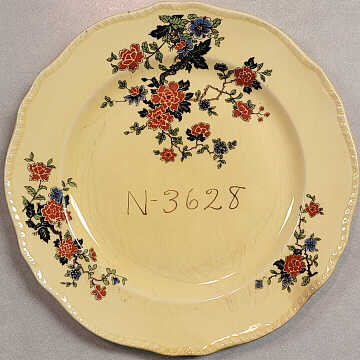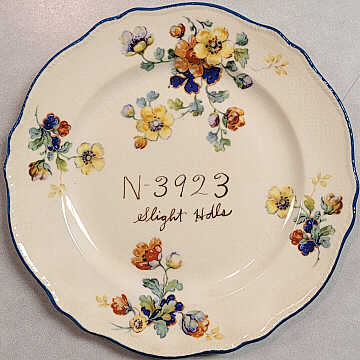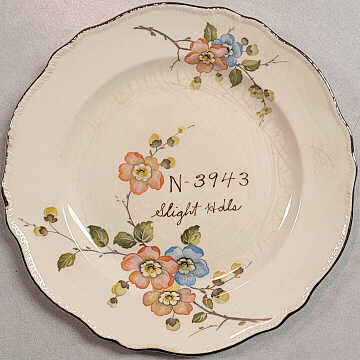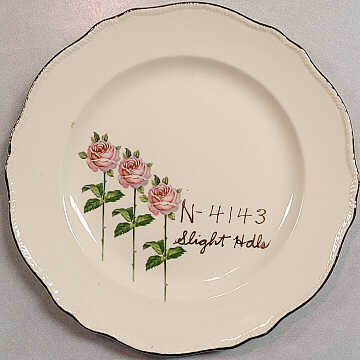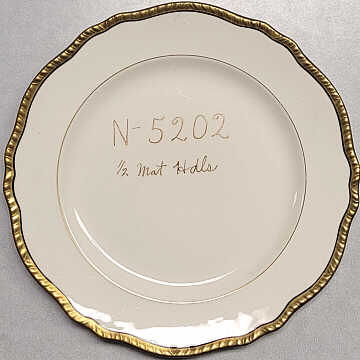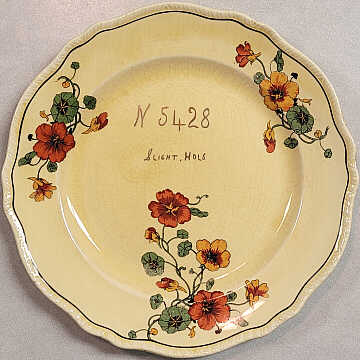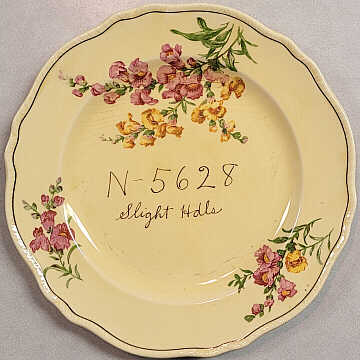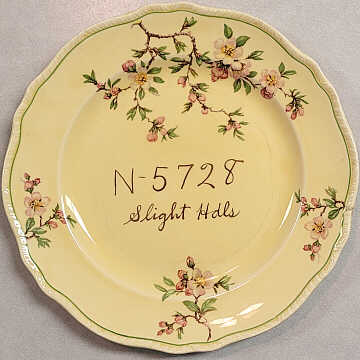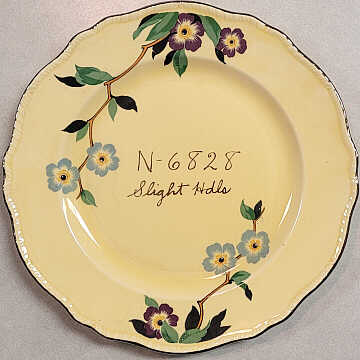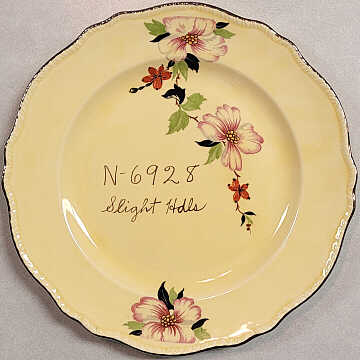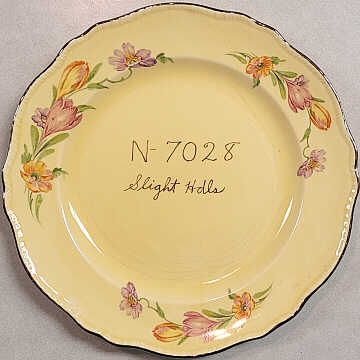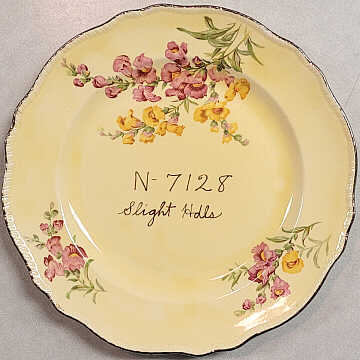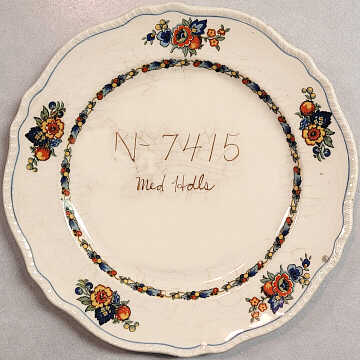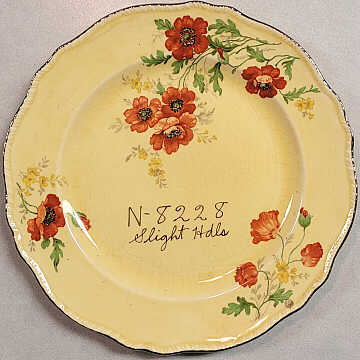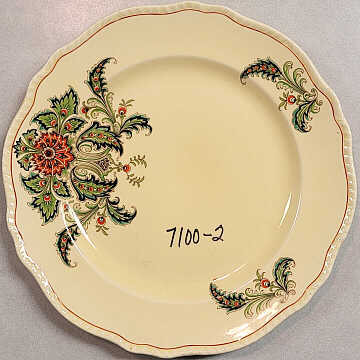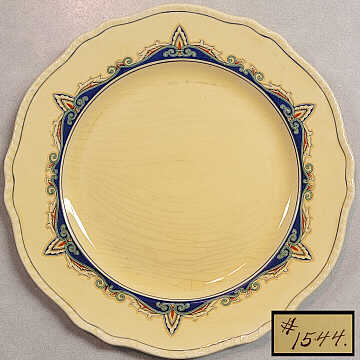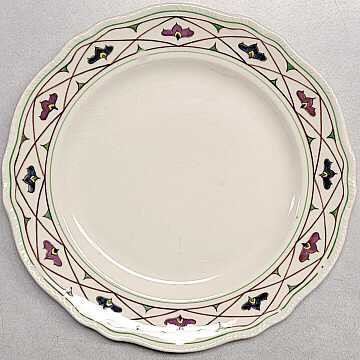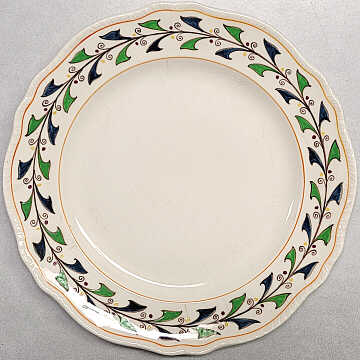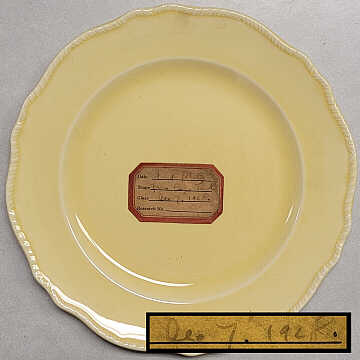 Hand-painted designs on Newell 9-inch plates with notes and dates on the backs.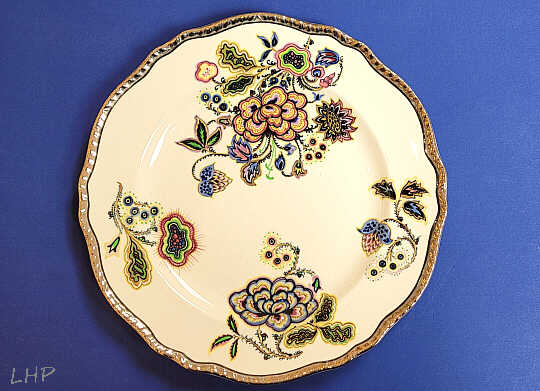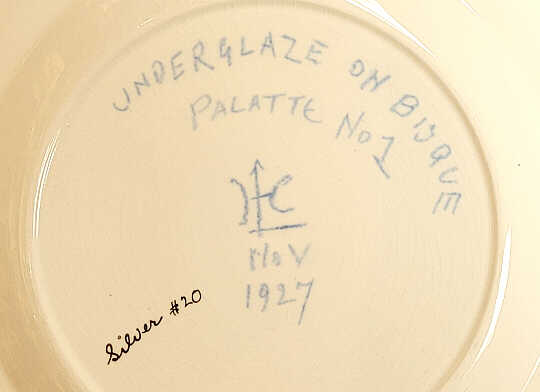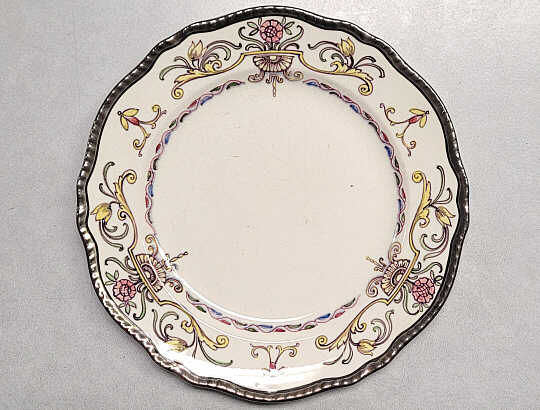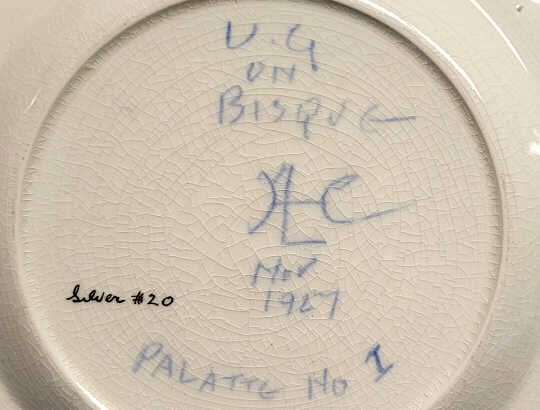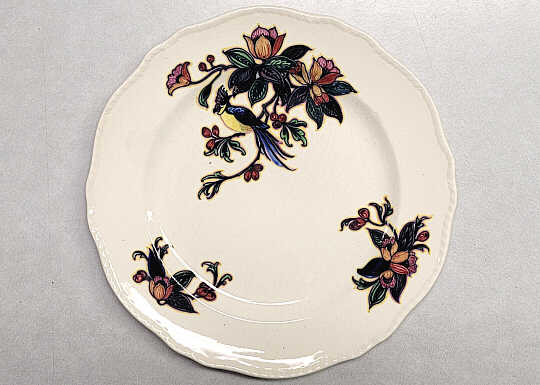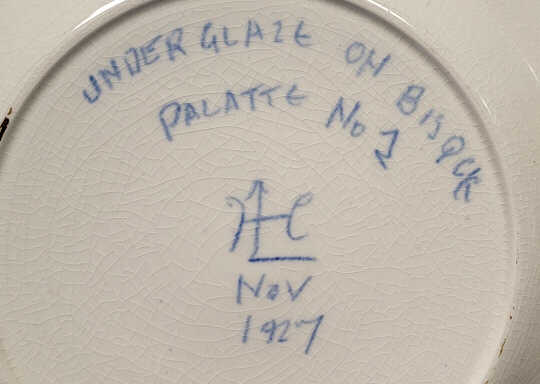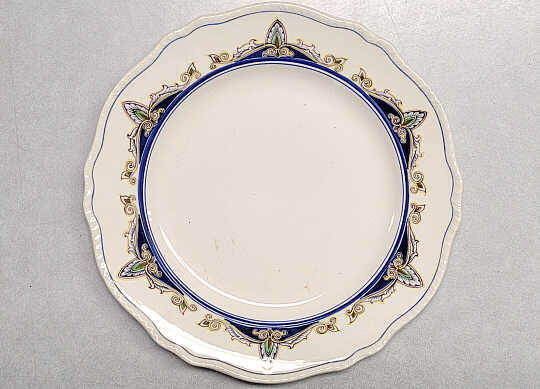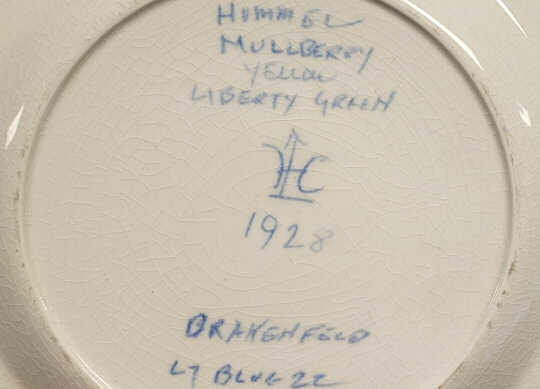 ---
Coffee cup and saucer
Covered Sugar
Covered Casserole
Creamer
Teacup and saucer
36s Bowl
Teapot
Sauceboat
Demitasse Cup and saucer
Nappy
Platter
Pickle/Sauceboat liner
Bouillon Cup and saucer
Cake Plate
Covered Butter
9" Plate
Coupe Soup
Fruit Cup
Gravy Faststand
24s Jug
Sauceboat and liner
Oatmeal
---
Assortment of Items:

7 1/2" Baker
7 3/4" Baker
8 3/4" Baker
9 3/4" Baker
30s Bowl
36s Bowl
30s Oyster Bowl
36s Oyster Bowl
Covered Butter
Individual butter
10 3/4" Cake Plate
Casserole
Coffee Cup
Coffee Saucer
Demitasse Cup
Demitasse Saucer
Creamer
Ind. Creamer
8 3/8" Platter
9 1/4" Platter

10 1/2" Platter
11 1/2" Platter
12 1/2" Platter
13 1/4" Platter
15 1/4" Platter
17 1/4" Platter
5" Fruit cup
5 1/2" Fruit Cup
Bouillon Cup and saucer
24s Jug, 2 1/2 pts.
30s Jug, 1 7/8 pts.
36s Jug, 1 1/8 pts.
42s Jug, 1 pt.
48s Jug, 5/8 pt.
6 1/4" Nappy
7 1/4" Nappy
8 1/4" Nappy
9 1/8" Nappy
30s Oatmeal
36s Oatmeal

9" Pickle
6 1/4" Plate
7 1/4" Plate
8 1/2" Plate
9 1/2" Plate
10" Plate
9" Deep Plate
7 1/4" Coupe Soup
8" Coupe Soup
Relish
Sauceboat
Gravy Faststand
Sugar
Ind. Sugar
Teacup
Saucer
Teapot