M. Seller Co. and Homer Laughlin
LaurelHollowPark.net, an informative website created and
maintained by Mark Gonzalez. Copyright © 2009-.
---
The M. Seller Company was a distributor on the west coast. They specialized in crockery, tinware, and other housewares. M. Seller sold a wide variety of Homer Laughlin wares for a number of years, including Fiesta dinnerware. In trade journal advertisements for HLC, M. Seller Co. is almost always mentioned first in the list of regional representatives.


Typical footer from a 1939 HLC advertisement listing the M. Seller Compnay.
---
A little background on the company and its founder was given in an article which appeared in the Corvallis Gazette-Times of Corvallis, Oregon on Saturday August 15, 1914.
In spite of war, there will be a golden wedding celebration in Frankfort-on-the-Main, Germany, on Monday next, when Mr. and Mrs. Moses Seller will entertain members of their family and friends in observance of the fiftieth anniversary of their marriage. The approaching event is of wide interest in Corvallis, for, although Mr. and Mrs. Seller have not lived here for a number of years, they have many relatives and warm personal friends on Oregon, and there will be showers of congratulations and good wishes extended to the couple. F. M. Seller of Portland, who was in Lucerene at last accounts, will go to Germany to be with his parents on the important day. The three daughters of the family reside abroad, and they too will be present.

Mr. and Mrs. Seller are identified with the early business and social life of Corvallis. Mr. Seller went to Portland in 1859 and established the firm of M. Seller & Company. Before that he was in Corvallis for some time. He came to Oregon after a short stay in San Francisco, making the trip via the Isthmus of Panama. It was in 1854 that he crossed from Germany to New York, and in '55 he arrived in Oregon. Mr. and Mrs. Seller were married in Portland on August 17, 1864. They returned to Germany twenty years ago, when Mr. Seller took charge of the German department of the firm's affairs.
On January 11, 1915, Mrs. Seller died. Her husband Moses died just over a month later on February 13, 1915. In his obituary, it noted that he, "...was more than 80 years old. It is believed that the death of his wife, combined with worry about many of his relatives, who are taking part in the war, hastened the end."
---
The Homer Laughlin China Company would often make special lines for the M. Seller Co. Interestingly, such pieces are usually not marked. Below are four HLC shop sample Century shape plates with three treatments specifically for M. Seller; M.S-22, M.S.-69, and M.S.-43. Ordinarily, a treatment number on the Century shape would have a "C" prefix, but ware made for M. Seller has a "M.S" prefix.
---
---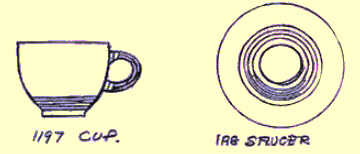 The Seller's cup and saucer was first made in February of 1939. To the right are sketches of both pieces from company records. The cup, number 1197, and the saucer, number 1198, were both modeled by Al Kraft. They have been found in yellow, Fiesta red, Fiesta (light) green, and Harlequin blue.

There are a few misconceptions about the cup. First, it is not a Fiesta prototype. Several years ago a Seller's cup was listed in an auction as such and sold for $1,200.00. It is hard to say for certain, but it is reasonable to assume this misidentification lead to such an inflated price.

The second issue surrounding the cup is its body. It is often cited as having the same body as the Carnival teacup from 1937. Both bodies are distinct. While they're very similar, the Seller's cup has a slightly different shape and five rings whereas Carnival has three. Below are a few comparison pictures.


Carnival cup in turquoise, Seller's cup in red.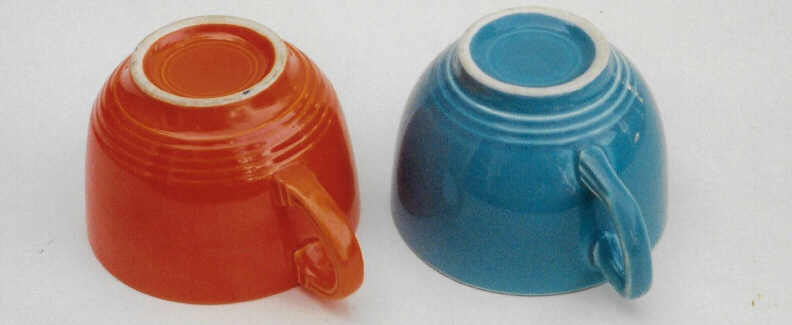 Note the difference in rings on the Seller's cup (left) and the Carnival cup (right).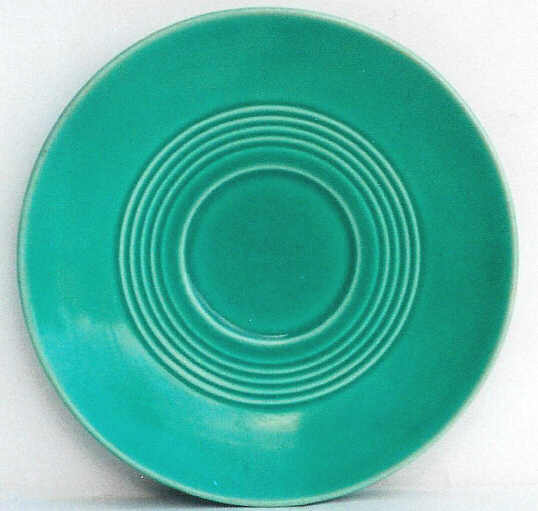 The Seller's saucer in light green