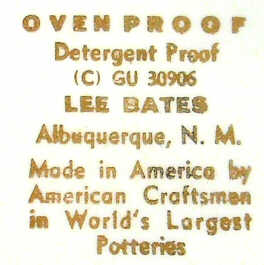 The Lee Bates French casseroles were made for Lee Bates and Company of Albuquerque, New Mexico. These little casseroles were first discussed in Jo Cunningham's book, Homer Laughlin China, 1940s & 1950s. (Three are shown at the bottom of page 142.)

An initial set of samples was sent to John H. Stweart of Twin Pines Farm Dairy, Inc. located at 8445 Lyndon Ave, Detroit, Michigan on September 8, 1959. A second set of samples was sent nine days later on the 17th to Mr. Lee Bates at 130 Los Ranchos Road NW in Albuquerque, NM. Both of these sets must have been made up of some other shape since the familiar Lee Bates bowl itself wasn't modeled until January 8, 1960. The handle was made several months later on April 6th.

An HLC memo dated April 5, 1960 specified the special French casseroles were 5" in diameter and 2" high. They were based on model number 2565 - the same bowl made on January 8th. The official treatment number LB-1 was assigned to a set of eight patterns in four different colors. The treatments were to be done in blue/black, red/black, green/black, and chartreuse/black. However, a note dated April 8, 1960 indicates the chartreuse and black combination was to be changed to beige and black. The final eight patterns and their corresponding colors became:
Wagon Train - blue and black
Square Dance - beige and black
Roundup - red and black
Buffalo Hunt - green and black
Mounted Indians - blue and black
Rodeo - beige and black
Indian Dance - red and black
Indian Village - green and black
They were marked with a special gold backstamp as shown to the right.