After the success of the embossed oven-to-table line, OvenServe, it was decided to make a plain style which would be better suited to receive decal treatments. On October 6, 1936, designer Frederick Rhead makes the first mention in his journals of what would become known as Kitchen Kraft OvenServe, or simply, Kitchen Kraft : ...making designs for streamline OvenServe casserole for 1937.

At the end of March 1937, an item is recorded in HLC's modeling log as "Casserole for new line of oven ware." Shown below is the sketch of the new casserole with two versions of lids; one with a semicircular finial, and the other with a recessed knob.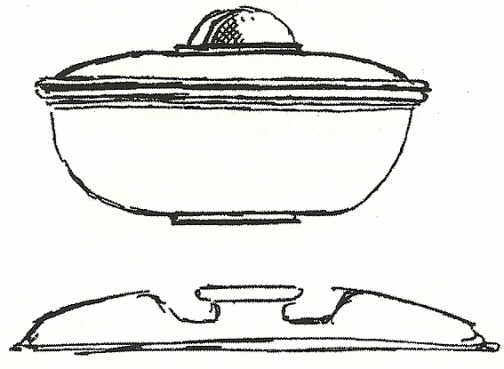 From April to mid-June 1937, the Kitchen Kraft line was developed, though during this time, it was referred to as simply, "new ovenware line." The casserole would undergo several changes with regard to the lid. It was modified to fit inside the base and the recessed handle was selected over the tab handle. Also, the small foot from the March prototype was eliminated. The large covered jar collectors know of today has no handles, but there were two versions with different types of lug handles modeled. Neither went into production. Even the stacking refrigerator bowls were made with and without lug handles, but only the handleless version was used. The salad fork, which didn't exist in the previous embossed OvenServe line, was made for Kitchen Kraft and with the rose/daisy embossing to match the cake lifter and spoon.
There are some items that didn't make it into the final assortment. One was the salad nappy listed as 11 1/4" by 3". While it wasn't used in Kitchen Kraft, it was given interior rings and became part of the standard Fiesta line. There is also a "s/s onion soup" (the s/s stands for short size) listed in the log, but there is no sketch for this piece. Two styles of shakers were made for Kitchen Kraft. The first pair is listed as "Salt and Pepper, new ovenware" in early June 1937. The second set is listed as, "Salt & Pepper, same as OvenServe but without modeled embossed sprig." Only the first set went into production. There are no sketches of the second set which would have given collectors some insight into what the embossed OvenServe shakers might look like.

The salad nappy would not become a standard item in the Kitchen Kraft line. Instead, rings were added to the inside and it became the Fiesta 11 3/4" fruit bowl and can be found in yellow, old ivory, cobalt blue, red, turquoise, and the original green glazes.
All of the standard Kitchen Kraft items were released into production by the end of June 1937. There was one revision in July when the covered jug was made smaller and is listed in trade size form as a 24s jug. The shapes are rather plain with only a double band decoration at the rim. Unlike embossed OvenServe, Kitchen Kraft doesn't have any dinnerware shapes such as plates, teacups, and saucers. Instead, Kitchen Kraft wad designed to supplement other dinnerware shapes since it is found with decals and solid colors used primarily with dinnerware lines. Virginia Rose's VR-128 and JJ-59 are common on Kitchen Kraft. The Mexican theme decals, Mexicana, Conchita, and Sunporch are very popular on Kitchen Kraft.
From 1939 until circa 1942, Kitchen Kraft shapes were made in Fiesta glazes; red, yellow, cobalt blue, and light green. Once in a while an example in ivory is found, but more often that not, it is simply an untreated bland that should have received a decal treatment. Plain round rim shape plates called, "under plates" were offered with the casseroles. In the case of Fiesta Kitchen Kraft standard Fiesta 9" and 6" plates also severed as underplates.
Most kitchenware lines made by other potteries were discontinued in the early 1950s. While Homer Laughlin's Kitchen Kraft was still in production in the '50s, the line was cut back. Covered jars, utensils, the smaller casseroles, and stacking jars were phased out in the 1940s. The mixing bowls, large casserole, pie plates, and jug continued to be produced in decals popular at the time, namely Rhythm Rose and Priscilla. By the early 1960s, Kitchen Kraft was no longer in production.
See also section on embossed OvenServe.