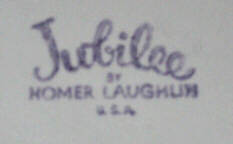 In 1948, after almost six years without introducing a new line, HLC produced the Jubilee shape. Designed by Don Schreckengost, the simple streamlined form satisfied the growing demand for more casual shapes of the late 1940s. Jubilee, so named to celebrate HLC's 75th anniversary, was used in four forms; solid colors, Debutante - white body with decals, Skytone - blue body with and without decals, and Suntone - a brown body.

The solid colors for Jubilee consisted of four pastel shades; Celadon Green (spelled "Celedon" in the price lists), Mist Gray, Cream Beige, and Shell Pink. Except for the special promotional items such as the Fiesta shape juice set and Kitchen Kraft Mixing bowls, the Jubilee pastel colors were not used on any other HLC shape.

In comparison to HLC's other solid colors lines, Jubilee was not a very good seller. As with Serenade and Nautilus in the early 1940s, Jubilee just could not compete with Taylor, Smith & Taylor's Lu-Ray Pastels which was produced from the late 1930s and well into the 1950s.

There are few interesting notes about this shape. There was no oval baker which was a standard item in most HLC lines up until this point (the main exception being Fiesta). The absence of oval bakers would continue with shapes made after Jubilee. The shakers were used with several other lines. Obviously they were used with the Jubilee spin-offs, Debutante, Skytone, and Suntone, but they were also picked up by Cavalier, Duratone, and several Ironstone shapes for the late 1960s and early 1970s. HLC is still producing the Jubilee shaker to this day with "Diplomat" sets - a combination of Cavalier and Brittany shapes.

Those items marked with the Jubilee backstamp never have a date code whereas Debutante usually does.

For more, see the sections on Debutante and Skytone & Suntone.