In March 1937, the art department created two flower vases at the request of the Jewel Tea Co. Modeler John Berrisford worked on the samples, numbers 785 and 787, which were sent to Jewel Tea on March 20th.

Model number 787 was approved over 785, however it needed revisions. The third and final version, model number 884, was made by Berrisford. Art Director Frederick Rhead noted in his journals on Wednesday, July 20, 1937: Gave Harry Spore sample of adjusted Jewel Tea fluted vase.

(Harry Spore (1890-1973) is a name that often turns up in company records. Spore retired in 1960 from Homer Laughlin where he served for 50 years in various executive capacities, including office manager and head of the decorating department.)

On Thursday, July 29, 1937, Rhead wrote about the vase again: Released [into production] adjusted model of Jewel Tea Vase, no. 884. Flutes were softened to facilitate lining.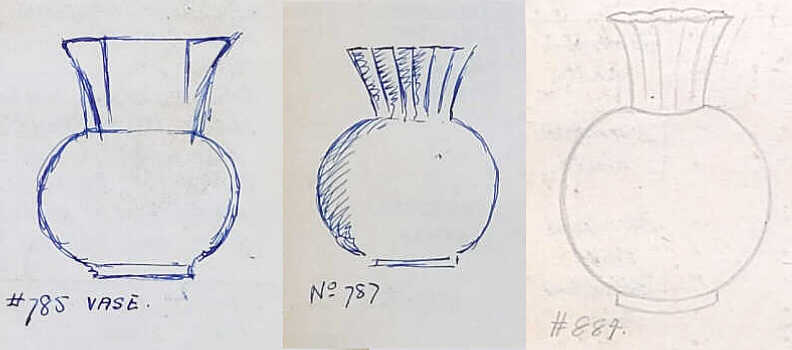 Rough sketches for the three Jewel Tea vases.
The Jewel Tea vases were decorated with floral decals that have a hand-painted look and were lined with dark red trim. They were marked with a very simple HLC backstamp with no date code. The floral decals were also used on Kitchen Kraft (but with blue trim instead of red) as well as the spaghetti bowls.