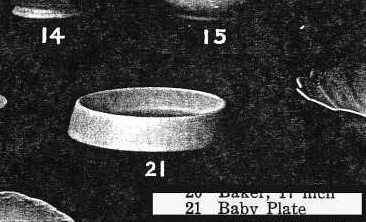 The baby plate featured here was made from the mid-1910's until the late 1920s. They have an opening diameter of 6 1/2" with a wall standing 1 1/2" from the outside bottom.

They were made with a wide variety of decals and were usually marked with the general HLC backstamp and date code.

Baby plates don't appear in the 1910 or 1914 Homer Laughlin catalogs. They are listed in the 1926 edition (as seen to the right), but not in the 1929 catalog.