Harvest
In September 1941, the art department at Homer Laughlin modeled five new shapes as a breakfast set for Quaker Oats. They are listed in the modeling log as "Q.O. Modeled Border" and include a cup, saucer, fruit cup, oatmeal, and a 6-inch plate. All five were released into production in the same month. These shapes, which will collectively be referred to as Modeled Border for the rest of this article, would go on to be used with three different one-color, underglaze treatments over a period of fifteen years.
The first of these three patterns was "Harvest" - a red treatment of a basket with fruit. Production was shared between HLC and Taylor, Smith & Taylor (TS&T). Before they could begin making the line, both HLC and TS&T had to have consistent treatments. On October 16, 1941, designer Frederick Rhead noted some problems getting HLC's Harvest to match TS&T's: ... Miller from TS&T here on Q.O. pattern. Having trouble with the printing... Saw J.M. Wells who said there is to be no production until TS&T and our products were checked.
Harvest was made for Quaker Oats until the very late 1940s when it was replaced by Wild Rose.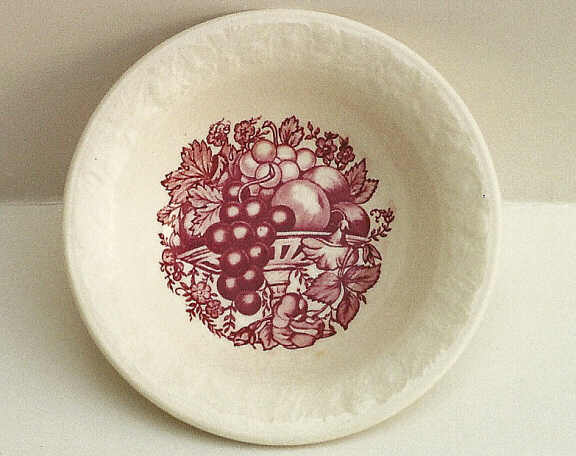 Harvest oatmeal bowl
Wild Rose
The second treatment used on Modeled Border, Wild Rose, was a blue underglaze decoration of roses and leaves. Unlike the five-piece set for Harvest, Wild Rose had extra serving items. Notes from 1946 indicate that a creamer with "rose relief modeling" was made in April. Another was made in May of the same year along with a matching covered sugar. Other serving pieces made for Wild Rose include the dinner plate, gravy, gravy liner, nappie, chop plate, a handled serving tray, and a deep plate. Most of these larger pieces were made by Royal China of Sebring, Ohio. Six different offerings were printed on the reverse of Quick Mother's Oats boxes. Each instructed the consumer to send in $1.00 and a proof of purchase to an address in Sebring, Ohio in order to obtain the extra pieces. The serving items, or "units" as they were called, consisted of:
Unit A - Sugar and Creamer
Unit B - Gravy Boat and Utility Dish
Unit C - 9" Vegetable Dish and Lugged Meat Platter
Unit D - 12" Round Chop Plate
Unit E - Three Dinner Plates
Unit F - Three Soup Plates
According to the modeling log, besides the regular 5-piece assortment, HLC produced 9" plates, a sugar, and the creamer. There is no evidence they made any of the other larger pieces. Royal China, however, made all fourteen items. Royal's 9" plates will generally have a much more detailed and sharper embossing on the rim. Also, the underglaze pattern on Royal's 9"plate is noticeably larger than the one used by HLC.
Wild Rose is often marked, but without mention of the maker. If there is a date code along the lines of "M 52 N 6", then it was made by HLC. If the word "UNDERGLAZE" appears under the Wild Rose backstamp, then it was made by Royal China. Sometimes Royal would put a date code consisting of a single letter and two digit number such as F52.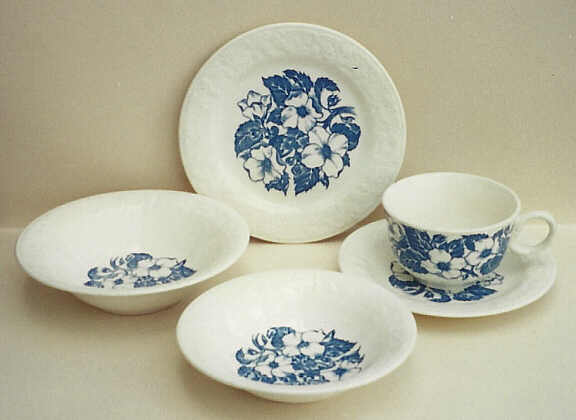 Wild Rose breakfast set
| | |
| --- | --- |
| Nine-inch plates; left: Royal, right: HLC. | HLC marking on the left, Royal's in the center and right |
| Wild Rose Handled Tray | Wild Rose Gravy and Liner |
| Wild Rose Creamer and Sugar | Wild Rose Rim Soup |
Pastoral
Pastoral was the last decoration to grace the Modeled Border shape. While Harvest and Wild Rose used the same patterns on each item, Pastoral had a different scene from piece to piece. All in green, the theme for each print is a farming scene. This line was produced mainly in the mid-1950s. To date, the only large item found is the 9" dinner plate. TS&T shared production of Pastoral with HLC. All pieces were marked with the appropriate pottery company's name.
Pastoral was not produced much longer after 1957 when emphasis was placed on small OvenServe shapes which were made by both HLC and TS&T for Quaker Oats.
| | |
| --- | --- |
| Original box featuring Pastoral | Pastoral bowl with backstamp |
Copper plate with engraving used to make the Pastoral prints.
From the collection of The Fiesta® Tableware Company.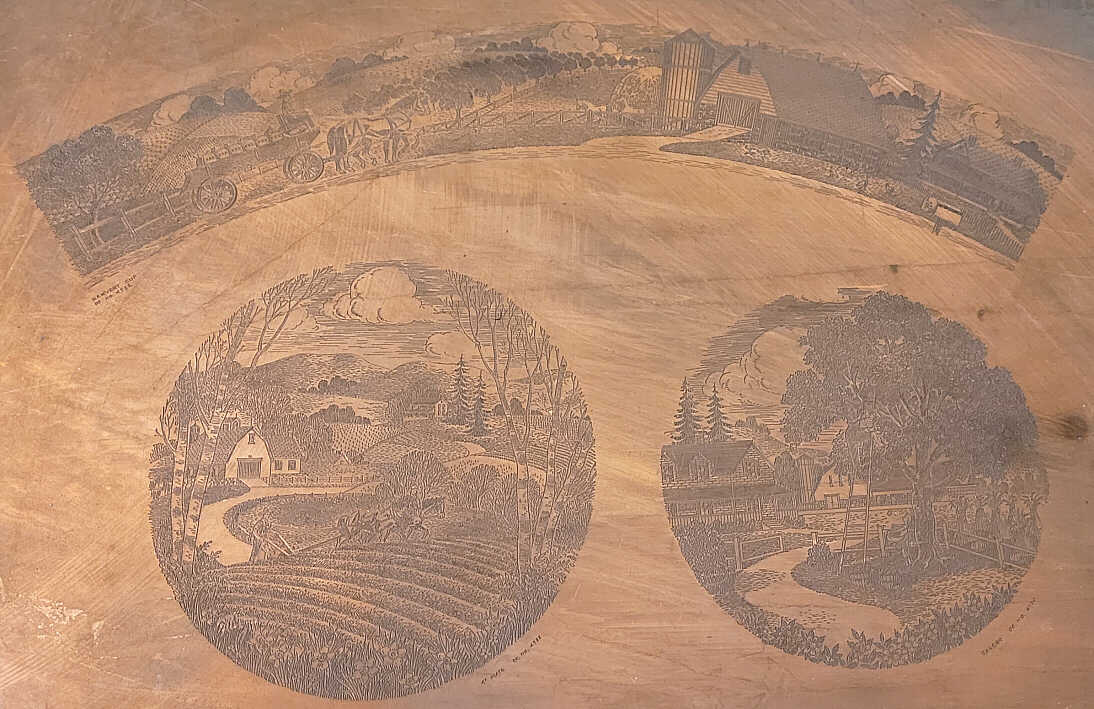 Assortment of Items
HARVEST
HLC and TS&T

WILD ROSE
HLC and Royal China

PASTORAL
HLC and TS&T
Teacup
Teacup
Teacup
Saucer
Saucer
Saucer
Fruit cup
Fruit cup
Fruit cup
Oatmeal
Oatmeal
Oatmeal
6" plate
6" plate
6" plate
9" plate
9" plate
Covd sugar
Creamer
Chop plate
Handled tray
Gravy
Gravy liner
9" Vegetable
Rim Soup