Golden Curls Dinnerware
LaurelHollowPark.net, an informative website created and
maintained by Mark Gonzalez. Copyright © 2009-.
---
Golden Curls was a shape designed by Ilse Meissner, one of Eva Zeisel's students in the early 1940s. It was made as an experimental line at the Homer Laughlin China Company.

An article from a June 1941 issue of the trade journal China, Glass and Lamps mentions and even shows Golden Curls. The piece was written by Eva Zeisel and focuses on a special New York Exhibition from 1940. The full article is at the bottom of the page. Of interest is the section on Golden Curls:
Frederick H. Rhead, art director of the Homer Laughlin China Company, who is very much interested in the young generation of pottery designers, was of inestimable help to us. He not only was generous with his advice, but has offered some of our students the opportunity of an apprenticeship this Summer at the factory. The set upon which he and his department collaborated with us, Golden Curls, was designed by Miss Ilse Meissner. This set is characterized by the overturning rims of the plates and the slightly oval, softly curving shapes of the sugar bowl, creamer, and teapot. The shape of the handles has been widely commented upon at the exhibition as balancing the cup conveniently and agreeably fitting the finger.
The "overturing rims" mentioned in the article are very similar to the convex style of Swing Eggshell rims. Golden Curls is very light weight and was most likely made using the eggshell body the pottery had already developed for their various eggshell shapes.

See also:
The Laughlin Eagle, Vol 1, No. 2, Summer 1993
The Laughlin Eagle, Vol 2, No. 1, Winter 1994
Homer Laughlin China, 1940s & 1950s by Jo Cunningham, 2000
---
The following pieces are from the collection of The Fiesta® Tableware Company. None of the samples made at the factory are marked.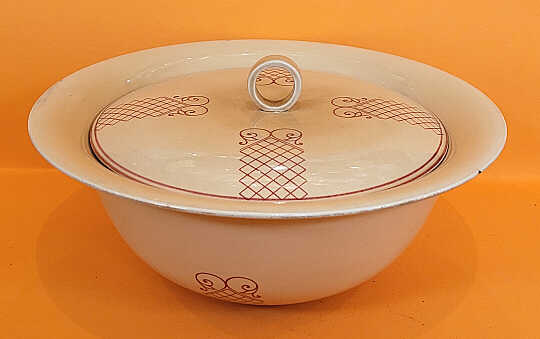 Casserole, silk screen pattern, light tan glaze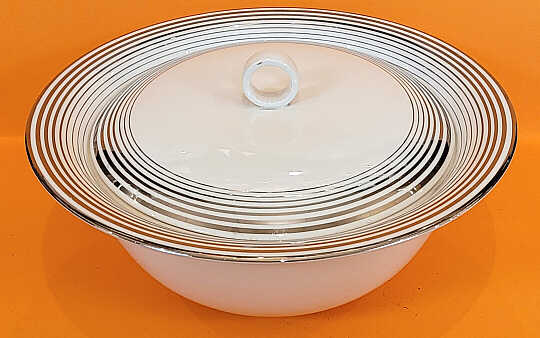 Casserole, platinum bands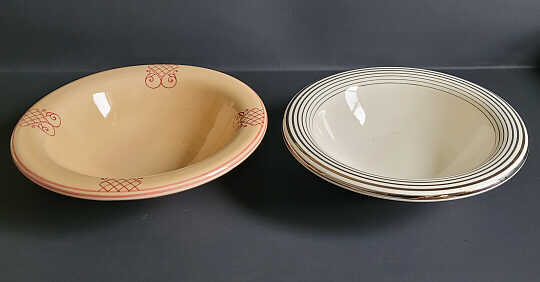 Oatmeal bowls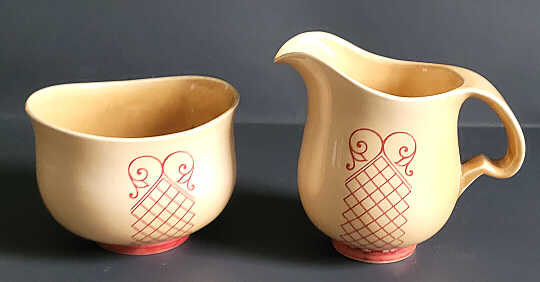 Open sugar and creamer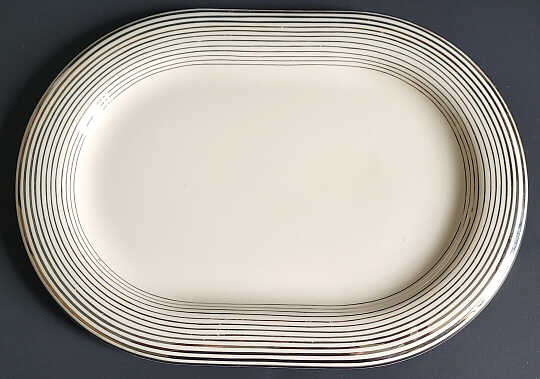 Large platter, top view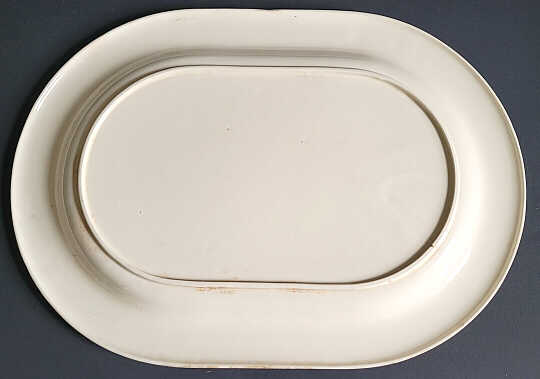 Large platter, bottom view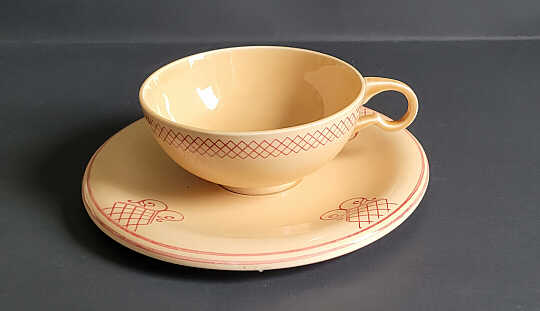 Cup and saucer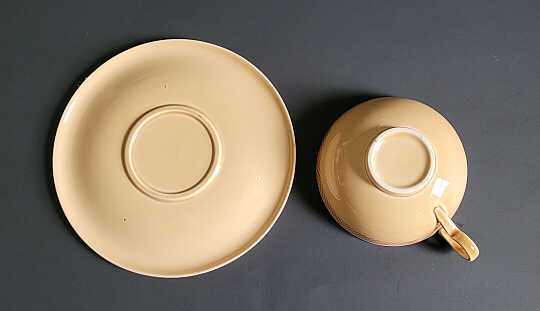 Cup and saucer, bottom view
---
China, Glass and Lamps, June 1941