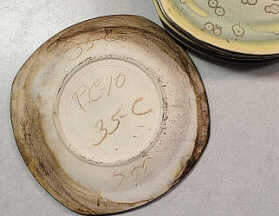 The following gallery of images shows test plates made at Homer Laughlin in the 1930s. They were created under the direction of Frederick Rhead and make use of Wells (round) and Jade (square) 6" plates.

The first batch is of crystalline glazes. The sticker in the first photo below was initialed by Rhead, Frederick Hurten Rhead. The plates were made by placing zinc and other elements in the kiln that would react with the glazes during firing. This process resulted in glaze effects of varying degrees. (It should be noted the Wells Art Glazes were also made using a crystalline process, namely Burnt Sienna (rust) and Leaf Green, however, those particular reactive glazes are not nearly as dramatic as the ones shown below.) None of the test plates were glazed on the reverse which allowed for identification numbers to be penciled in. To the right is a picture of the back of a Jade shape plate with its numbers.

The second batch of images show hand-painted work and various glaze-on-glaze techniques. These were also done using Wells 6" plates, but given the base colors, they were probably made a few years after the crystalline glaze samples. They were glazed both front and back and have identification numbers as well.

All of the pieces shown are from the collection of the Fiesta® Tableware Company.