There are two lines made up of Georgian shapes. They differ in that the first version, Craftsman or "Georgian Ivory" was made in a regular semi-vitreous body with ivory glaze and the later line, Georgian Eggshell was made of the light weight body originally designed for Nautilus Eggshell. Craftsman was the first to be developed in the summer of 1933.

In August, five sizes of plates and two saucers were made, but these were plain rim shapes. It wasn't until September that the dash-dot embossing were added. After a design was accepted, the hollowware was made in October. A new neutral or ivory colored glaze was developed for this new shapes and various names were under considerations. At first, Frederick Rhead drew up a "Georgian" backstamp. This marking contained a guarantee that the ware was crazeproof." Rhead notes on October 18, 1933: ...on "Crazeproof." Raises question as to what will be asked with regard to other wares if this new glaze is guaranteed." It was decided then that the word "crazeproof"wasn't necessary in the marking. On the next day, Rhead makes an entry about two marks for the "Craftsman" shape. Even though this would become the official name for the line, Rhead and others at HLC would continue to use the term "Georgian" with regard to shapes and treatments.

Rhead wrote in his journals about the first fourteen treatments for Craftsman on October 21, 1933:
G-1 Rosolane
G-2 Mauvette
G-3 Octavia
G-4 Primoline
G-5 Gugenia
G-6 Gobelin
G-7 Adelaiad

G-8 Sienna
G-9 Chartreuse
G-10 Carnelain
G-11 Claire
G--12 Aspasia
G-13 Aurelia
G-14 Priscilla
More pieces were modeled in November such as the AD cup and saucer, various small bowls, two nappies, and a baker. On December 2, 1933, Rhead notes: Made line drawings for patent office "Craftsman" trademark. With the shapes, treatments, and markings in place, production on the new line was ready to begin.

On January 3, 1934, the first Craftsman pieces came out of the kilns. Rhead commented on the wares: For the next few weeks, there was more trouble with the color and detail of the stonger decals sauce as Mauvette, but apparently the patterns must have improved since the Craftsman treatments were soon picked up by retailers.

The more expensive treatments, such as those listed above, had a special decal backstamp with the pattern name. Cheaper sets were marked with a generic gold Craftsman marking. Some pieces are found with a general HLC backstamp indicating all Craftsman marks were eventually abandoned.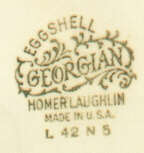 In 1940, it was decided that the Georgian shapes would be made in the light weight "eggshell" clay. It had been considered several times after the introduction of the first eggshell line, Nautilus Eggshell, but Georgian was always put aside while other lines such as Theme and Swing were favored.

In the case of Georgian Eggshell, development went smoothly since the shapes had been in production since 1933 in the form of Craftsman. The only work involved remodeling the existing pieces so they could be made with the different body. A special Georgian eggshell mark was made in May 1940.

There were several items added to the line that were never part of the older Craftsman shape: lug soup, teapot, salt and pepper shakers, chop plate, salad bowl, and an 8" square plate. In December 1940, two items are listed in the modeling log as being made for Georgian Eggshell; A.D. coffeepot and an A.D. sugar. These have not been found by collectors.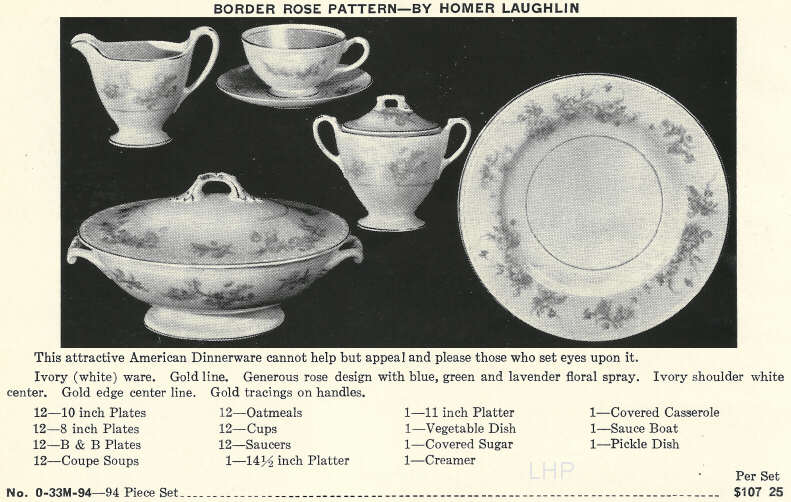 Georgian Eggshell dinnerware advertisment from 1950.

Georgian Eggshell was almost immediately put into production. While its predecessor, Craftsman, never achieved major success, Georgian Eggshell was produced well into the 1950s. Almost every retailer in the 1940s and 50s carried at least one pattern on Georgian Eggshell. Montgomery Wards offered multiple treatments including; Cashmere, Rambler Rose, Chateau, and Berkshire.

Most pieces were given the Georgian Eggshell backstamp with a date code. Official treatment numbers were prefixed just like Craftsman with a "G", but the actual numbers started much higher in the 3000's to avoid confusion between the two sets of treatments.