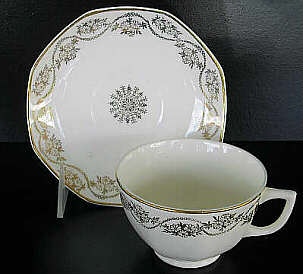 The Homer Laughlin China Company started using the garland gold stamp in the early 1920s. It was one of many border stamps meant to be used in conjunction with decals to create specialty pieces which included platters, serving bowls, and jugs. Such pieces were not part of sets of dinnerware, but instead were sold as individual items. Most of these specialty items were picked up from the Kwaker shape which was introduced in 1921.

By the late 1920s, the garland stamp was used on full sets of dinnerware. The first instance came in 1926 with pattern Y-56 on the Yellowstone shape. It incorporated the garland stamp border with a center "snowflake" medallion, all in gold. To the right is an example of Y-56 on a Yellowstone teacup and saucer. It was used on several more shapes including Century, Virginia Rose, and Brittany. Shown below are a few examples of specialty pieces as well as some dinnerware lines that used the garland stamp. Most of the time the stamp is in gold, but platinum was used as well (mostly on Virginia Rose) as well as an unusual red version on Brittany. Expect to find garland on other shapes not shown on this page.

As a general rule, if a piece has the garland stamp and a decal, then it is probably a specialty piece. Also, if a piece is found with the garland stamp, but without a decal, then it is probably from a full line of dinnerware. This applies only to garland as their are other stamp borders (namely those used on Liberty) that don't follow these rules.

Author Richard G. Racheter called this treatment, "Century's Three Daisies" since the stamp includes clusters of three daisies and because it is most commonly found on the Century shape. He shows more examples on page 57 of his book, Collector's Guide to Homer Laughlin's Virginia Rose. Collectors today usually call the pattern either Three Daisies, or simply, Garland.