From a Homer Laughlin advertisement dated January, 1929:
In 1871 Homer Laughlin and his brother, Shakespeare Laughlin, built a two-kiln pottery at East Liverpool, Ohio. This was one of the first plants erected in this country for the making of white-ware. For a number of years the growth of the Laughlin pottery was slow. However, as early as 1876 the merit of the wares produced was recognized at the Centennial Exposition at Philadelphia, where they received the highest award.
In 1897 Homer Laughlin withdrew from the business, and the present corporation was formed. Since then the growth has been remarkable. A greatly enlarged plant was built in 1899, but in two years this proved inadequate for the growing business, and a third large plant was built in the group at East Liverpool. These three potteries, known as Plants 1, 2, 3, represent a total of thirty-two kilns.
By 1905 it was again necessary to expand. The great site at Newell, W. Va. was purchased, and the then largest single pottery unit in the world was erected, consisting of thirty kilns under one roof. to reach this plant, it was necessary to construct a suspension bridge across the Ohio river, and to build a street car line from East Liverpool to Newell. This work was done largely by the men interested in The Homer Laughlin China Company. These men at the same time developed the town site of Newell, and constructed all public utilities.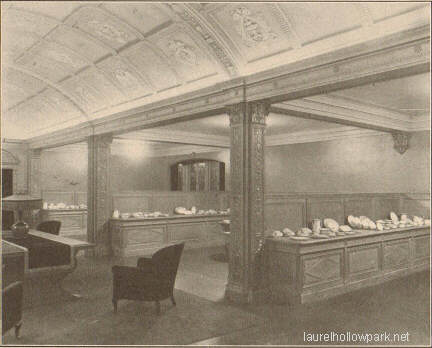 The business continued to grow rapidly, and in 1914 Plant No. 5, consisting of sixteen kilns, was built at Newell, bringing the total capacity up to seventy-eight kilns.
The increasing demand for Homer Laughlin ware necessitated further expansion in 1923, when the continuous tunnel kiln unit, Plant No. 6, was erected. This huge addition was a complete innovation in ceramic plant designs. The scientist and engineer had co-operated with the practical potter to an extent which aroused the interest and admiration of the industry in this and other countries.
Certain conservative minds were frankly skeptical. The new factory was too large, too modern, and presented too difficult a problem of continuous control. But the adventure was more than justified in its results, and in 1927 a new unit was added, Plant No. 7.
In the years 1926-1928, Plant No 4 was equipped with tunnel kilns to replace most of its periodic kilns, and in the first months of 1929 a new decorating tunnel kiln is to be added at Plant No. 5.
To complete the story of The Homer Laughlin China Company's early history, it should be mentioned construction of Plant No. 8 began in Newell in 1929. Plants 1, 2, and 3 in East Liverpool closed the same year.
The pottery is now known as The Fiesta Tableware Company. For more on FTC and current products, visit their official website: Fiesta Factory Direct.