Sheffield Amberstone & Coventry Casualstone
LaurelHollowPark.net, an informative website created and
maintained by Mark Gonzalez. Copyright © 2009-.
---
The Homer Laughlin China Company has made dinnerware for distributors for many years and beginning in the late 1960s, they made lines for two in particular: J&H International of Wilmette, Illinois and Coventry Ware, Inc. of Barberton, Ohio. The wares made for these two are distinct from other lines in that:
1. Pieces which were marked (dinner plates, and sometimes chop plates, and platters) have no mention of Homer Laughlin in the backstamp. Lines made for J&H International are marked with the trade name, SHEFFIELD with a Fleur-de-lis symbol, pattern name, and "Made in the USA." Sometimes markings will include guarantees of: Detergent-proof, Oven-proof, and Dishwasher safe.

Here is a listing of some of the lines made by Homer Laughlin with their Sheffield names:

There are fewer lines for Coventry. The two most common are: Coventry Casualstone (restyled Fiesta) and Coventry Castilian (Granada shape). The symbol often used in Coventry backstamps is a lion in a shield.

2. All Sheffield and Coventry lines have handled trays, a.k.a. tidbit or snack trays. This wasn't a standard item in the shapes of the day and were made special order for both companies. They were assembled at the HLC plant, though the metal handle was made outside the factory.

3. Sheffield and Coventry pieces are very easy to find today.
One final note on the Sheffield and Coventry markings: if you find a piece of dinnerware with either mark, it doesn't automatically mean it was made by Homer Laughlin. There were other companies which produced wares for both distributors, but HLC's seem to be the most available. Collectors may also find Sheffield Bone White made by a Japanese pottery.
Information on the various Sheffield and Coventry lines can be found by clicking on the links in the table above. The two which use restyled Fiesta shapes, Sheffield Amberstone and Coventry Casualstone, are discussed below.
---
Sheffield Amberstone & Coventry Casualstone
In 1967, HLC made Sheffield Amberstone. The standard Fiesta line was modified to make this new line. Some pieces were restyled, others left alone, and a few pieces never before offered with Fiesta made an appearance. They were all brought together with a new brown glaze and a special underglaze pattern on the flatware.
The assortment for Coventry Casualstone, circa 1970, is the same as Amberstone. For Casualstone the glaze is Antique Gold and the flatware is decorated with a different design.
As with all Sheffield and Coventry lines, Amberstone and Casualstone larger plates will be marked appropriately. Sometimes, however, a piece of hollowware can be found with the Fiesta trademark cast in the mold even though such markings were supposed to be abandoned. This usually occurs more often with Amberstone than Casualstone.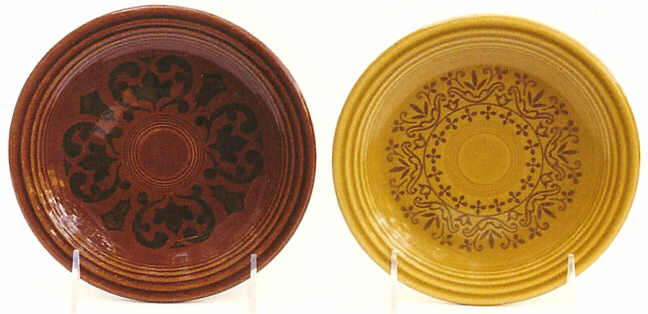 Left: Sheffield Amberstone, right: Coventry Casualstone
Items taken directly from Fiesta
Restyled pieces of Fiesta
Items specially created
13" Chop Plate*
Sugar (no handles, new finial)
Sauceboat Stand
Oval Platter*
Creamer (new handle)
Pie Plate
10" Plate*
Coffeepot (new finial)
Jumbo Salad
7" plate*
Teapot (new finial)
Oatmeal bowl
6" plate*
Casserole (complete redesign)
Handled tray (Chop plate w/handle)
Saucer*
Marmalade (new finial)
Butter (from Orbit)
Sauceboat
Fruit Cup (complete redesign)
Disc Pitcher
Nappy (complete redesign)
Shakers
Teacup (new handle)
Deep Plate
Mug (complete redesign)
Ashtray
Items marked with an asterisk (*) have the undgerglaze decoration
---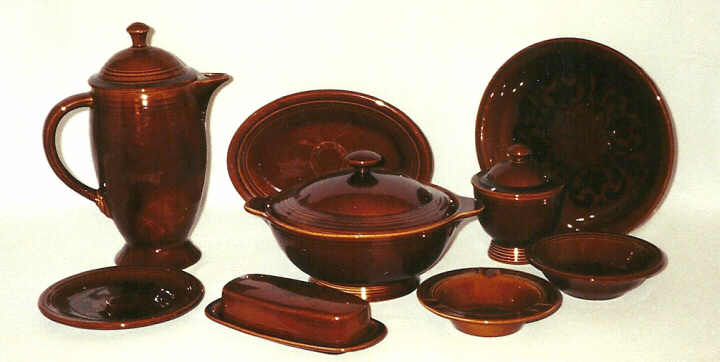 Amberstone 7" plate, coffeepot, sauceboat stand, casserole, butter, pie plate, sugar, ashtray, and fruit cup.
| | |
| --- | --- |
| Amberstone and Casualstone butters | Casualstone cup and saucer |
| | |
| --- | --- |
| Casualstone pie plate | Amberstone (left) and a standard Fiesta coffeepot |
| | |
| --- | --- |
| Casualstone marmalade and gravy | Casualstone jumbo salad bowl |
---
The following four photos of Amberstone come from the research files of Jo Cunningham


Plate, cup, saucer, and disc pitcher


Soup, plate, fruit, creamer, and ashtray


Pie plate, casserole, covered butter


Handled tray
---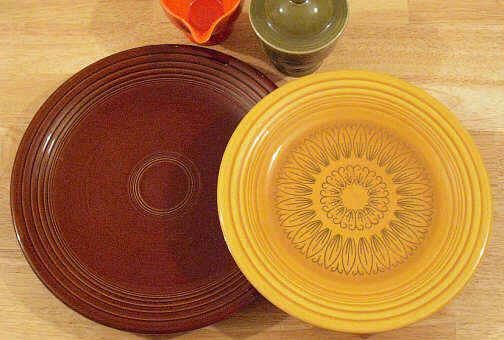 Plain Amberstone chop plate with a Causalstone 10" plate with an odd underglaze decoration.
---
In 1969, the standard line of Fiesta was transformed into Fiesta Ironstone with three new glazes, mango red, turf green, and antique gold. Most of the shapes listed above were used in the new line until it was discontinued in 1973. Since Coventry Casualstone and Fiesta Ironstone share the antique gold glaze, the sugar, creamer, sauceboat, teacup, mug, disc pitcher, cofffeepot, teapot, casserole, sauceboat stand, shakers, and all four bowls in gold can belong to either line.

When Fiesta was reintroduced in 1986, many of the restyled pieces were initially used such as the coffeepot, casserole, sugar, creamer, and teacup. The coffeepot, casserole, and sugar would quickly be replaced with different designs, but the teacup and creamer are still in production today.