When trying to tell the differences between old and new Fiesta, many collectors will become familiar with all the various colors. Markings alone are not a good way to differentiate the two lines. There are some marks which were used in the old line only, some are found in the new line only and some are in BOTH.

There isn't a simple statement that can summarize all the markings (there are about a dozen distinct marks) but there are a few general rules which can be helpful. Below are three cases where telling the age of Fiesta can be automatic based on its marking.
---
BACKSTAMPS:

if the letters in the word, "Fiesta" are all LOWER CASE, then it's OLD
if the letters in the word, "Fiesta" are all UPPER CASE, then it's NEW

There are no exceptions to this rule.
There are at least four types of new backstamps but basically only one type of old backstamp.

The rule on upper/lower case letters DOES NOT HOLD for cast indented (in-mold) marks.

OLD FIESTA MARKING
"Fiesta" in lower case

NEW FIESTA MARKINGS
"Fiesta" in upper case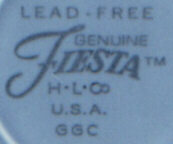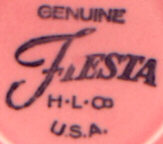 Two other new Fiesta backstamps
---
"H" MARKINGS:

if a cast indented mark has a little "H" at the bottom, then it is NEW

The "H" mark is something that HLC recently started in the past couple of years.
As a result, there have been many new pieces made which do not have this special mark.
You will find it on problem items which have the same markings in both the old and
new lines such as: juice pitchers, disc pitchers, tripod candleholders, sauceboats, and others.

Keep in mind, the absence of the "H" mark doesn't mean the piece is old.


No "H" mark: could be OLD or NEW


With "H" mark: definitely NEW
---
CIRCULAR MARKS

If a mold mark is circular, then it is NEW

Notice that "Fiesta, HLC, USA" are in a circular pattern.
Only the newest pieces have this type of marking. This
piece is also marked with a new backstamp.