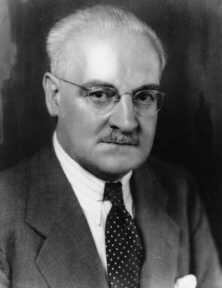 Frederick Hurten Rhead (1880 - 1942) served as art director at the Homer Laughlin China Company from 1927 until his death in 1942. Rhead brought with him over thirty-five years of experience in the pottery industry. Under his direction, HLC introduced over thirty dinnerware shapes, dozens of promotional pieces, and hundreds of decorative treatments. What follows is a summary of the major Rhead shapes created during his time at HLC.

The Pre-Rhead shapes

Besides assorted Cable ware, toilet ware, and staples, there were five dinnerware shapes still in production at Homer Laughlin when Rhead came on as art director; Hudson (1907), Empress (1913), Republic (1915), Kwaker (1920), and Yellowstone (1925).

Rhead had very little to do with the Hudson shape as it was discontinued in 1929, two years after Rhead arrived. As a sidebar, Hudson's production dates highlight two important periods in HLC's history. It was first produced when the Newell plants opened and discontinued when the East Liverpool plants closed.

Unlike Hudson, the other four pre-Rhead shapes were offered during Rhead's entire time at HLC. Empress and Yellowstone were phased out in the late 1940s. Kwaker was discontinued shortly after 1958. Republic was made well into the late 1960s making it one of HLC's longest lived shapes.

---
1927
Rhead began his work at Homer Laughlin during the first week of August 1927. For the remainder of the year, he organized the art department and developed the Newell shape. Interestingly, the initial Newell shapes, namely the covered sugar and creamer, were modeled in Zanesville, Ohio. Newell was designed with a scalloped edge and a rope-type embossed rim. Unlike the older HLC shapes, the patterns used on Newell were specifically created for the line and not borrowed from existing lines.
Newell shape plates with hand-painted work by Rhead, dated November 1927
1928
Two shapes were created in 1928; Old Roman and Trellis. Both were made with the Newell scalloped edge and embossing. Old Roman was given a fully embossed rim, whereas Trellis was made with periodic embossing. Old Roman had a smaller assortment than Newell and Trellis. While the silhouette of the flatware for all three is similar, each has distinctive hollowware.
New glazes were also developed during 1928. An ivory (not to be confused with Century's vellum or Fiesta's old ivory glazes) was made to replace older "C.C." or cream on cream ware. Also, light green and light yellow glazes were made by HLC and other potteries in response to the popular Depression era glassware.
Old Roman plates decorated by Rhead, dated 1928
1929
Most of the work in 1929 involved further developing Old Roman and Trellis as well as new patterns. Trellis in ivory and Old Roman in the light yellow glaze ranked at the bottom in best-selling shapes from 1932. By 1934, Newell, Old Roman and Trellis were all discontinued.
Towards the end of 1929, the first pieces of the Wells shape were made.
| | |
| --- | --- |
| Wells covered casserole, Red Beauty pattern | Wells teapot in the art glaze: French Rose |
1930
New decal patterns were made for Wells in 1930. It was much more extensive than the three previous Rhead shapes. Wells was made with a batter jug, covered syrup, covered muffin, and a demitasse coffee pot, none of which appeared in Newell, Trellis, or Old Roman.
The art glazes were also developed towards the end of 1930 and perfected in early 1931. These include rust, rose, and green. Yellow was added later when OvenServe was first introduced in 1933. The art glazes were discontinued in September 1941 and the Wells shape itself in the late 1940s.
The Century shape was created at the end of 1930. Samples were made and shown at the Pittsburgh trade show in January 1931.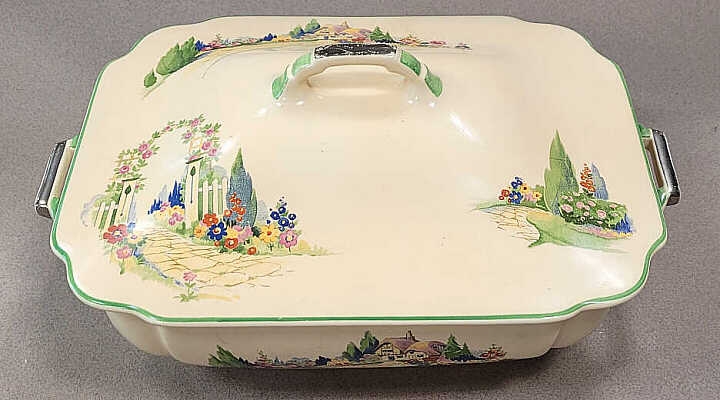 Century covered casserole, English Garden pattern
1931
By February 1931, the Century shape was complete and the soft, ivory vellum glaze was developed in March. Vellum would go on to be used on Wells, Yellowstone, and Jade, as well as children's sets and Tom and Jerry punch bowl sets. In 1938, Century pieces were given solid colored glazes and sold as Riviera. While Century, and consequently Riviera, was discontinued in the 1940s, the vellum glaze was used well into the 1950s, primarily on the Tom & Jerry sets.
From August to November 1931, the Jade shape and the special Clair de lune glaze was made. This was HLC's second square shape, but unlike Century, Jade was not as successful. It was made for roughly five years in both the Clair de lune and vellum glazes. While Jade itself didn't last very long, the covered butter was used as a pick up piece for many other shapes until roughly 1960.
The nested apple tree bowls were modeled in October 1931. They were initially made in a green/blue glaze for Colgate, but would go on to be dipped in the OvenServe orange (pumpkin) and yellow glazes. They were also made in plain ivory, though some were decorated with decals and stripes.
Towards the end of 1931, both of the embossed shapes Ravenna and Orleans were being sketched. Ravenna started out as an exclusive for Quaker Oats, and Orleans was meant for the general trade. Ravenna went in production at the end of 1931, but Orleans wasn't fully developed until the first part of 1932.
1932
The Orleans shape was completed by March 1932. It was made primarily with decals and underglaze treatments. A special set called "Antique Orleans" consisted of the Orleans shape in art glazes.
Ravenna was discontinued around 1935, but Orleans was made until the late 1940s.
In October 1932, the initial design of the Virginia Rose shape was laid out. It was put in production in production a month later. Virginia Rose was made until around 1968.
Virginia Rose is one of Homer Laughlin's longest, continuously produced shapes, second only to Republic.
| | |
| --- | --- |
| Virginia Rose plate with VR-128, a.k.a. "Fluffy Rose" | Virginia Rose plate with JJ-59, a.k.a. "Moss Rose" |
1933
Embossed OvenServe was developed in mid-1933. It was designed to go from refrigerator to oven to table. Technically a line of kitchenware which included mixing bowls, casseroles, a batter jug, and measuring cup, it did have a small assortment of dinnerware shapes; three sizes of plates, a teacup, and saucer. Embossed OvenServe was made in orange (pumpkin), melon yellow and ivory glazes. Once in a while a piece in an art glaze will turn up. Decals were often used on OvenServe, but the heavy rose and poppy embossing on the bodies of the ware usually interfered with the resulting look.
Georgian Ivory, or Craftsman, was first made in the fall of 1933. Rhead gave this shape a formal design based on popular British styles. A decal shape, Craftsman was made into the early 1940s. A lightweight version, Georgian Eggshell, was introduced in 1940 and was much more successful than Craftsman.
Towards the end of 1933, Marigold was developed. Rhead noted the shape was initially made for Woolworth's, but it became rather popular and was picked up by several retailers. Marigold was offered in several forms; hand-painted embossing (both over and under the glaze), decals, a special solid green glaze, and simple gold and platinum trims. Marigold was discontinued in the early 1950s.
OvenServe covered casserole with red trim and platinum stamps
1934
The assortment of Marigold was completed in the beginning of 1934. A special set of hollowware was also created for a new line of Blue Willow. This set included a covered sugar, creamer, gravy, teacup, and a jug. Other pieces of Blue Willow would be picked up from already existing lines. Flatware came from Kwaker, the casserole from Empress, and a teapot (with a modified lid) came from Wells. Many catalogs carried Homer Laughlin's Blue Willow over the years. Pink Willow was also made, but is not nearly as common as the blue version. The special Willow hollowware was used in other underglaze print lines such as Americana and Fantasy.
By the end of 1934, the Coronet shape was created with a heavily embossed paneled rim and a ring of flowers along the verge. Coronet was one of the few HLC shapes made with virtually every decorative treatment available during its run including solid colors, hand-painted embossing, platinum and gold stamps, decals, and underglaze prints. Coronet was phased out by the late 1940s.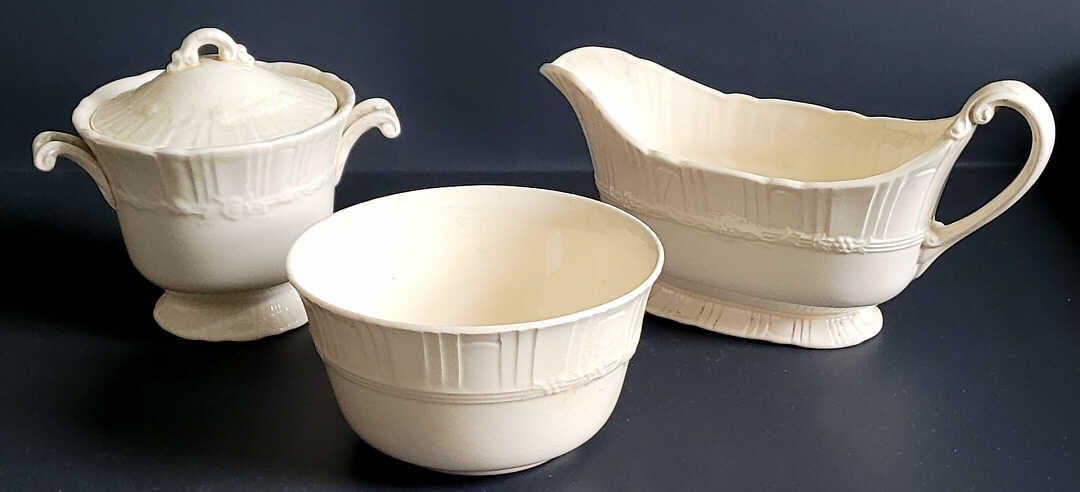 Coronet covered sugar, 36s bowl, and sauceboat
1935
In February 1935, with the Coronet shape essentially complete, the art department's focus shifted to creating a new line. Rhead noted in his log book the first piece for the new shape was, "ring plate for colored glazes." Several names were considered for the new line including Park Lane, Rhapsody, Plaza Faience, Tazza, Tazza Faience, Chalet Faience, Dashe Faience, and Flamingo. On May 14, 1935, the name Fiesta was applied to the new shape. Most of Fiesta's assortment was developed over the course of 1935. It was introduced to the public in five glazes in January 1936.
Fiesta wasn't the only shape created in '35. The first pieces of Nautilus Ivory were developed in October and Brittany in December. Nautilus was meant to have decal treatments only, but the shape was also made in Serenade pastel glazes in 1940. The plain Brittany shape was developed specifically for underglaze treatments along the rim. By the late 1930s, underglaze rim decorations in conjunction with decals were used on Brittany resulting in dozens of similar treatments.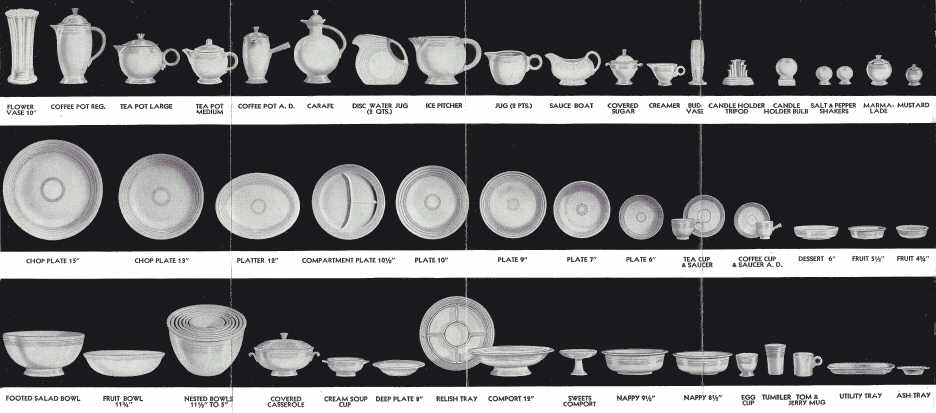 First made in 1935, Fiesta was introduced in January 1936
1936
The first part of 1936 was spent expanding the Fiesta line. The small Princeton set was made in March. In June, the first pieces of Harlequin were sketched and modeled. Various plates, cups, covered sugars, and casseroles were under consideration. The familiar Harlequin straight-sided shape became decided upon in September.
From October to December 1936, two more shapes were modeled; Tango for solid colored glazes, and Eggshell Nautilus, a variant of the regular Nautilus line made in a new lightweight body. While Tango was not the most successful line HLC produced, Eggshell Nautilus was produced into the 1960s and was decorated with hundreds of decal treatments.
| | |
| --- | --- |
| Harlequin advertisement | Tango plates in yellow and green |
1937
The Tea Rose shape was first made in January 1937 for Quaker Oats. It was somewhat limited with basic place setting pieces; 9" plate, 6" plate, teacup, saucer, fruit cup, oatmeal bowl, and an 11" platter. When larger assortments were needed for patterns on Tea Rose, pieces were picked up from other lines. For example, there are sets of Tea Rose that can be found with Virginia Rose sugars and creamers.
From April to June 1937, Kitchen Kraft was developed. The plain and streamline shapes were a sharp contrast to the earlier embossed OvenServe kitchenware. With smooth surfaces, Kitchen Kraft had the advantage over OvenServe in that it could be decorated with more elaborate decals. A special line of Kitchen Kraft was also made in solid colored glazes to complement the successful Fiesta line.
From July to September 1937, Kraft Blue was made using blue body clay and a clear glaze. Handles and finials were made in white clay. A pink version would soon follow called Kraft Pink. Of the two, Kraft Blue was much more successful. It was made into the 1950s, both plain and with decals. Kraft Pink was discontinued by the early 1950s.
With the success of Eggshell Nautilus, another eggshell shape was created with a very thin body in October. It was originally called "Convex" but its name was changed to Swing when it was released into production at the end of November 1937.
Carnival for Quaker Oats was also modeled in October, but it wasn't approved until the end of January 1938.
| | |
| --- | --- |
| Kitchen Kraft cake plate and lifter, Deco Leaf | Swing Eggshell teapot, Chinese Green Goddess |
1938
For the first part of 1938 pieces were either added or modified to existing lines. At the end of March and beginning of April, a small set of hollowware with straight sides was made for Woolworth's with an all over, Chintz-like pattern. It was given the treatment number W-338.
It wasn't until September 1938 that a full line of dinnerware was modeled for the year: Theme Eggshell. The first piece involved taking a Nautilus Eggshell plate and adding an embossed Wedgewood-like design around the rim using Kraft Blue clay. The entire plate was given a clear glaze. This was later changed with the embossing actually part of the plate rather than applied. Theme Eggshell was developed all through October and November.
The first pieces of Serenade were modeled towards the end of December.
| | | |
| --- | --- | --- |
| Pattern W-338 for F. W. Woolworth | Theme Eggshell, Surrey pattern | Serenade chop plate in blue |
1939
Most of Serenade was developed in January and February 1939. Theme Eggshell was expanded in April and a small set of giftware was made for the New York Worlds' Fair. These include a "thrower at wheel" plaque, "artist at wheel" plaque, George Washington 4 ¾" tall and 2" tall jugs.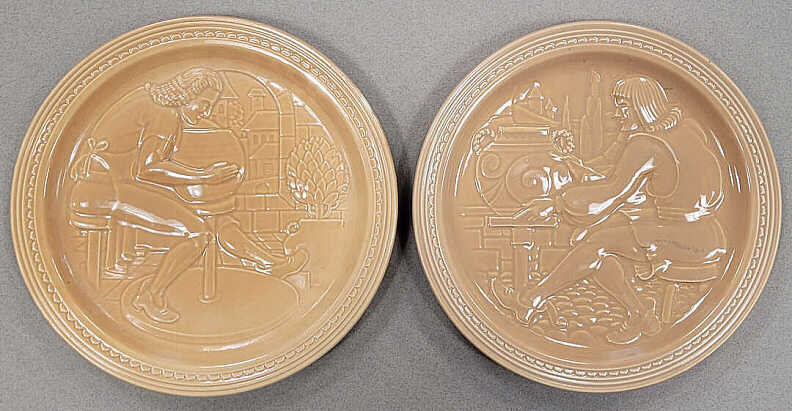 Thrower at the Wheel (left) and Artist at the Wheel (right) plaques
In June 1939, Brittany hollowware was restyled to allow for larger capacities. The six Harlequin animals were created and released into production in October. In December, a small set of Piccadilly hollowware was made to go with Brittany flatware to create a new shape. The patterns made for Piccadilly are very similar to those used on Brittany; however, the two shapes have no treatments in common.
1940
Several more giftware pieces were made for the New York Worlds' Fair in April 1940. These include two sizes of Martha Washington jugs, the zodiac teacup and saucer, and the seasonal ashtray/nut dishes.
For most of the spring of 1940, the Georgian Eggshell shape was created. It was based on the older Georgian Ivory/Craftsman shape, but since it was being made in a lighter weight body, new models were made.
The Modern Farmer shape was made primarily for Sears. It was originally produced by James River Potteries of Hopewell, Virginia. When James River Potteries closed, Sears turned to HLC to take over production. As a result, most of the Modern Farmers shapes are copies. One notable exception is the set of salt and pepper shakers. Rhead took the Swing Eggshell shakers and added the Modern Farmer swag embossing.
The remainder of 1940 involved adding and revising pieces to existing shapes. During this time, the Betty Crocker bowl was made for General Mills in November.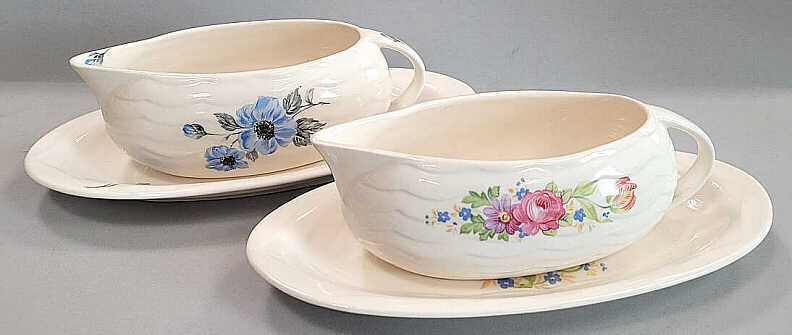 Modern Farmer sauceboats and liners with Gascon (left) and Italian Rose (right)
1941
1941 started off with two lines that didn't make it into production. The first was a Tongue Twister series made up of plain shapes with underglaze tongue twister patterns for children. The second was Fruit Skin Glazes, a rope embossed shape (similar to Kraft Blue) in various molted solid colored glazes.
Andover Eggshell, which used Swing Eggshell flatware, was modeled in May of '41 and put into production a year later. The only other significant development for 1941 was the five piece Harvest shape for Quaker Oats. Each piece was given a heavily embossed rim and an underglaze red fruit basket pattern. The line was used on two more occasions: Wild Rose in blue and Pastoral in green.

Andover Eggshell gravy faststand and creamer, Wishmaker Modern
1942
The last major shape Rhead worked on was Liberty. Each piece was given a different underglaze transfer print based on Joseph Boggs Beale paintings. The line was called Historical America and was offered in red and the less common blue. Liberty would go on to become a popular decal shape for HLC.
| | | |
| --- | --- | --- |
| Historical America, Washington 10 ½" plate | Marking on the Washington plate | "Purchase of Manhattan Island" 8 ½" plate |
The pieces on this page represent a very small fraction of Rhead's work at the factory. More of his shapes and patterns can be found throughout the Homer Laughlin pages on this website. Of particular interest is his art ware sketchbook from 1934 which can be viewed here.