Empress by Homer Laughlin
LaurelHollowPark.net, an informative website created and
maintained by Mark Gonzalez. Copyright © 2009-.
---
Empress was made by Homer Laughlin as early as 1913 and was a sharp contrast to the more ornate shapes of The Angelus and Hudson. Below is one of many advertisements which featured the new plain round shape with pattern E6008:
Beautiful Dinner Ware For Real Satisfaction and Service -- Homer Laughlin ad from 1913


Shown in the Empress shape:
plate, casserole and a sauceboat.

Before buying dinner-ware insist on your dealer showing you some of the almost endless variety of attractive patterns of HOMER LAUGHLIN China. You will be wonderfully surprised that such beautiful dinner-ware can be obtained for so little money. Even though you pay higher prices you cannot obtain more real service, satisfaction and beauty than is afforded by HOMER LAUGHLIN CHINA made in America -- in the largest pottery in the world -- where 42 years' experience has given us the skill to make dinner-ware as good as it looks. Any home-maker may well be proud to adorn her table with it. All patterns are open stock -- the name HOMER LAUGHLIN on the under side of each dish is our guarantee to you. Insist on seeing it before you buy.
While the line as a whole was not produced much longer after 1940, the flatware would go on to be used with several other lines such as the underglaze prints, and the teapots were made in special blue and yellow art glaze colors sometime in the mid-1930s.

Most Empress is marked with a generic HLC backstamp and date code. Earlier pieces will include the shape name. More Empress patterns can be seen on this page.
---
| | | |
| --- | --- | --- |
| Cream soup and liner | Demitasse cup and sacuer | Empress backstamp |
| | |
| --- | --- |
| Covered Dish with "Persian Border" | Pattern E-3906 on a gravy fast stand |
---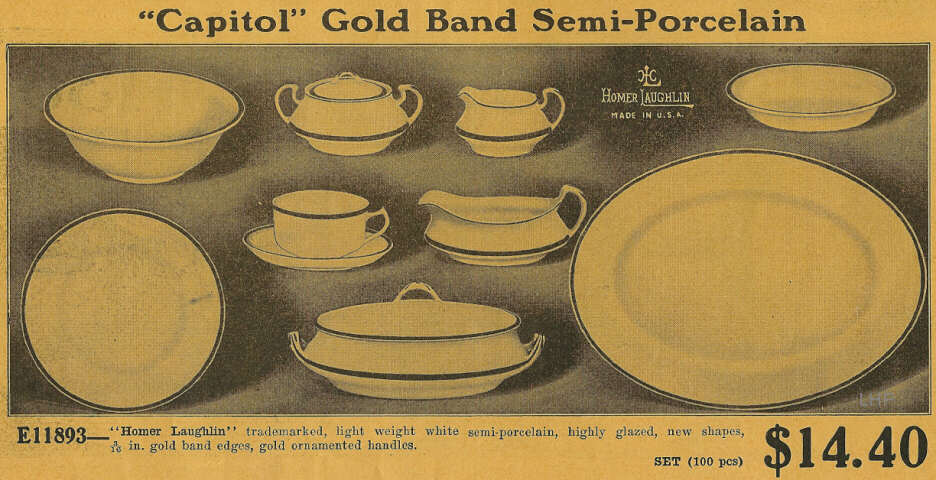 "Capitol" on the Empress shape for Butler Brothers, 1925.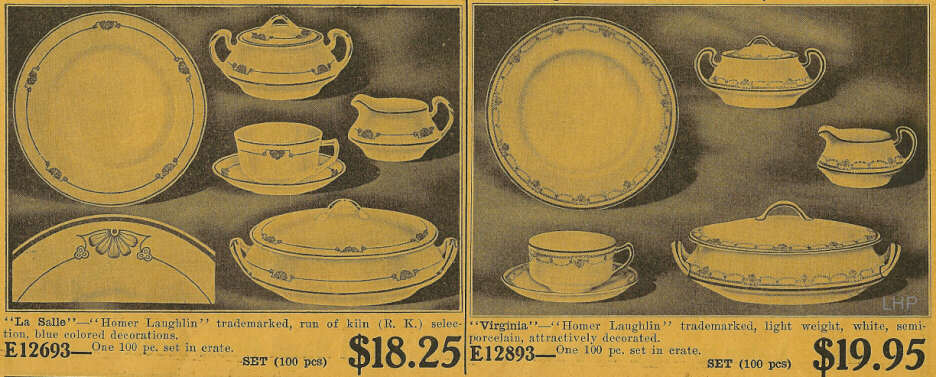 "La Salle" and "Virginia" on the Empress shape for Butler Brothers, 1925.
---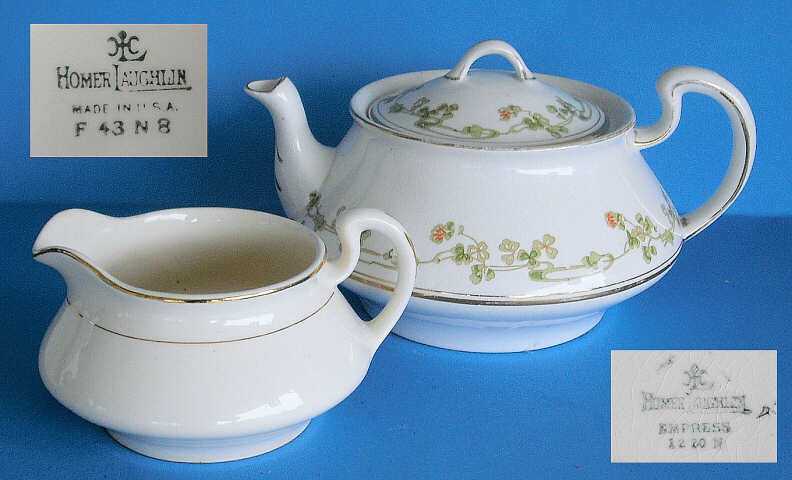 Teapot from 1920 and creamer from 1943.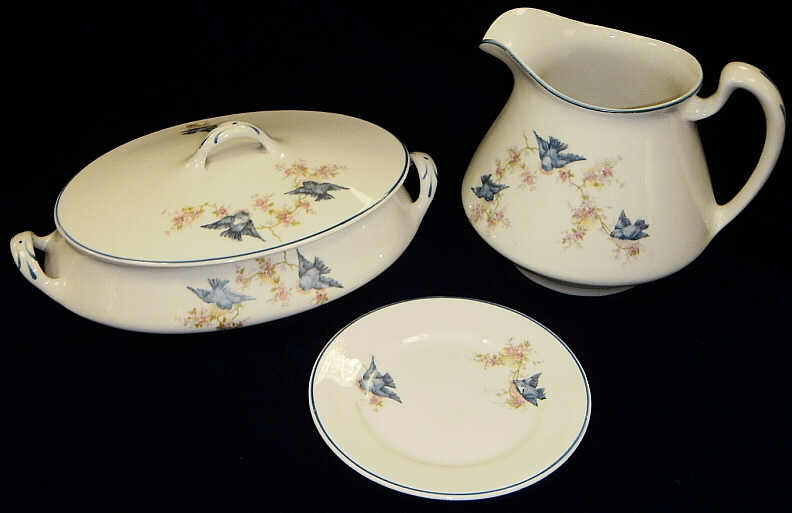 Treatment E-9303, blue birds on a casserole, medium size jug, and 6-inch plate.
| | |
| --- | --- |
| Bouillon cup with saucer and a 36s bowl | Dinner Plate with E-1715 |

Covered Casserole


"La Salle" pattern, made for Butler Bros


"Blue Willow" on a 36s bowl and small jug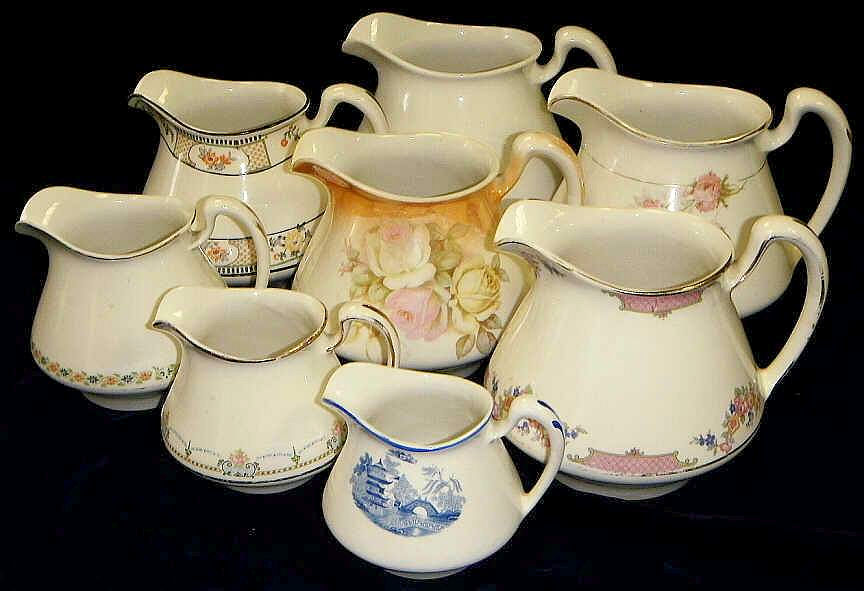 An assortment of Empress jugs
| | |
| --- | --- |
| Cake plate and jug with luster trims | Teapot in the "Yale" pattern for Butler Brothers |
| "Persian Border" platter | "Blue Willow" platter |
| Pattern E-7505 soup bowl | "Virginia" pattern small jug |
| "Springtime" sugar | Empress sugar marked with pattern K-1513 |
| "Springtime" decal with gold trim | Double handled sauceboat with gold and black trim |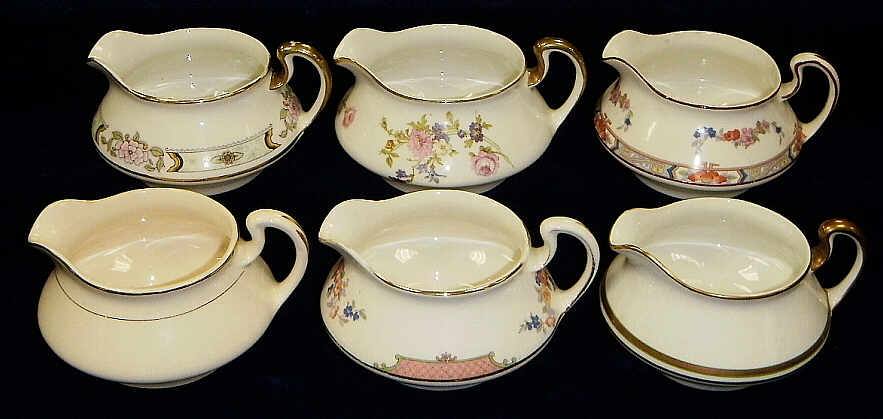 An assortment of Empress creamers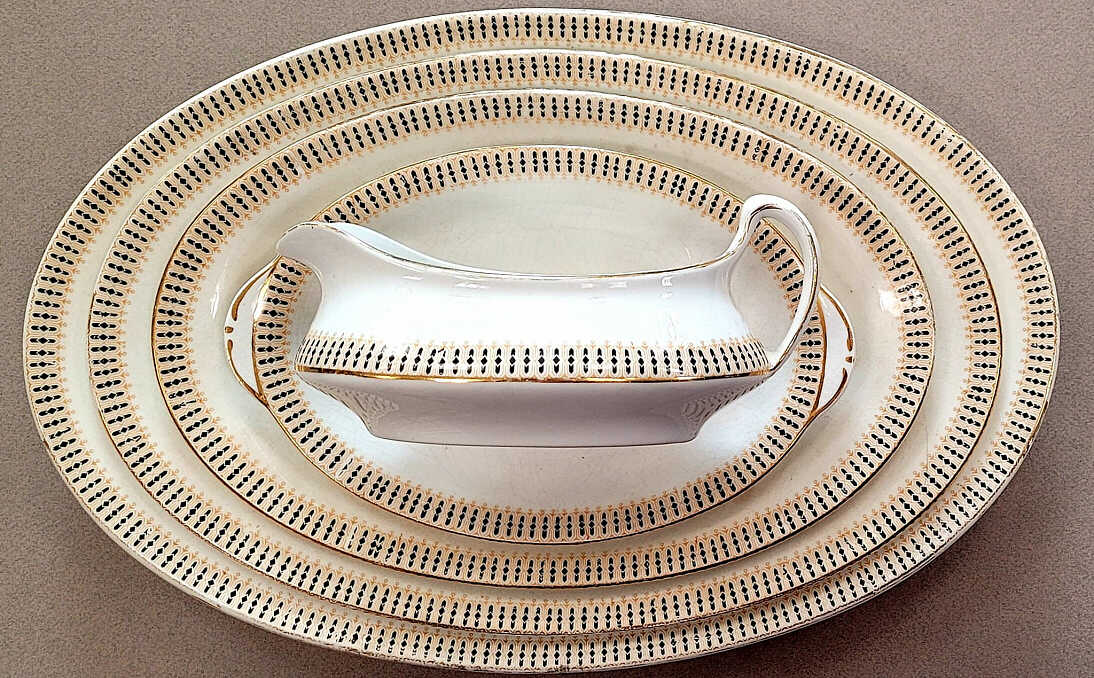 Empress platters, sauceboat, and liner with pattern E-1215, dated 1923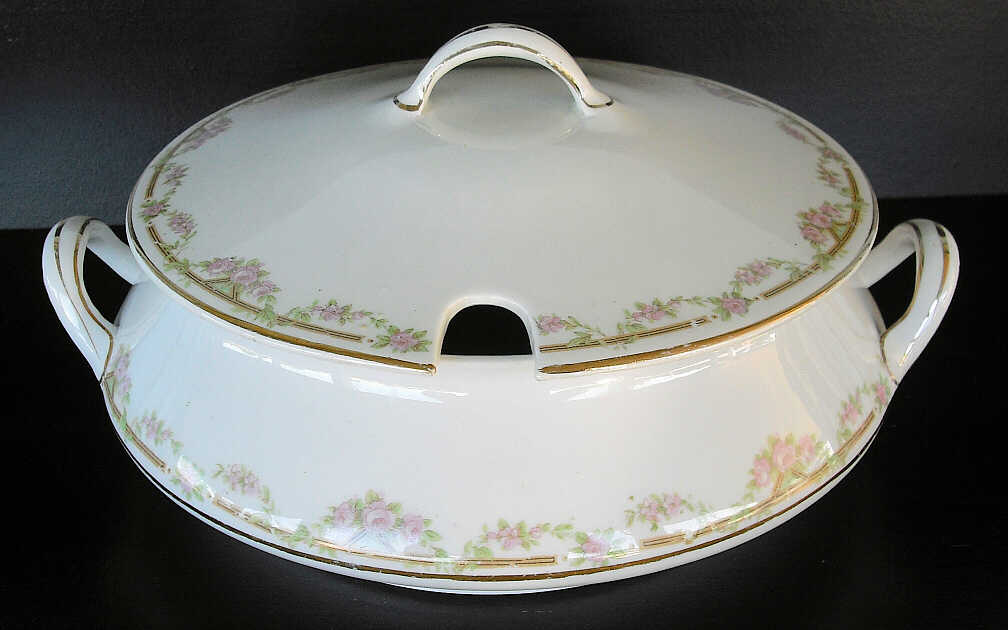 Empress oyster tureen with pattern number E-5605, dated 1914.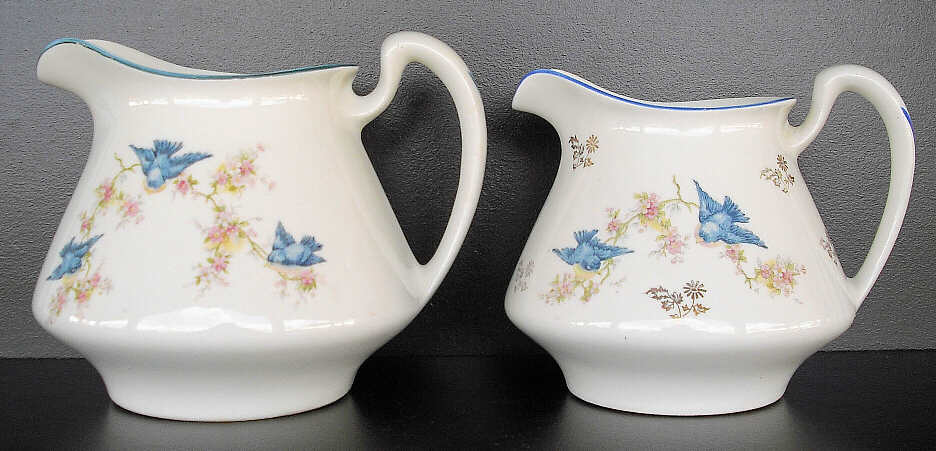 Empress jugs with blue birds decals, one with added gold stamps.
---
Empress shop samples from the collection of the Fiesta® Tableware Company.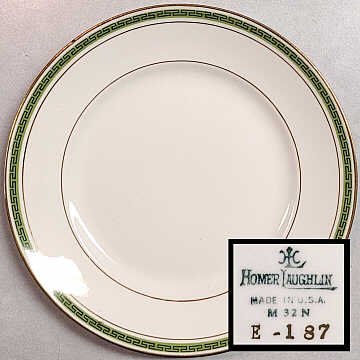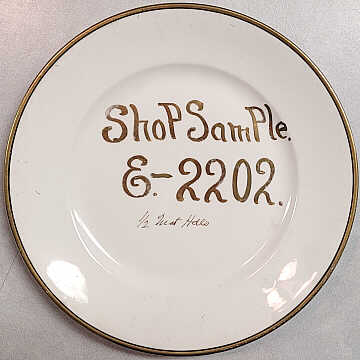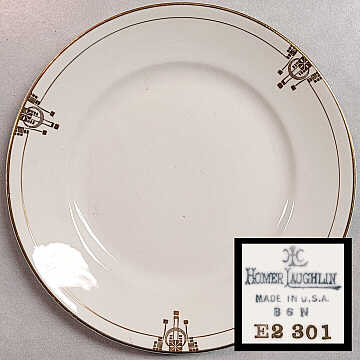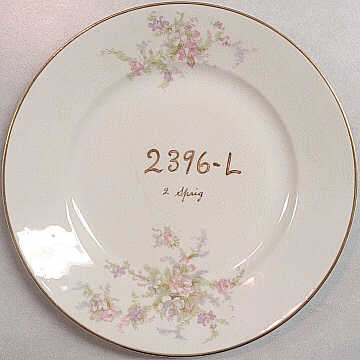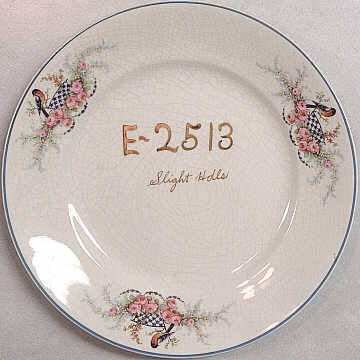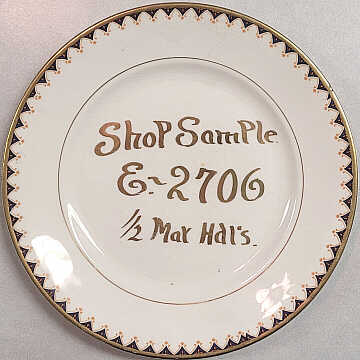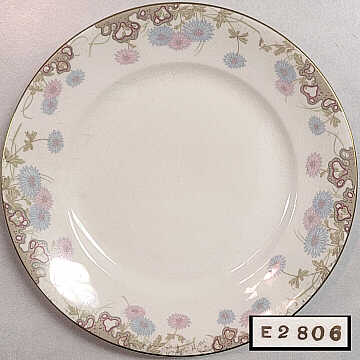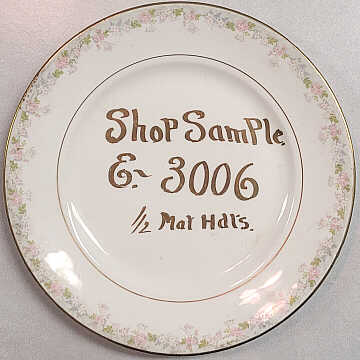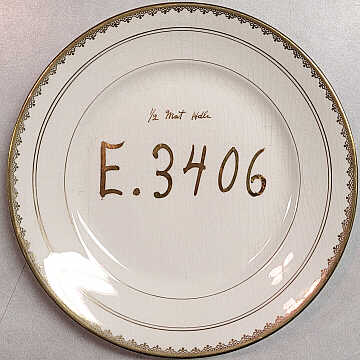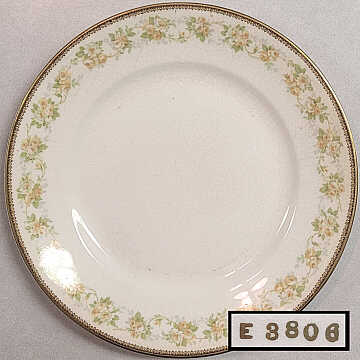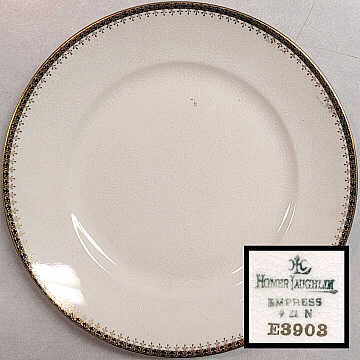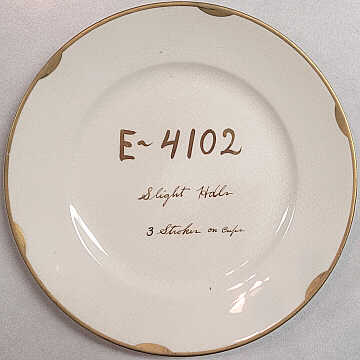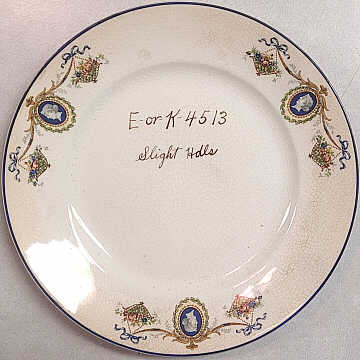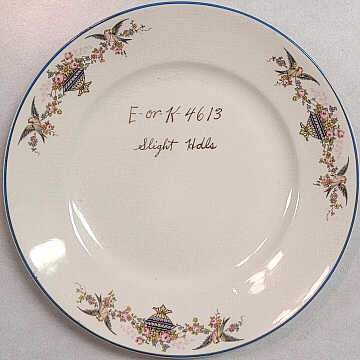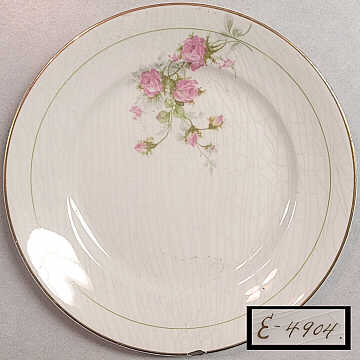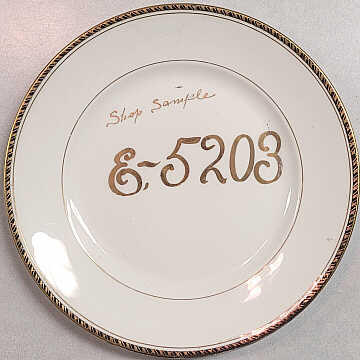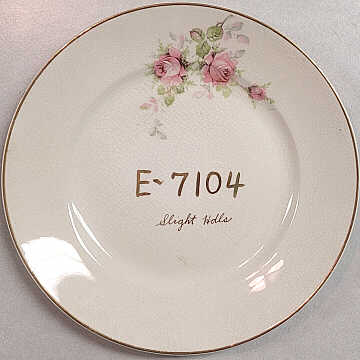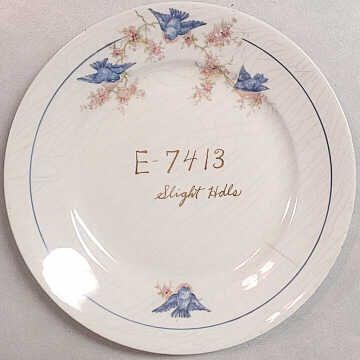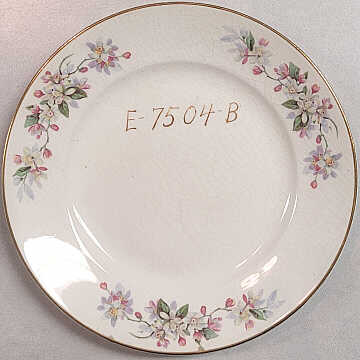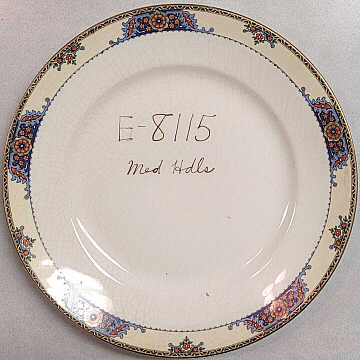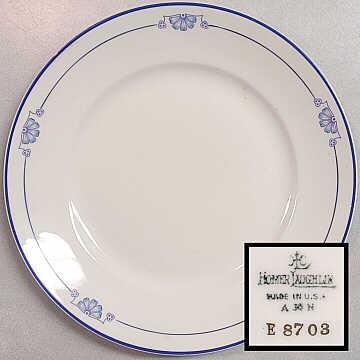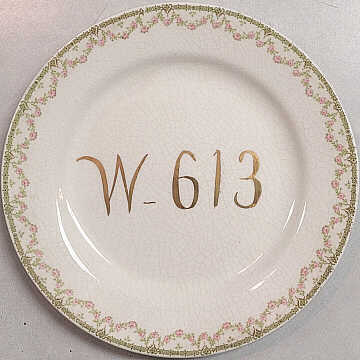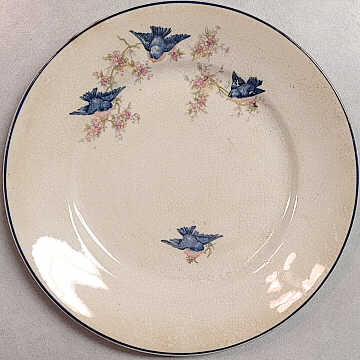 ---
Teapot
Sugar
Creamer
Ind. Sugar
Ind. Cream
Coffee cup/saucer
Teacup/saucer
Demitasse cup/saucer
Covered Butter
Double handled sauceboat
Fast Stand sauceboat
Cream soup and liner
Bouillon and liner
Ramekin and liner
Nappy
Coupe Soup
36s Oatmeal

Fruit Cup
Ind. Butter
Bone Dish
36s Bowl
Boston egg cup
Spoon holder
Platter
Cake Plate
Dinner Plate
Baker
Pickle
Sauceboat and liner
Oyster Tureen
Casserole (round)
Covered dish (oval)
Sauce Tureen
24s Jug
---
Assortment of Items:


A set with mostly Empress shapes

Baker, 5 1/2"
Baker, 7 1/8"
Baker, 8"
Baker, 8 7/8"
Baker, 9 7/8"
Baker, 11"
30s Bowl
36s Bowl
30s, oyster
36s, oyster
Bouillon cup
Bouillon saucer
Covered butter
Individual butter
Cake plate, 10 1/4"
Casserole (round)
Celery tray
Covered Dish (oval)
Creamer, 5/8 pt.
Individual creamer, 1/2 pt.
Cream soup
Cream soup saucer
Coffee cup, 8 oz.
Coffee saucer, 6"
Teacup, 6 1/2" oz.
Teacup saucer5 3/4"
Demitasse cup, 3 oz.
Demitasse saucer, 5"
Platter, 6/14"
Platter, 7 1/4"
Platter, 8 3/4"
Platter, 9 1/8"
Platter, 10 1/4"
Platter, 11"
Platter, 12 1/2"
Platter, 13"
Platter, 14 1/4"
Platter, 15 1/4"

Platter, 17 1/4"
Boston egg cup
Fruit cup, 5 1/8"
Fruit cup, 5 5/8"
Jug, 6s (6 1/4 pt)
Jug, 12s (4 3/8 pt)
Jug, 24s (3 3/8 pt)
Jug, 30s (2 1/4 pt)
Jug, 36s (1 3/8 pt)
Jug, 42s (7/8 pt)
Jug, 48s (1/2 pt)
Nappy, 6 1/2"
Nappy, 7 5/8"
Nappy, 8 1/2"
Nappy, 9 1/2"
Nappy, 10 1/2"
36s Oatmeals
Oyster Tureen
Pickle dish
Plate, 5 3/4"
Plate, 6 7/8"
Plate, 8"
Plate, 8 7/8"
Plate, 9 1/2"
Deep plate
7 1/8" coupe soup
7 7/8" coupe soup
Sauce boat
Sauce boat, stand
Sauce boat, fast stand
Sauce boat, double handled
Sauce Tureen
Sauce Tureen stand
Sauce Tureen ladel
Sugar, 30s
Individual sugar
Bone Dish
Spoon Holder