Almost a year had passed since the regular Nautilus line was put into production when HLC decided to use the shape as a basis for a new type of body called, Eggshell. Rhead would often call this a "talc body" but it was really a special combination, light weight clay. Some vintage ads identify the primary mineral involved as Tremolite - or Calcium Magnesium Silicate Hydroxide Ca2Mg5Si8O22(OH)2. The flatware for Nautilus Eggshell is the same as the regular Nautilus version, but the hollowware is different.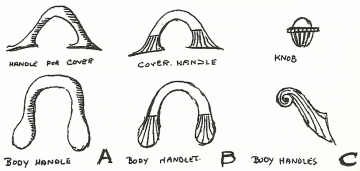 The round shape of the hollowware was preserved, but the little scroll feet were replaced with a one piece foot and the shell handles and finials were greatly simplified. When the casserole was redesigned, three different handles and finials were considered and tested. The original sketch is shown at the right . The fist two (A and B) were open , but it was the smaller closed versions (C) that were accepted. New handles and finials matching the casserole were also made for the covered sugar. The creamer and sauceboat were also made with solid round feet and the little "thorn" atop the handles was removed. While the design of the flatware was not changed, appropriate molds needed to be made for the new type of body.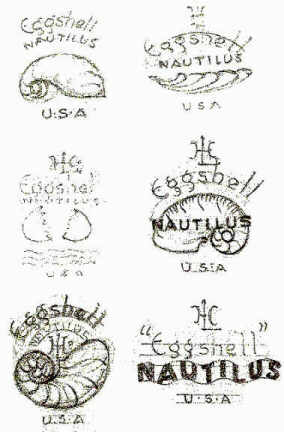 Rhead notes making the Nautilus Eggshell backstamp on December 28, 1936 - two days over being exactly a year since he made the regular Nautilus marking. Various sketches are shown to the right. The new line was offered in January of 1937.
When it became apparent Eggshell was a good seller, HLC decided to make more shapes in the light weight body. Swing came next in late 1937, Theme in 1939, Georgian in 1940, and Andover in 1941.
In August 1940, several new shapes were added to Nautilus Eggshell: salad bowl, teapot, and square plate. This coincided with the same pieces being made for Georgian Eggshell. When shakers were modeled for Georgian Eggshell during the same time, Rhead notes that instead of making them for the Nautilus version, the Swing shakers would be picked up instead.
Hundreds of decals were used on Nautilus Eggshell from it introduction until it was discontinued in the early 1960s. It and Virginia Rose are arguably the most decorated shapes HLC produced.
Nautilus Eggshell was a sharp contrast to the Art Deco and Streamline shapes for the 1930s and '40s as well as the more casual lines of the '50s. In most catalogs form the 1950s, Nautilus Eggshell is usually offered along side Georgian Eggshell and the last eggshell shape made by Homer Laughlin, Cavalier.