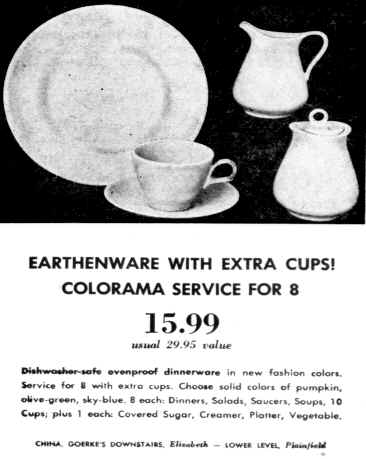 Colorama was made by Homer Laughlin China for a short time in 1962. The flatware was the same generic plain round coupe shapes used for many lines in the 1960s.

The sugar and creamer were made with a stretched look and pinched necks. The finial for the sugar lid is reminiscent of those used in the older Swing shape.

The 10" dinner plates are often marked with one of two different Colorama/Homer Laughlin backstamps. Unfortunately, both styles of marking lack a date code. Expect to find all other pieces unmarked.

At least four different solid color glazes were used on Colorama; white, green, pumpkin (orange), and a pastel blue.

The names tend to change from one advertisement to the next. For example, the ad to the right is from The Courier-News, April 30, 1962. It lists three colors; pumpkin, olive green, and sky-blue. Another store in St. Petersburg, Florida listed four colors available - olive green, pumpkin, azure blue, and white sand.

Colorama's assortment consisted of; dinner plate, salad plate, bread and butter plate, soup bowl, fruit cup, teacup, saucer, covered sugar, creamer, round vegetable bowl, and a platter.