Colonial by Homer Laughlin
LaurelHollowPark.net, an informative website created and
maintained by Mark Gonzalez. Copyright © 2009-.
---

The Colonial shape was introduced around 1900. It was one of Homer Laughlin's most extensive lines of dinnerware with over 100 pieces. Some were pickup pieces such as the Alaska ice cream and the Geisha tea set and jugs. Golden Gate teacups and coffee cups along with their corresponding saucers were used with Colonial. Rococo versions were used as well even though that particular shape had been discontinued. The plain round Ovide cup and saucer was also part of the Colonial assortment.

By 1903, there were 285 treatments available on the Colonial shape - more than any other shape of the early 20th Century. The number of treatments began to decline the next year and continued until 1909 when there were just over fifty. The following year, treatments were no longer offered on Colonial as focus had shifted to The Angelus and Hudson. This resulted in a ten year life span for the Colonial shape.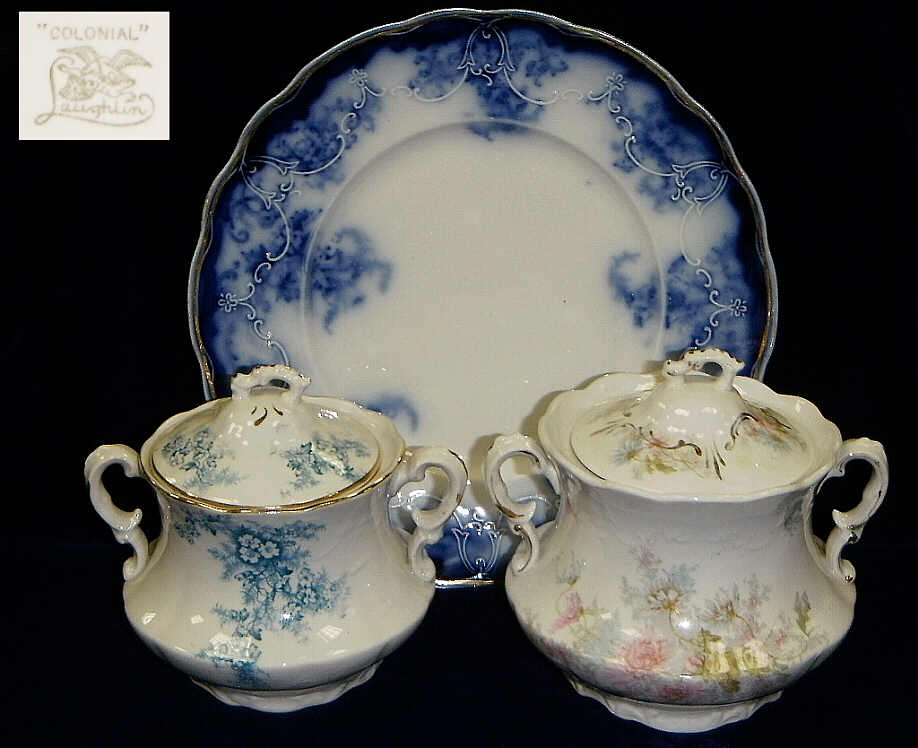 Colonial flow blue plate, 30s covered sugar, pattern 711, and a 24s covered sugar, pattern 4570.
Many retailers carried Colonial. Montgomery Ward's carried the shape with decals and in plain, undecorated white. Sears offered HLC's Colonial shape with decals for several years. One of Sears' advertisements gave this description of the line:
The decoration consists of neat floral spays of dainty azalias, so delicately shaded and so applied by the new decalcomania process, which produces a much more perfect decoration than if double glaze, and a decoration of this sort will wear a lifetime and never fade, and is a much stronger ware an account of the extra length of time required in the firing. This set is made of a very find quality semi-porcelain, made by the famous Homer Laughlin China Co., America's best potters, and is fully guaranteed in every respect. The shape used in the set is known as the new Colonial pattern, which is the most artistic shape made. The ware is exceedingly thin and light and resembles the finest French china. Every piece is artistically embossed with a beautiful scroll, which forms a complete border. All plates, saucers, platters, etc., have scalloped festoon edges and are branded on the back by the famous makers' trade mark.
As the advert above mentioned, Colonial is a round, scallop shape with light scroll work embossing. The hollowware is easily identified by its segmented handles. Finials on the lidded pieces tend to resemble sea horses' heads. There should never be any confusion between Colonial and other HLC shapes since most pieces were marked with one of the backstamp shown which include's the shape name. The two with the eagle over lion logo are the oldest.

Here is a comparison of handles of some HLC shapes of the early 1900s. This may help in distinguishing the hollowware on sight without having to look at the backstamp.
---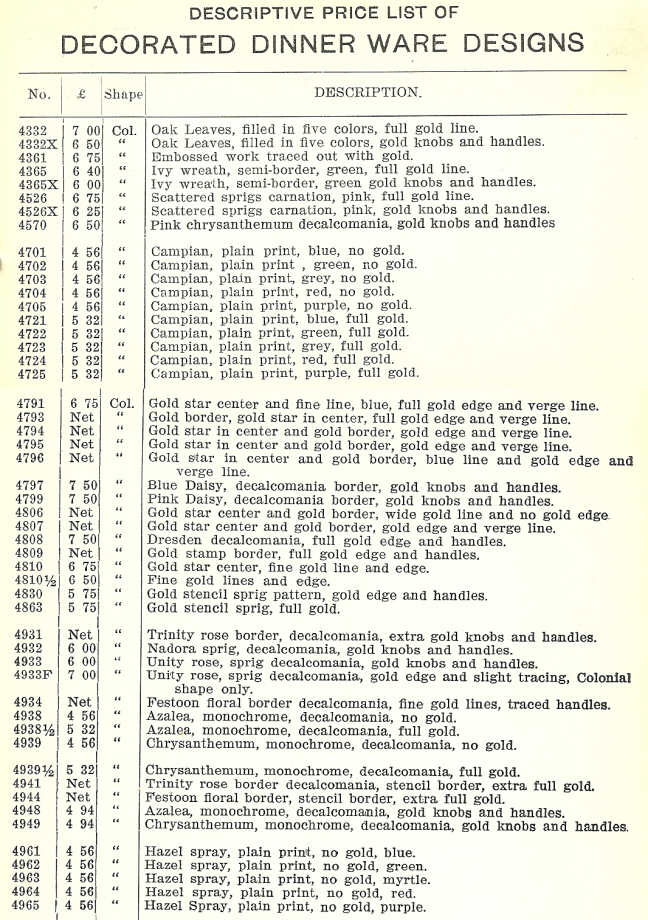 Colonial treatments offered towards the end of its run in 1909.
---
Just a few of the many patterns offered on Colonial. Shop samples courtesy The Fiesta® Tableware Company.
---

Colonial plate. From the collection of Bill and Donna Gray.


Colonial teapot, pattern 701


Colonial teacup and demitasse cup with saucers


Colonial casserole with pattern 4793


Colonial medium jug and gravy


Colonial covered dish with pattern 6015


Colonial covered dish with pattern 4570


Detail of pattern 4570


First style gravy boats with pronounced feet


Second style gravy boats with flat feet


Covered butter dishes: Hudson (back left), The Angelus (back right), Cable (center), Colonial (front left), and Golden Gate (front right)
| | |
| --- | --- |
| Colonial 7" plate | Colonial 6" child's plate |
| Colonial 9" plate | Colonial 9" plate |
| Colonial pickle | Colonial pickle, pattern 702 |
| Colonial baker with chrysanthemums, pattern 4570 | Colonial oval platter |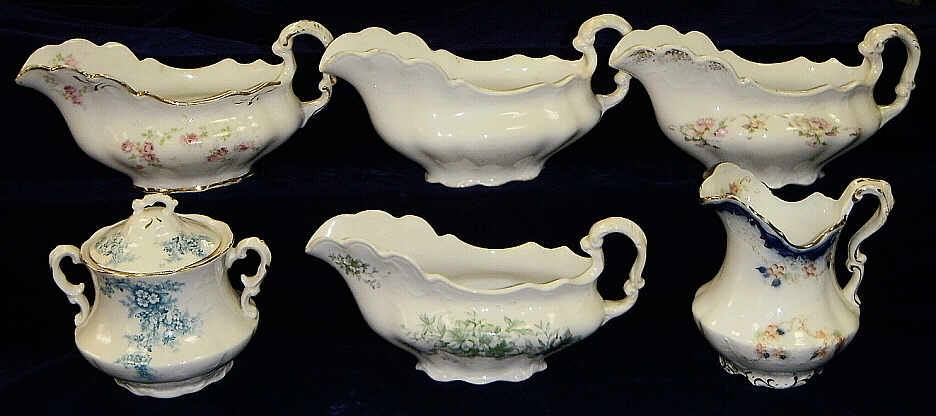 Colonial sauceboats, sugar, and creamer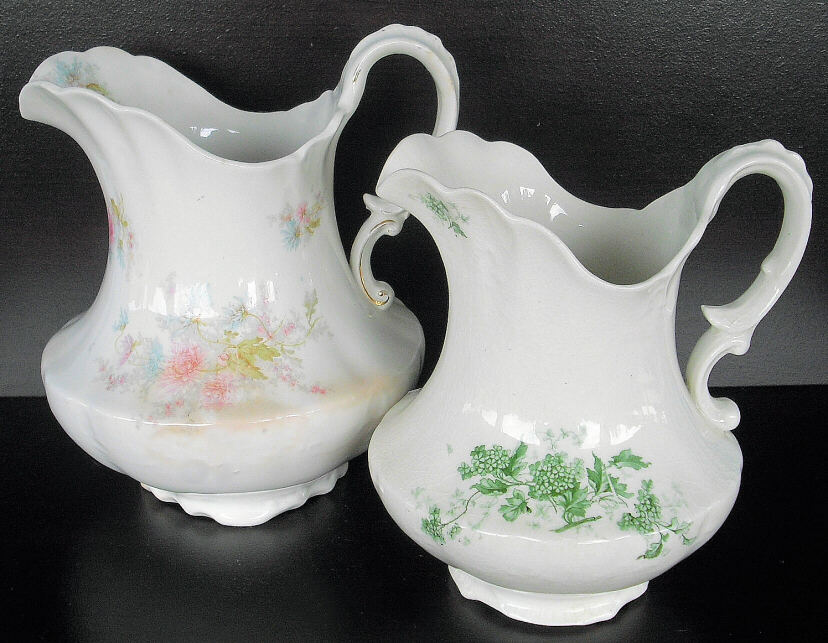 Two sizes of Colonial jugs. On the left is pattern 4570.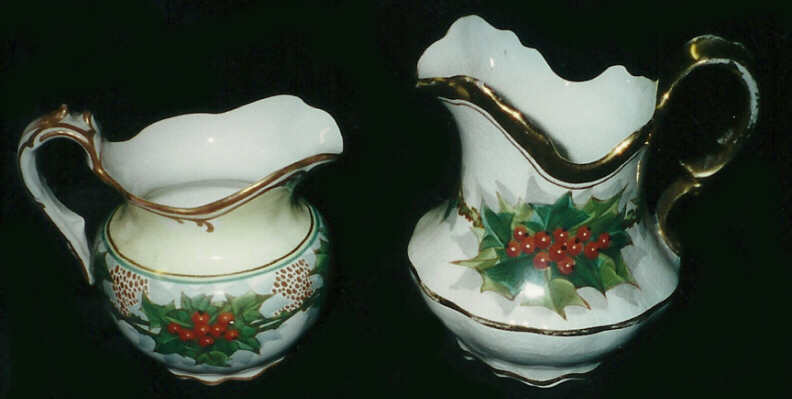 Seneca (left) and Colonial (right) jugs decorated for Christmas.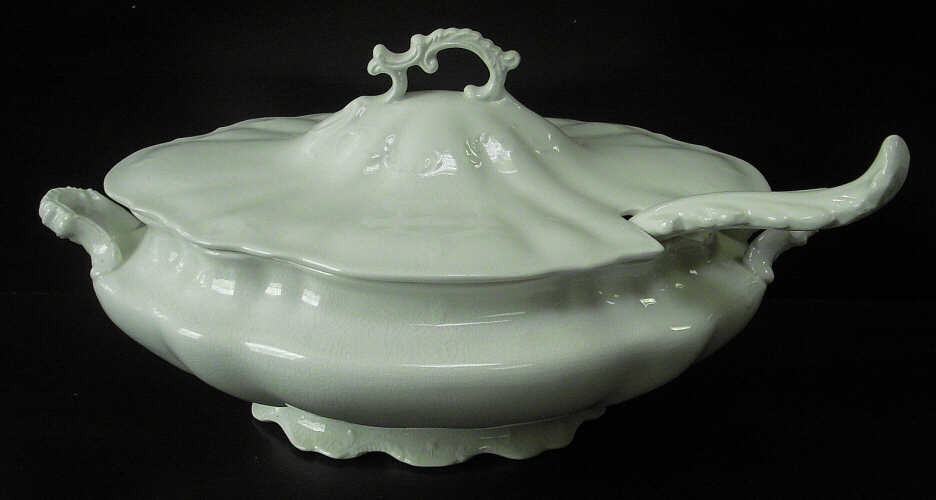 Colonial Tureen with ladle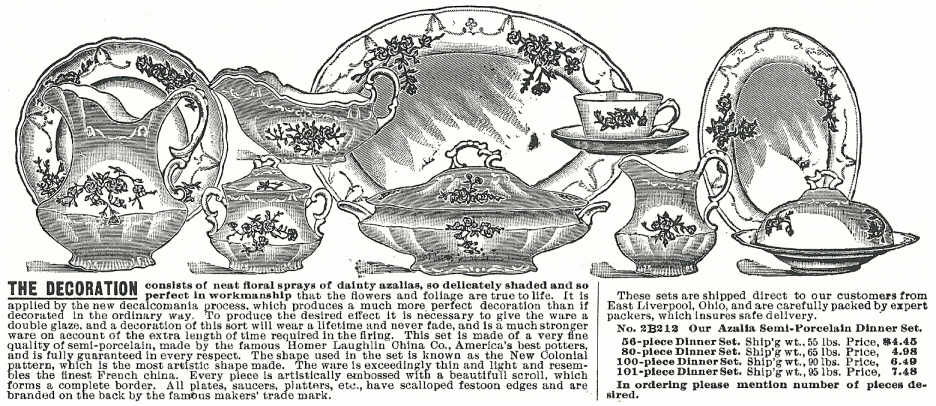 "Azalia" pattern on the Colonial shape.
---
Colonial shapes from a 1907 Homer Laughlin catalog

Ind. Sugar
Ind. Teapot
Ind. Cream
AD Cup and saucer
Sugar
Teapot
Cream
Jug
Sauceboat
Pickle
Coupe Soup
Fruit
Ind. Butter
Egg Cup
Spooner
Geisha Sugar
Geisha Teapot
Geisha Cream
Geisha Jug
Nappie

Baker
Oatmeal
Golden Gate Tea
Ovide Tea
Rococo Tea
Colonial Coffee
Colonial Tea
Bouillon and liner
36s Bowl
Covered Butter
Alaska Ice Cream
Cake Plate
Dish (platter)
Plate
Deep Plate
Newport
Oyster Tureen
Casserole
Sauce Tureen
Covered Dish
Soup Tureen
---
Copies of advertisments featuring the Colonial shape. The thrid on comes from a 1906 Sears catalog.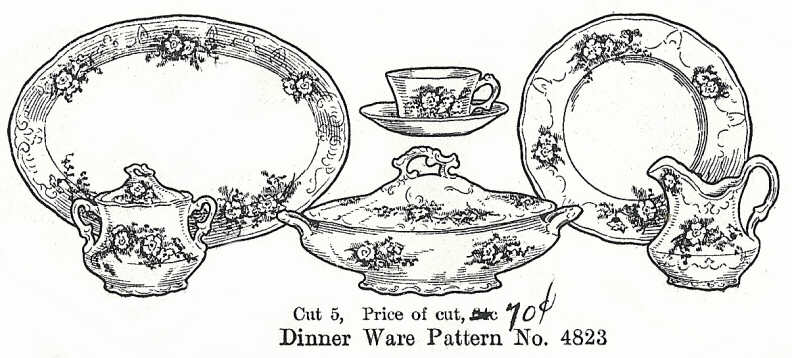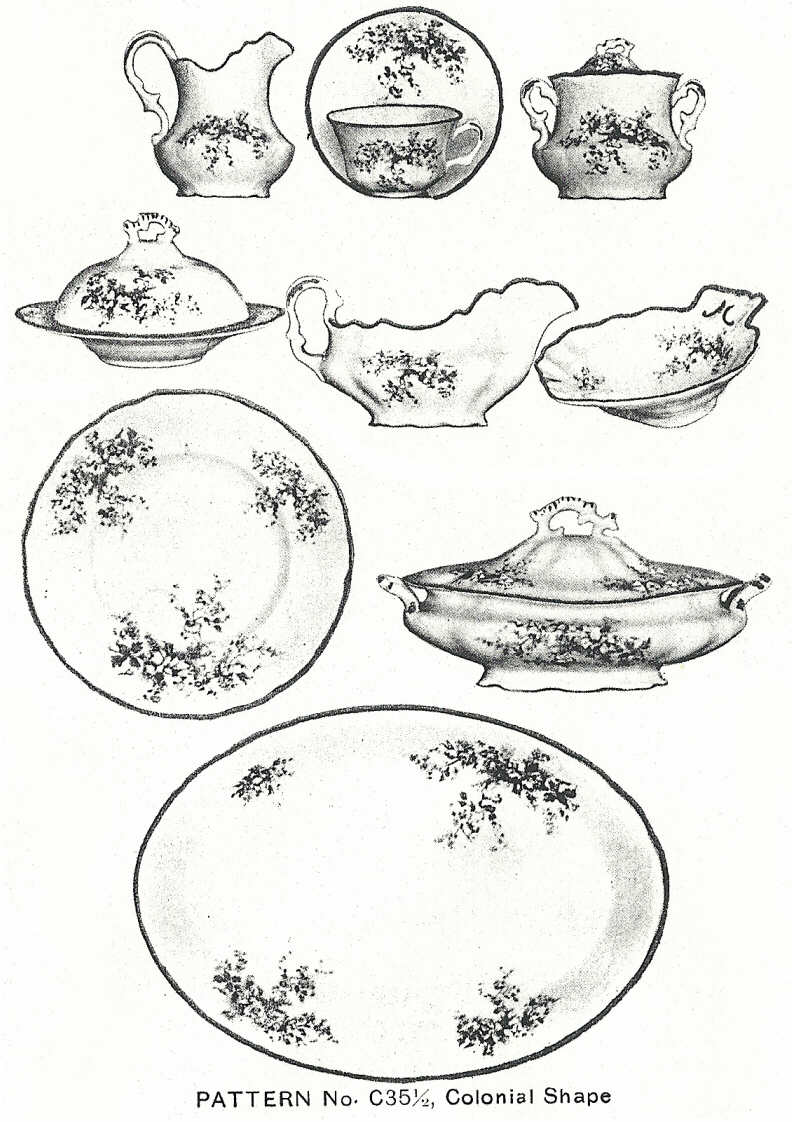 ---




Three patterns featured on Colonial and sold by Sears in 1909.
---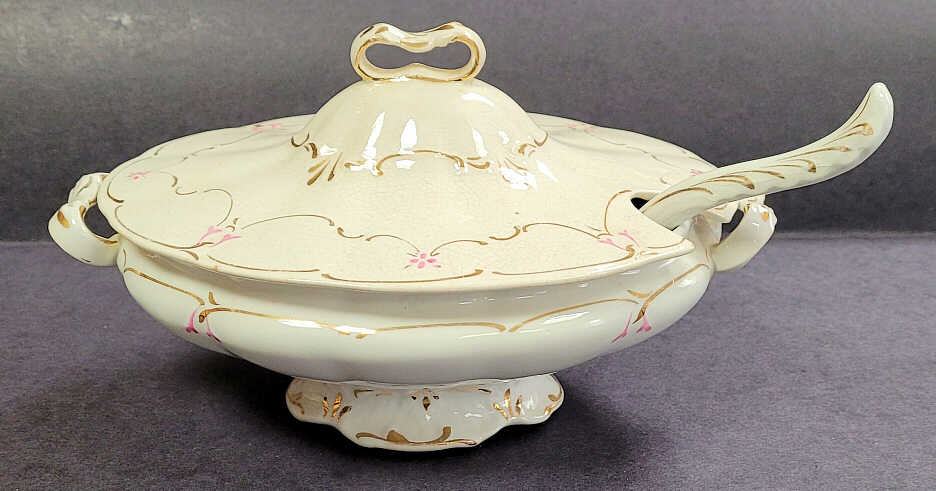 Early style Colonial covered sauce dish, treatment number 4051, pink and gold tracings