HLC Child's Mug, a.k.a. Ovaltine Mug
LaurelHollowPark.net, an informative website created and
maintained by Mark Gonzalez. Copyright © 2009-.
---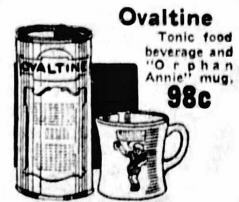 The child's mug was a generic shape made by the Homer Laughlin China Company. It appeared in the 1929 catalog under Cable and Special Items (see #2 in the image below). There is evidence the mug originated with the Sebring China Company of Sebring, Ohio. In fact, designer Frederick Rhead wrote in his journals on more than one occasion about the "Sebring mug" when talking about this piece. It has also been called a "Premium mug" or "Ovaltine mug" since HLC used the shape as a promotional piece for The Wander Company (makers of Ovaltine) in Chicago. I will use the terms Child's, Premium, and Ovaltine interchangeably when referring to the mug.

In the spring of 1931, Rhead noted the mug in his journals as an Ovaltine premium. It was to replace the older ceramic mug made by Sebring which featured Uncle Wiggily characters which were first made in late 1929. HLC's mug was made in the special vellum glaze which had recently been developed. It was completed with Little Orphan Annie decals and trimmed in green. It was given a Wander Company marking, but unlike the Uncle Wiggily Sebring mugs, there was no mention of HLC in the backstamp. To the right is part of a newspaper advertisement featuring HLC's Ovaltine mug from 1932.

Sometime in 1933, the HLC ceramic mugs were replaced with a plastic version. Examples can be found today with a Beetleware marking. They were indestructible in comparison to their ceramic counterparts. Around the same time a plastic shaker mug was also produced. Both plastic products were available for several years.

While HLC's Ovaltine promotion didn't last very long, the mugs found new life in children's sets using a Wells plate and a special bowl originally made for Ralston Purina. They were also one of three different mugs used in Tom & Jerry punch sets over the years. In rare cases, they can be found in Fiesta glazes.
---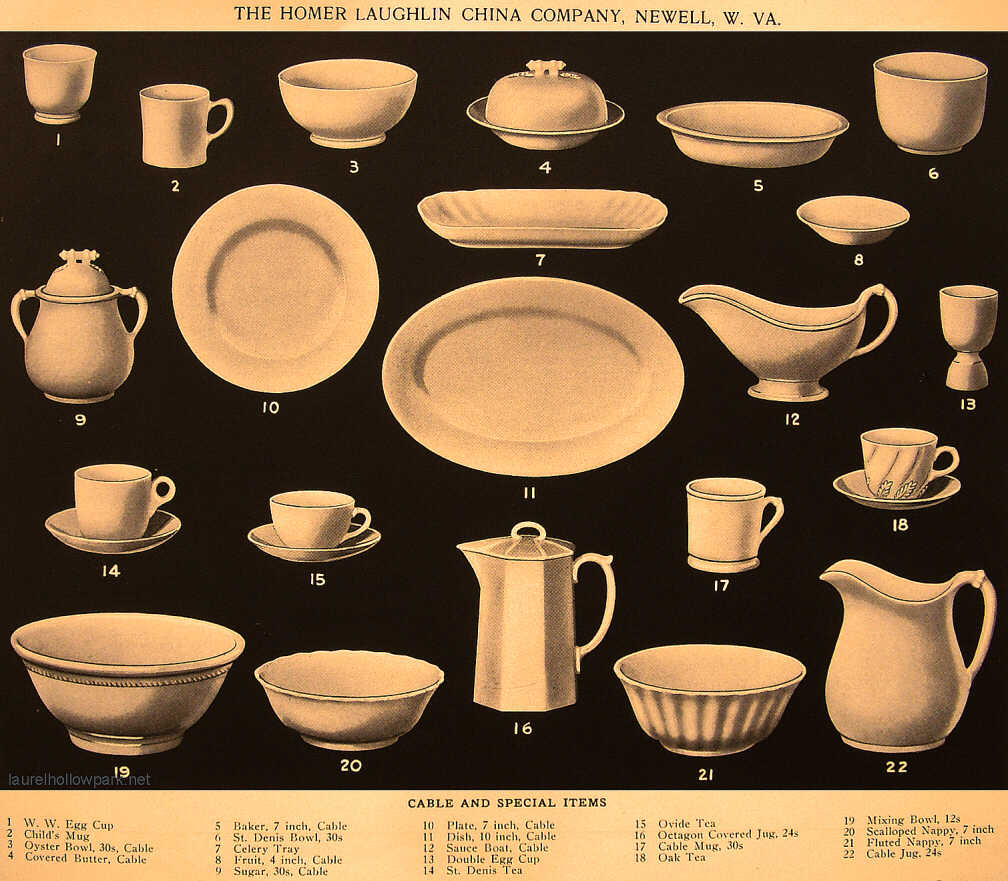 ---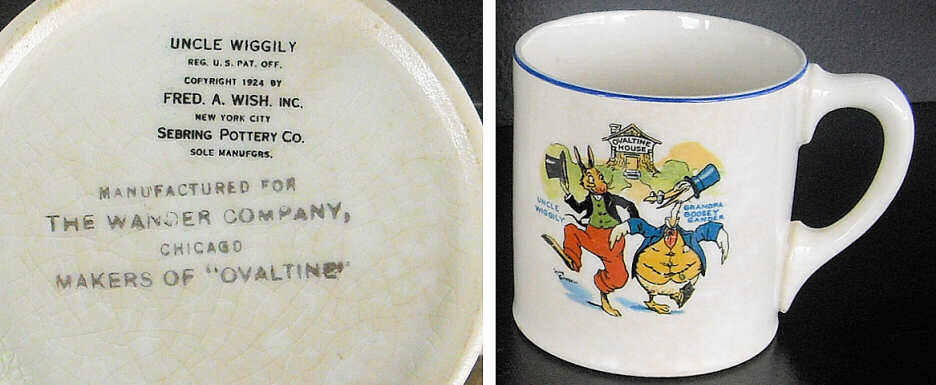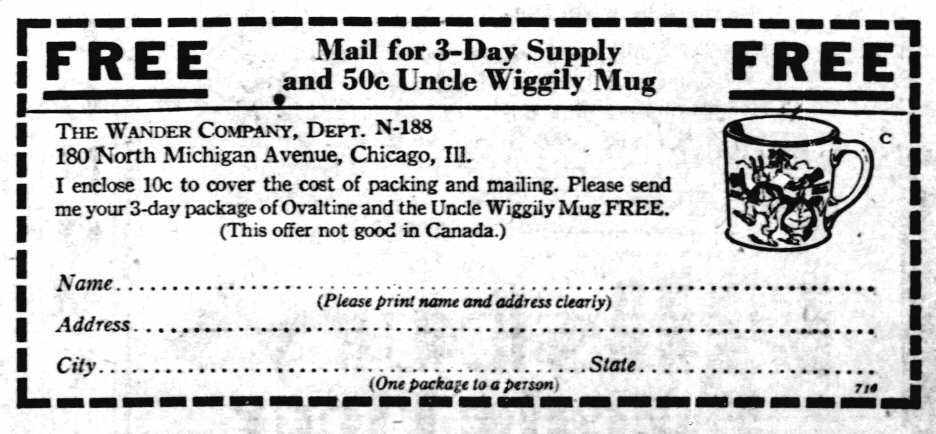 The original Ovaltine mug with Uncle Wiggily, circa 1929 - 1931.
---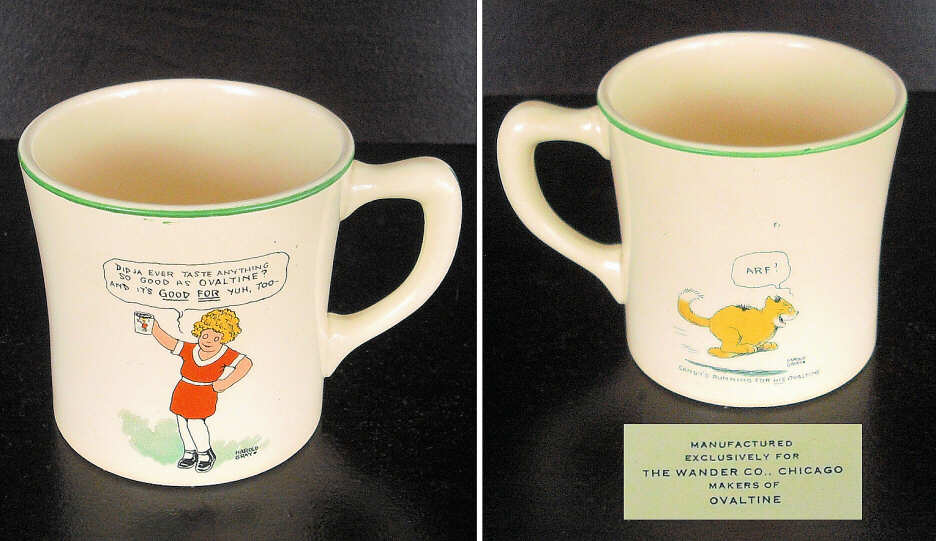 HLC's Ovaltine mug, circa 1931-1932.
---

Beetleware advert, mug and marking, circa 1933 - 1935.
---
Special Washington Bicentennial mugs made by HLC in 1932 using the Ovaltine premium mug.
---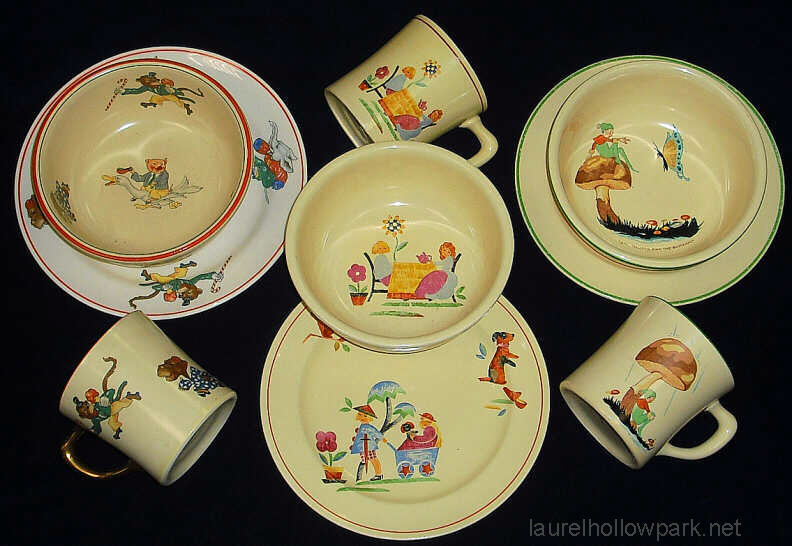 The Olvaltine mug in childrens' sets: Skating Animals, Tea Time (W-1353), and Tom Thumb (W-9633).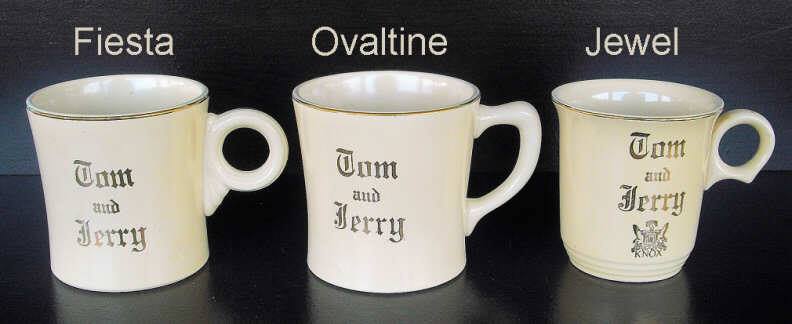 Various Tom & Jerry mugs from the 1930s, '40, and '50s; Fiesta, Ovaltine, and Jewel shapes.
---
The photo on the left shows an Ovaltine mug in the background with examples in the Fiesta® glazes, yellow and cobalt. Since various HLC Tom & Jerry mugs have been mentioned and shown, I thought it best to include this one on the right as it is often confused with HLC mugs. It has a Fiesta-style ring handle, but it was actually made by Universal Potteries of Cambridge, Ohio. Most Universal Tom and Jerry mugs are marked and will have a colored bottom like this one. Others can be found with red, black and other colors. Some were left plain with only the Tom & Jerry lettering as decoration.
---
Disney mugs marked Patriot China. According to Lehner's Encyclopedia of U. S. Marks on Pottery, Porcelain & Clay by Lois Lehner, "Patriot China" was a trade name used by the Sebring China Company. Other pieces such as plate and bowls can be found with this marking from the 1930s.