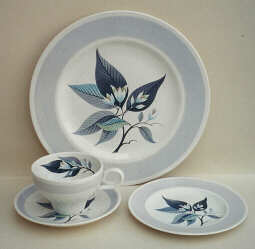 Charm House was created from March 1949 to October 1950. Charm House hollowware is very distinctive. It has mushroom-like bodies with dome type lids. Casserole and sugar bases are handleless.

Charm House with decals was made for China & Glass Distributors, Inc. According to Lehner's Encyclopedia of U. S. Marks on Pottery, Porcelain & Clay, by Lois Lehner, C.G used several types of markings including, "The Pantry Parade" by Cronin China and HLC's "Charm House." It is reasonable to conclude that this is where the Charm House name originates.

There were several treatments sold by C.G. on the Charm House shape such as Lotus Hai (shown at right), Magnolia, and Apple Blossom.

C.G Charm House marks make no mention of Homer Laughlin. Other companies made wares for C.G., but HLC's Charm House hollowware is unmistakable.

Charm House hollowware was used with many other HLC lines such as Applique, Dura-Print, Lady Stafford, Lady Greenbriar, and the Serenade lines of the early 1960s.
| | |
| --- | --- |
| Lotus Hai on the Charm House sugar and creamer | Lotus Hai on a Charm House fast-stand |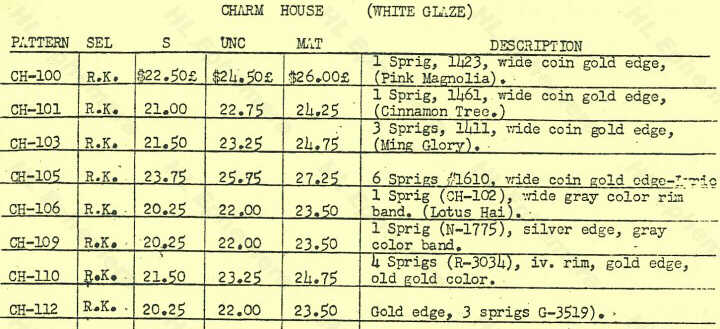 A listing of Charm House patterns with their official numbers.
---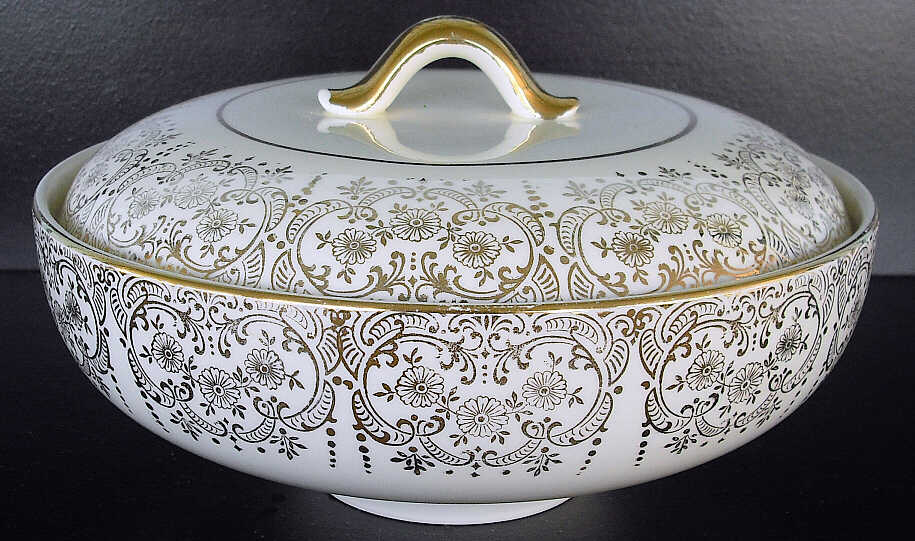 Charm House casserole with gold stamps, dated 1952.
This was probably decorated by an outside firm.