Best China by Homer Laughlin
LaurelHollowPark.net, an informative website created and
maintained by Mark Gonzalez. Copyright © 2009-.
---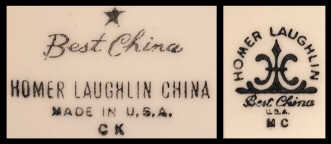 Best China was the trade name given to hotel and restaurant ware by the Homer Laughlin China Company, now known as The Fiesta® Tableware Company, of Newell, West Virginia. The line was announced in 1959:
When the Homer Laughlin China Company, largest factory of its kind in the world, decided to produce restaurant china, they accomplished it in an inimitable way. All their ceramists, chemist, and operating personnel were marshaled together to produce: the most beautiful china... the longest wearing china... the most economical china... This "best" hotel china by Homer Laughlin contains new additives to give it a toughness never before achieved in china. Test after test proved a superiority far beyond any ware on the market today - saving most money for every restaurant operator. As the good news spreads, dealers are turning in gratifying number to this new "Best" china.
Initially, six shapes made up Best China:
Rolled Edge - a rim shape with a rolled edge to prevent chipping
Narrow Rim - a rolled edge shape, but with a narrow rim
Empire - a coupe (rimless) shape
Durathin (also spelled Dura-thin) - a rim shape with a thin edge compared to Rolled Edge
Carolyn - scalloped, rim shape based on the older Virginia Rose shape, but without the embossing
Princess - same as Carolyn, but with a narrow rim.
Hundreds of patterns were developed over the years for Best China. Many were custom orders with the names of the restaurant, hotel, club, or other organization. Others were nonexclusive and were available in the general restaurant and hotelware trade. The patterns always had a treatment number, usually prefixed with a BC- for Best China. Surprisingly, most (if not all) of the patterns had official names. This is a departure from the older semi-vitreous wares which didn't always have a proper name, only a treatment number.

For most patterns, the name remains the same regardless of color. For example, the two patterns below are Impact (on the left) and Festival (on the right). Both of these patterns were made in red, turquoise, black, yellow, green, gray, and other colors. While each color was given a different treatment number, the names just stayed the same. So the example on the left is more properly known as Impact in red, and the pattern on the right is Festival in black.
| | |
| --- | --- |
| Impact in red | Festival in black |
This page focuses on restaurant ware made by the pottery from 1960 until the late 1980s. Below are just a few examples along with advertisements and a 1987 catalog which also shows the assortments for the different shapes.
Best China is almost always marked with a date code with letters. For more on what the letters mean, check out the bottom of this page
---
Names and/or treatment numbers given below


Festival in gray


Festival in red


Devon, BC-707


Wheat, BC-95


Maroon Jet (also Halo), BC-7


BC-517


Chelsea in blue


Chelsea in red


Honeyflower


Autumn, BC-1007


Tide in maroon


Tide in green


Impact in turquoise


American Rose, BC-2


Lombardy


American Rose in black


Grecian in blue and gray


Capital, BC-762


Fleur-de-lis in black


Emory, BC-192


Linden, BC-631


Green Band, BC-1


Marvel, BC-92


Impressions, BC-1632


Windflower, BC-1055


Fashene, BC-948


Ebony Scroll


Floral Princess


Golden Scroll


Impact in turquoise and red
---
Best China patterns offered by Edward Don & Company in the 1970s


Green Wing, more properly known as Regal, on Rolled Edge.


Oak Leaf and Surf on Narrow Rim.


Hourglass on Rolled Edge.


Anniversary on Durathin.