The Jewel Tea Company of Barrington, Illinois offered numerous household items as premiums for many years. In 1933, they carried Autumn Leaf for the first time. By 1935, there were eight pieces available: a teapot, coffee pot, covered sugar, creamer, three sizes of mixing bowls, and a covered casserole. They were made by the Hall China Company of East Liverpool, Ohio. Hall made all of the pieces in their vitrified body. The line was so successful that Jewel Tea wanted to expand it with a corresponding line of dinnerware. Hall China wasn't making semi-vitreous dinnerware at the time so Jewel Tea turned to the Homer Laughlin China Company of Newell, West Virginia.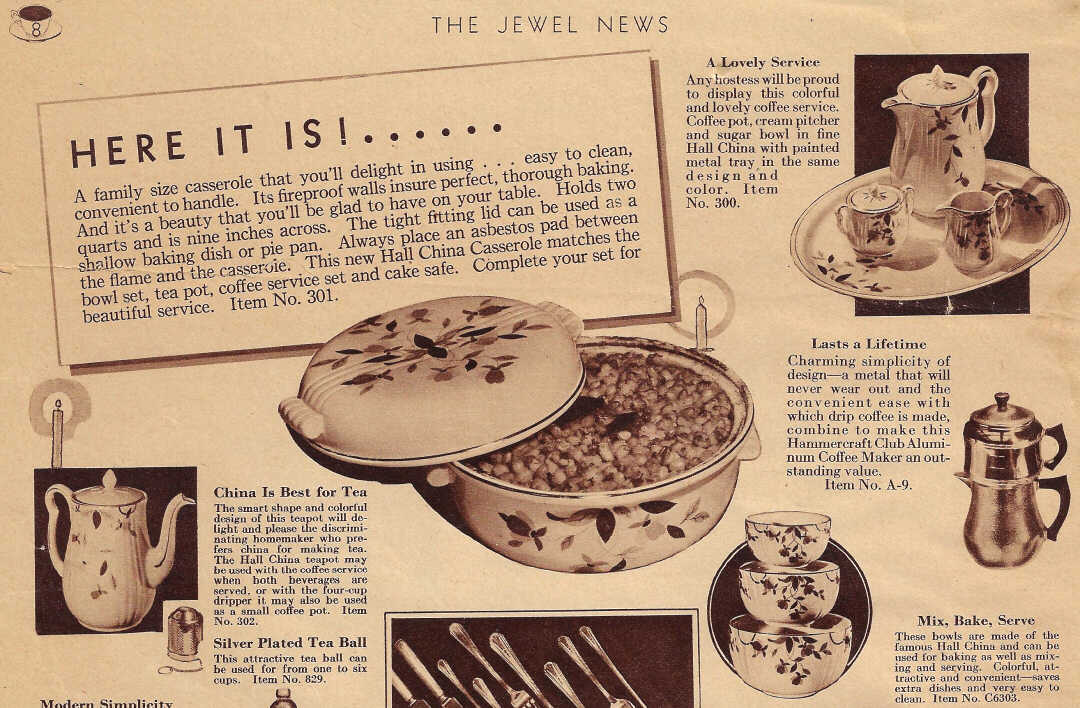 All eight Hall China pieces offered in the 1935 issue of The Jewel News, Vol.13, No. 7.
---
Three pieces were created at Homer Laughlin in August 1934. Each was made with with Hall's rayed embossing: the 9" plate, teacup, and saucer. Company records indicate the plate and saucer had three "panels" and the teacup had four. Unfortunately, the line wasn't expanded and Homer Laughlin didn't not make Autumn Leaf dinnerware. Instead, Hall China started making semi-vitreous wares and got the order. They would go on to make several different dinnerware lines besides Autumn Leaf such as Red Poppy, Orange Poppy, Silhouette, Crocus, and many others. Jewel Tea stopped offering Autumn Leaf in 1976.
Below are the three sample pieces made by Homer Laughlin. They come from the collection of The Fiesta® Tableware Company. The teacup and saucer is currently on display at the factory museum in Newell.