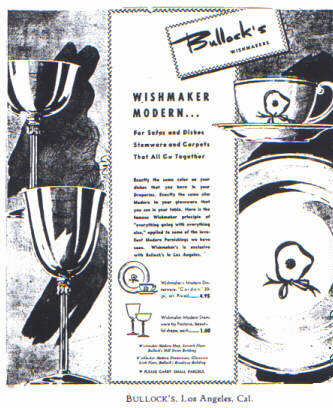 Andover Eggshell was made for Carson Pirie Scott & Co. of Chicago, Illinois. The first time Frederick Rhead mentions the line in his journals was on March 1, 1941: "Letter from Chicago office on Carson's Wishmaker. Make new hollowware for Swing flatware. Submitted sketches." Two days later, Rhead noted the treatment for this new line as a "feather and ribbon." This decal would undergo many changes over the next few months.

On March 28, 1941, Rhead noted making a Star and Ribbon treatment with gray band and gold edge painted by Decal Products. Soon after, on April 7th, he wrote: It's now a Feather plate with ribbon.

On April 8, 1941, the sketches for the teacup, sugar, creamer, casserole, fast stand, and cream soup were approved. They were modeled from mid-May through the beginning of June 1941. Rhead also noted that a "dish and baker" he had sketched for this line were not to be made.

Andover was unlike other HLC products in that each piece was given a cylindrical pedestal foot with rings. The modeling log notes the line was released into production on June 26, 1941. Two more items were modeled at the end of June; the nappy and a "shallow" bowl.

In the middle of modeling the hollowware, another changed occurred with regard to the treatment:
May 21, 1941: Joe Flenchlenger [of the Chicago office] and J.M. Wells on Caron Wishmaker. Southern Potteries have copied Czech feather pattern. Consequently, Carson's are switching over to the Ribbon & Star. Phoned Decal Products to find status of feather patterns. Just being proofed. Told them that we are changing to Ribbon pattern. Will delay delivery two weeks.
On June 27, the day after it was released into production, Rhead drew a new backstamp sporting the name, "Arcadia Eggshell" along with a note that a new generic "Eggshell" mark would be made for Swing so that the flatware and certain pieces of hollowware could be used wtih the new line. On June 30th, the name of the new line was switched from Arcadia Eggshell to Andover Eggshell. On July 8, 1941, Rhead make a sketch of the generic "Eggshell" backstamp which would go on to be used with both Swing and Andover.
All the flatware came from Swing. However, some sets can be found with hollowware from Swing as well, namely the teapot and shakers.
The advertisement in the upper right hand corner comes from the early 1940s and features the Ribbon and Star treatment on Andover which was sold as "Wishmaker Modern."