American Vogue Dinnerware
LaurelHollowPark.net, an informative website created and
maintained by Mark Gonzalez. Copyright © 2009-.
---
In 1942, Vogue Mercantile, a pottery and glass distributor, announced a special design contest. The details of the contest were given in the January 1942 issue of China and Glass trade journal:
About 300 stores throughout the country, including one important mail-order china, are lined up to take part in the much-talked-of dinnerware design contest which the Vogue Merchantile Co., Inc, 1140 Broadway, New York, introduced at the Pittsburgh Show. Called the American Vogue Dinnerware Design Contest, the idea behind the promotion is to interest the public in creating patterns which can be built into popular-priced dinnerware lines.

The contest will open on February 15, and the participating stores will be able to offer to their customers the opportunity to win prizes in Defense Bonds amounting to $250 for the best design, $100 for the second, $50 for third; $25 for the fourth; and honorary awards of dinnerware sets for the 10 next-best designs. These prizes are given by the Vogue company, and in some cases the stores are offering additional awards.

The contest represents the first time a nation-wide effort has been made to tap the creative ability of the general public. Its by-product, of course, is certain to be an increased interest in dinnerware design, as a whole, with a resultant build-up of sales. And its value as a sampling of public tastes and trends is obvious.

Entrants in the contest are given a limited time in which to create their ideas, April 1, and their efforts will be judged by a committee which includes Gerald Stone, of R. H. Macy & Co.; S. E. Fry, of Montgomery Ward & Co.; Keith Parker, of Carson Pirie & Scott; John Behm, of Barker Bros.; Alfred Duhrssen, of the Commercial Decal Co.; and Miss Henrietta Murdock, of the Ladies' Home Journal. The patterns they select will be developed in time for display at the July trade shows and will be put into production next Fall in American Vogue Slo-Baked Dinnerware.

A national advertising campaign in the Ladies' Home Journal, the American Home, and other publications will announce the contest to the consumer, and the stores will be provided with newspaper mats as well as free counter and window displays.
By July 1942, the winners of the Vogue Mercantile contest were announced. The following ran in pottery trade publications at the time:
Vogue Mercantile Co., Inc., New York City, distributors of glass and pottery, has issued the list of awards in its national American Vogue dinnerware contest. There were over 4,000 entries and Phillip Distillator, president of the company, states that among them were a great number of very beautiful designs. The prize winners are being feted at luncheons given in their honor by the leading department stores in their vicinity. Among these stores are R. H. Macy & Co., N. Y. C.; Rike-Kumler, Dayton, Ohio; Barker Brothers, Los Angeles, and others.

First award, a $250 war bond, was awarded to Antoine Jenisch, Mt. Vernon, N. Y. The other winners are as follows: 2. Craighead Cowden, Dayton, Ohio; 3. Hans Hacker, East Liverpool, Ohio; 4. Virginia Nunes, Los Angeles, Calif.; 5. V. W. Jacobs, East Orange, N. J.; 6. Mildred Bryant Brooks, South Pasadena, Calif.; 7. Ruth W. Rogers, St. Louis, Mo.; 8. Mark Daniels, Syracuse, N. Y.; 9. Mrs. Edith L. Pyle, Logan, Utah; 10. Mrs. Aime Hilton, Hickory, N. C.; 11. Eddie Laine, Los Angeles, Cal,; 12. Craighead Cowden, Dayton, Ohio; 13. Richard H. Rixon, Jr., Los Angeles, Calif.; 14. Marion M. Johnson, Worchester, Mass.

The prizes for the awards are: First, $250 war bond; second, $100 war bond; third, $50 war bond; fourth, $25 war bond; and honorary awards of complete dinnerware sets for 8 of the remaining awards. There were 22 honorable mentions.
Hans Haker, an artist at Commerical Decal in East Liverpool, Ohio from 1939 to 1977, was listed above as winning third place. Hacker worked with just about every pottery in the area and brought many patterns to life.

The various American Vogue lines were first made in 1942, many of which were featured in Montgomery Wards' catalogs. The winning pattern, America the Beautiful, was made up of four different decals in pink to represent lyrics from the song. This pattern wasn't in production very long. It is usually found on Swing Eggshell with gold encasing lines or as a "scrap print" on specialty salad nappies from the 1940s.
Examples of Antoine Jenisch's winning pattern, America the Beautiful.


"For purple mountains majesty..."


"For amber waves of grain..."
Homer Laughlin produced most, if not all, of the American Vogue patterns. Pieces were often marked with the Homer Laughlin backstamp under the glaze and a special over glaze decal ribbon with the pattern name. In a company memo dated November 1, 1946, there were fourteen distinct treatments with pattern numbers prefixed "VM" for Vogue Mercantile. Some of the decals were used in several ways, namely Belles Fleurs, and Forget-me-not. The table below has the patterns with the shapes they appeared on:
| | | |
| --- | --- | --- |
| VM-1 | Dresden Rose | Georgian Eggshell |
| VM-2 | Rambler Rose | Georgian Eggshell |
| VM-8 | Bristol | Nautilus Eggshell |
| VM-101 | Gardenia | Nautilus Eggshell |
| VM-102 | Golden Wheat | Nautilus Eggshell |
| VM-104 | American Regency | Nautilus Eggshell |
| VM-105 | Regency Theme | Theme Eggshell |
| VM-106 | Belles Fleurs | Nautilus Eggshell, yellow rim |
| VM-107 | Belles Fleurs | Swing Eggshell, pink rim |
| VM-108 | Forget-me-not, gold line | Georgian Eggshell |
| VM-109 | Forget-me-not, blue line | Georgian Eggshell |
| VM-111 | Pennsylvania Dutch | Nautilus Ivory |
| VM-112 | Autumn | Nautilus Eggshell and Marigold |
| VM-113 | Belles Fleurs, blue rim | Swing Eggshell |
---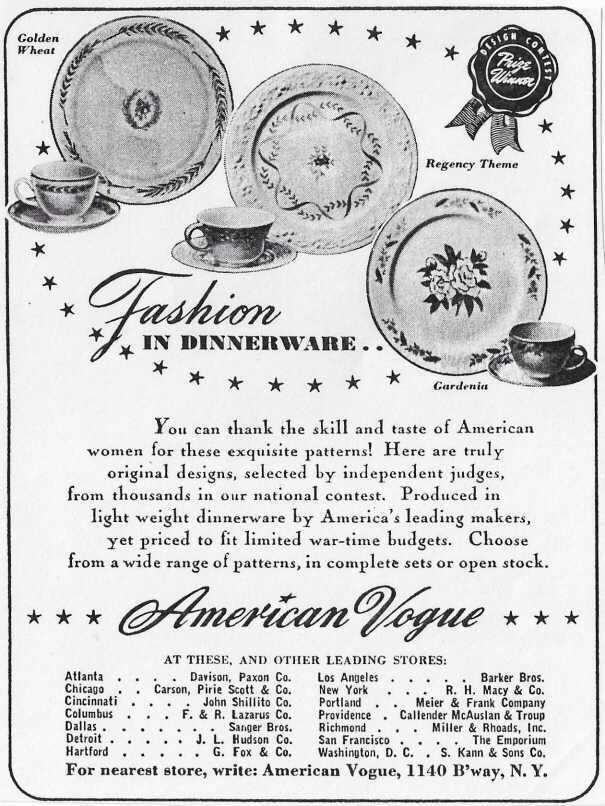 American Vogue advertisement.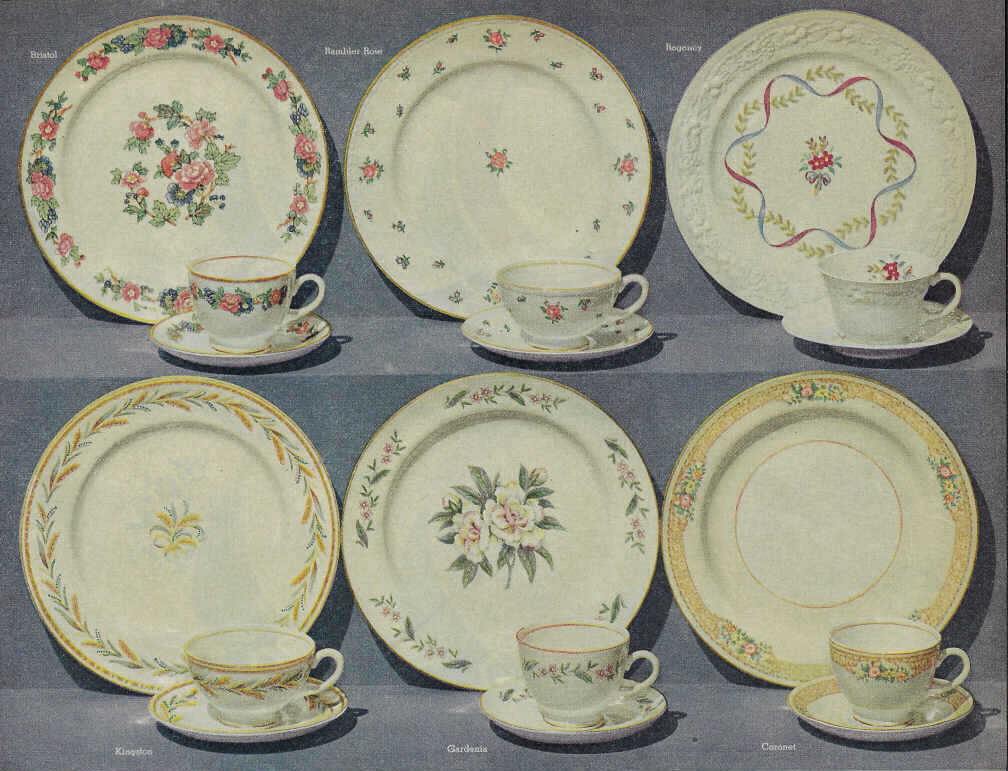 From a 1943/1944 Wards catalog, all six patterns were made by Homer Laughlin.
Four are American Vogue patterns: Bristol, Rambler Rose, Regency, and Gardenia.
---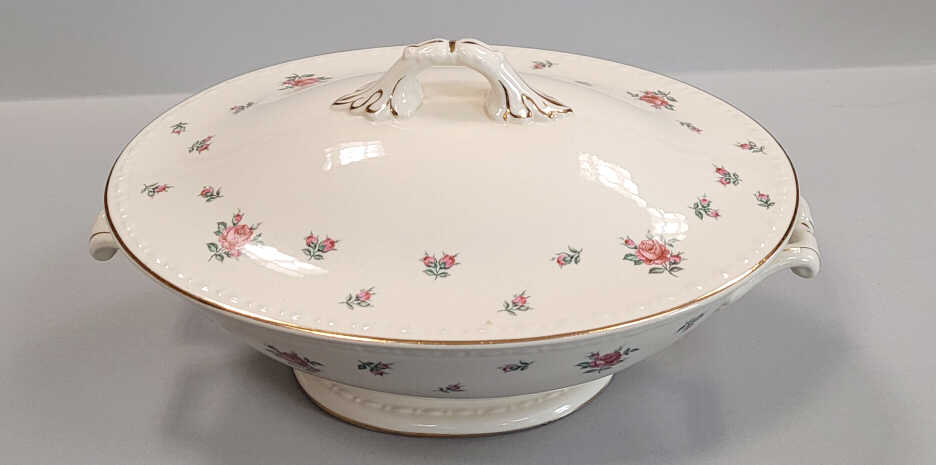 VM-2, Rambler Rose on a Georgian Eggshell casserole.
| | |
| --- | --- |
| VM-111, Pennsylvania Dutch on a Nautilus platter. | Homer Laughlin backstamp with the American Vogue ribbon. |
| VM-8, Bristol on Nautilus Eggshell. | Homer Laughlin backstamp with the American Vogue ribbon. |
| VM-105, Regency Theme on Theme Eggshell cream soups. | VM-107, Belles Fleurs on a Swing Eggshell platter. |
---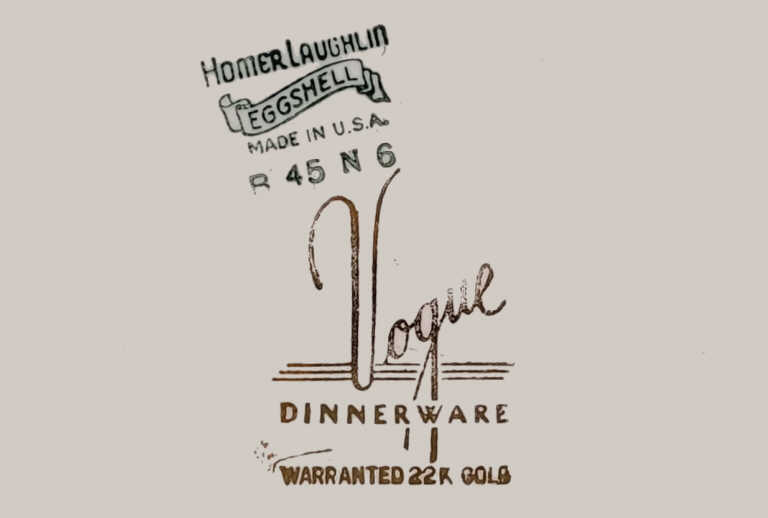 This particular Vogue marking is from an outside decorator and was used on wares from several firms.
It has nothing to do with American Vogue, Vogue Mercantile, or the design contest from 1942.