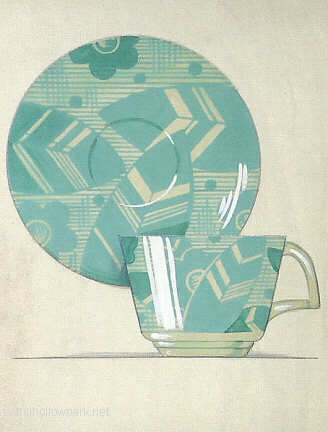 The abstract print designs on this page were created by Charles K. Williams in 1941. Williams (1914 - 1957) worked in the art department under Frederick Rhead and later Don Schreckengost.

Most of the prints started out as concept art on poster board like the one to the right. The first ones were given rather generic names such as "Abstract Print Designs". Others were given specific names such as Wild Ducks, Blue Bird, Fruit, Primrose, Tulips, Daisies, and Plaid.

The ideas from the sketches were realized on coupe shape plates with rope border. They are the same plates developed for Fruit Skin Glazes. In fact, one of the examples of Wild Ducks below is on a green FSG plate.

Two sizes of plates were used: the 9" (model number 1586 from March 1941) and the 10" (model 1603 from May 1941). Only two have hand-written notes on the back. The others have four digit reference/research numbers that are prefixed with R-15.

None of these patterns went into production. They are from the collection of The Fiesta® Tableware Company.